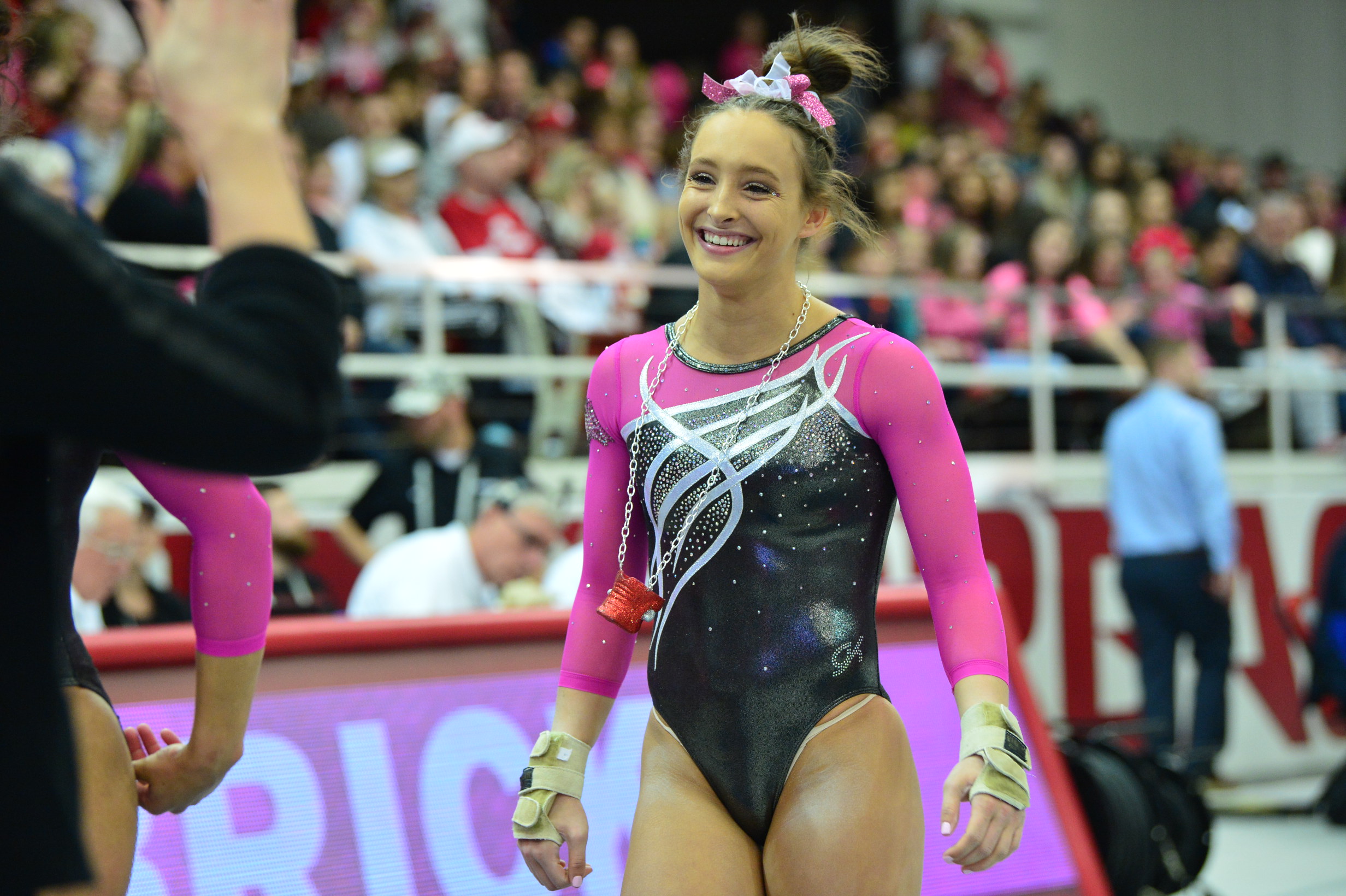 Gymbacks Face Auburn In Final SEC Road Matchup
FAYETTEVILLE, Ark. – The 21st-ranked Arkansas gymnastics team will travel to No. 11 Auburn on Friday for its final road Southeastern Conference meet of the season.
Meet Information
Date: Feb. 15, 2019 | 7 p.m. CT
Location: Auburn, Ala.
Stream: SEC Network+
Talent: Jeff Shearer, Toi Garcia
Stats: Auburn.Statbroadcast.com
Series Record: Arkansas leads 17-16-1
Note: Series tied at Auburn, 4-4
LAST TIME OUT
Arkansas defeated Auburn last season in Fayetteville by a dominating 1.875 point margin. It was the largest margin in the 34 meetings against the Tigers and was the first of two wins against Auburn in 2018.
CARTER OWNING THE FLOOR
Sophomore Sophia Carter again posted a 9.900 on the floor against Alabama. It garnered her fifth floor title in six meets this season and is the fourth score of 9.900 or higher for her on the event this season.
VAULTING HIGHER
The Razorbacks again scored a 49 on vault at Alabama last Friday, scoring a 49.050. Arkansas has scored a 49 or higher in four of six meets this season after posting similar scores just five times all of last year.
HAMBRICK WINS ALL-AROUND
Freshman Kennedy Hambrick posted a 39.175 in the all-around against Alabama last Friday, earning her her first all-around title at Arkansas. The score was also the highest for a Razorback this season.
MCGLONE'S CONSITENCY
Senior Sydney McGlone is prospering in her return from injury. She has posted no score lower than 9.800 on vault this season and has scored at least one 9.900 in an event in three consecutive meets. The Dublin, Ohio native has scored a 9.800 or higher in 10-of-12 events competed this season.
UP NEXT – LSU Tickets
Arkansas returns home next Friday to host the fifth-ranked Fighting Tigers of LSU inside Barnhill Arena. The meet is slated to begin at 7:15 p.m. and will be televised live on the SEC Network. It is the Razorbacks' annual 'Pack The Barn' night as they try for the attendance record inside Barnhill Arena. The promotion last season saw the Razorbacks host nearly 5,500 fans that saw Arkansas defeat Georgia for the third time in school history.