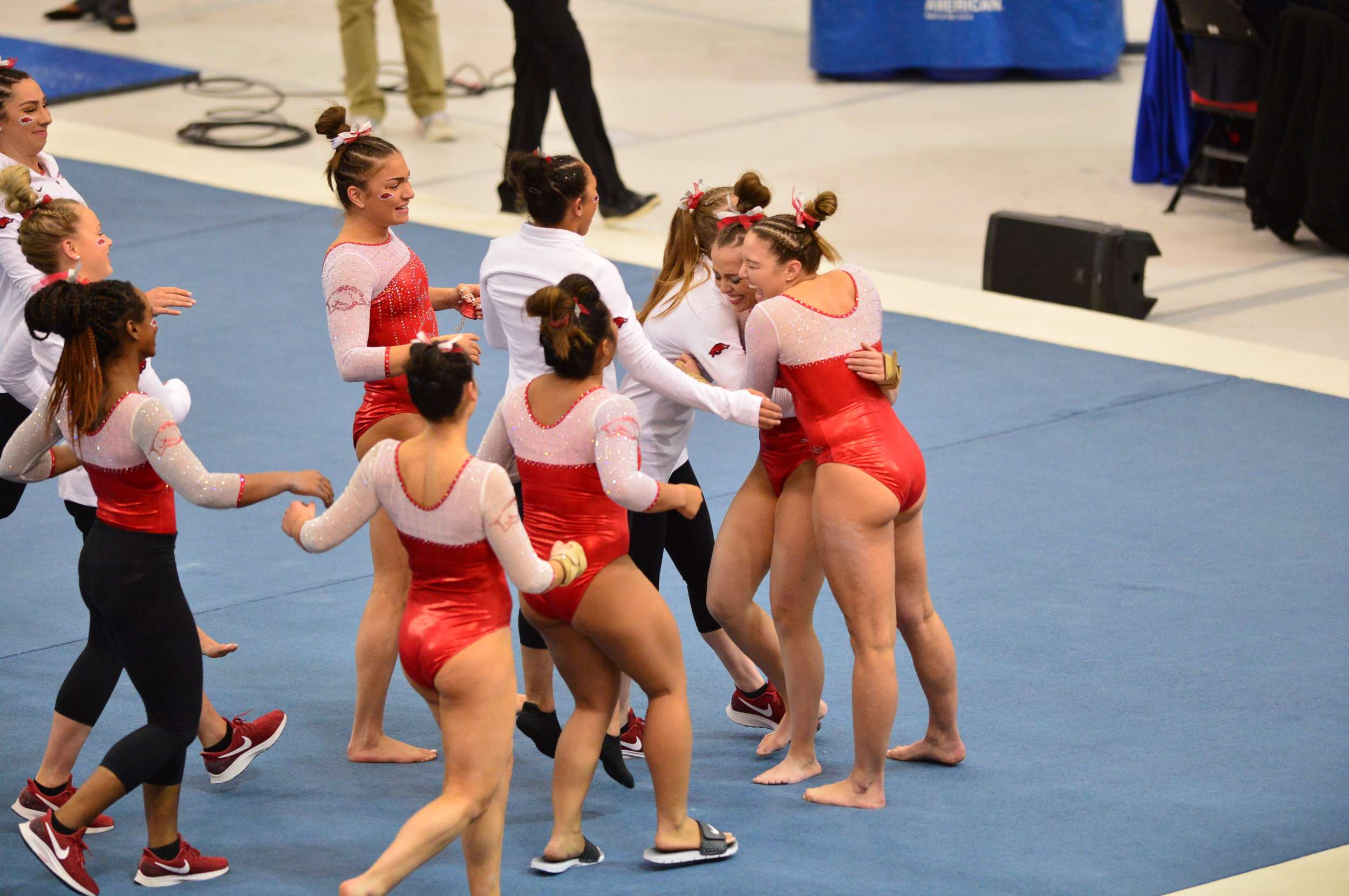 Gymbacks Place First In Quad To End Regular Season
FAYETTEVILLE, Ark. – The Arkansas gymnastics team placed first in a quad meet inside Barnhill Arena Saturday night, beating Southeast Missouri, Lindenwood and Texas Woman's to conclude regular season competition for the 2019 campaign.
The Razorbacks now turn their attention to postseason action as they head to the Southeastern Conference Championships next Saturday in New Orleans.
Team Scores:
Arkansas: 196.525
Texas Woman's: 192.175
Lindenwood: 195.375
SEMO: 188.250
First Rotation: Arkansas Vault: 48.950
The Razorbacks just missed out on the 49 mark Saturday in its vault rotation that saw three Gymbacks go over the 9.800 mark. Junior Jessica Yamzon led the rotation off with a 9.750, and after a low score that Arkansas was able to drop, Sarah Shaffer scored a 9.850. Shaffer's score was followed up with a pair of 9.800's from freshman Kennedy Hambrick and Sydney McGlone. Freshman Amanda Elswick ended the rotation with a 9.750.
Second Rotation: Arkansas Bars: 49.175
For the second-consecutive week, Arkansas put up a big bars score highlighted by a 9.925 from Hailey Garner, a season high and her fourth career bars score of 9.925 or higher. Sophomore Sarah Shaffer put up a 9.875 in the five spot. Freshmen Kennedy Hambrick and sophomore Sydney Laird posted a 9.825 and a 9.800, respectively to round out the top scores on the event. Junior anchor Michaela Burton scored a 9.750 as Arkansas' fifth scorer in the event.
Third Rotation: Arkansas Beam: 49.275
The Razorbacks put up a season high team beam score on senior night led by a pair of 9.900's from Hambrick and Carter. Carter, the program's beam record holder, received a 9.950 from one judge on the event. Yamzon led the rotation off strong with a 9.850 to set the tone. Freshman Katarina Derrick and Burton anchored the rotation with a 9.825 and a 9.800, respectively as the Gymbacks were able to drop a low score to obtain its season high beam score.
Fourth Rotation: Arkansas Floor: 49.175
Despite having to count a 9.600 in the final rotation, the Razorbacks cleared the 49 mark once again behind two big scores from McGlone and Carter. Both athletes tied their career-highs as McGlone posted a 9.925 in her final routine in Barnhill, as Carter once again recorded a 9.950. Shaffer tallied a 9.850 in the fifth position, as Yamzon led the rotation off with 9.800.
For more information on Arkansas gymnastics, including in-meet updates, follow @RazorbackGYM on twitter.