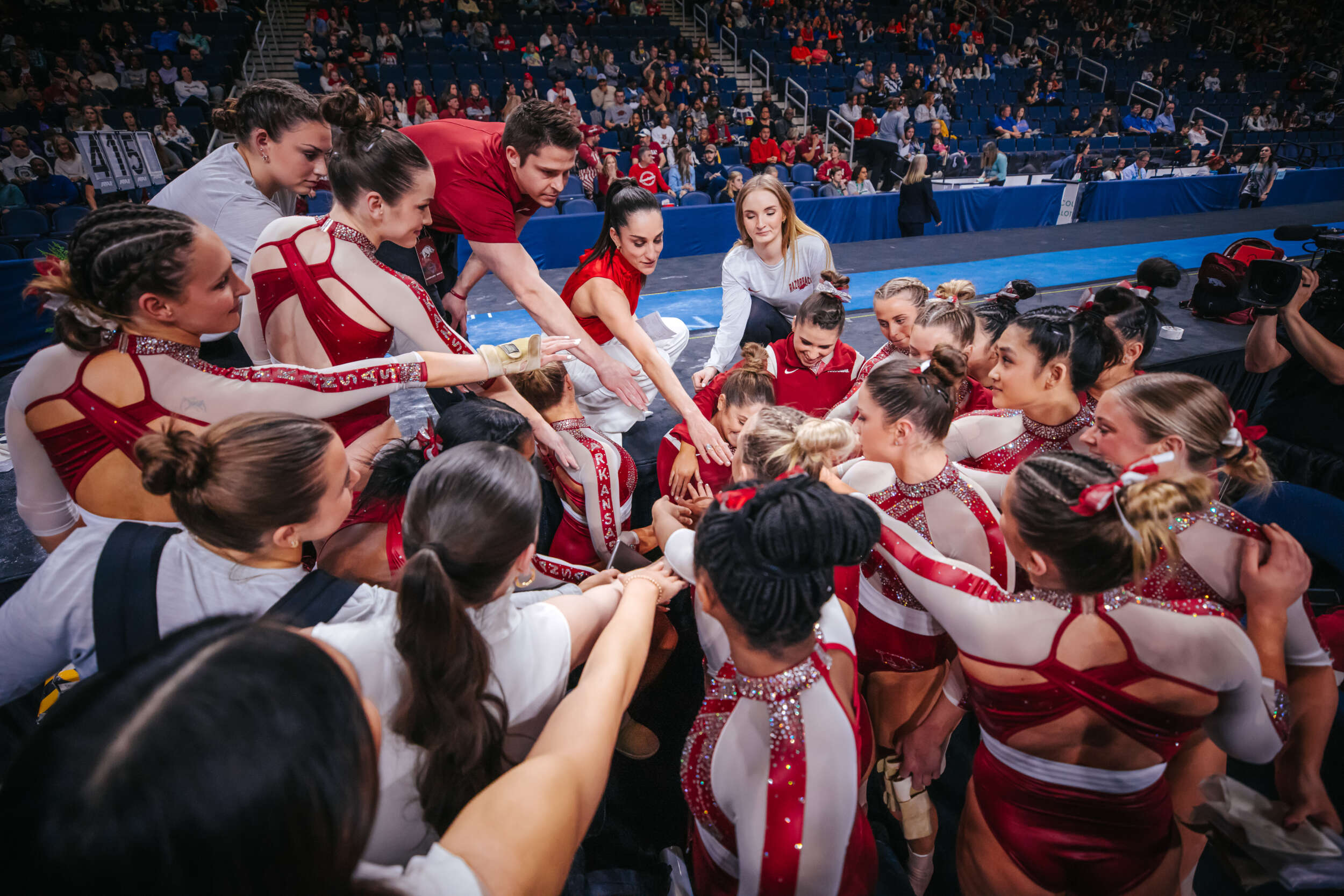 Gymbacks Post Best-Ever SEC Championships Team Score, Place Third in Afternoon Session
While Arkansas placed third in Saturday's afternoon session of the SEC Gymnastics Championships, the team rose to new heights as a program.
The Hogs scored 196.825 on the day and were defeated by Auburn (197.100) and Missouri (197.000) but counted a win over Georgia (196.600). The score was a new program high at SEC Championships, besting the previous record of 196.500 set in 2016.
Arkansas also saw four athletes match the vault individual high score on the day, as Cami Weaver, Norah Flatley, Frankie Price, and Lauren Williams all scored a 9.900 en route to a new team Championships high of 49.425.
Flatley and Williams also both scored 9.900 on floor, which was the best score of the session. Flatley competed in the all-around and registered a 39.500, the second-highest score of the afternoon.
Bars
Arkansas began the day on bars and got off to a strong start with freshman Cally Swaney, who stuck her double layout dismount for a 9.825. Jensen Scalzo and Reese Drotar continued the solid performances with back-to-back 9.850sin the second and third spots. Sophomore Maddie Jones added a 9.775 in fourth, and Flatley came to anchor following a fall. She nailed her routine at each step and earned a 9.875 to finish out the rotation and secure a 49.175 on the event.
Beam
The Hogs took beam in the second rotation and had a solid showing from their lead-off, Kalyxta Gamiao, with a 9.850 routine capped off with a stuck dismount. Swaney continued the hot start in her first SEC Championships as she went up third on beam and earned a 9.850. Fifth-year Gymback Kennedy Hambrick sailed through her beam routine for the second consecutive week in the the fifth spot, and scored a 9.875 with a stuck Gainer full dismount. Flatley finished things off with a 9.825 for Arkansas, and the Hogs scored 49.050 on beam for the day.
Floor
The Gymbacks headed over to floor for the third rotation and put up a pair of 9.800 routines to start from the two Maddies, Jones and Hickey. Sophomore Kalyxta Gamiao added a 9.775 in third in her third floor appearance of the season, which brought Flatley up midway through the lineup. She nailed both tumbling passes and hit all her choreography in a gorgeous routine that went 9.900. Williams followed with yet another rock solid set and showed no signs of rookie hesitation, and earned a matching 9.900. Price closed the rotation with a 9.775, and the Hogs finished floor with a 49.175.
Vault
Arkansas saved some of its best stuff for the final rotation, and it began with a bang as Weaver posted a career-best 9.900 in the lead-off spot. The big scores just kept coming after that as Flatley and Price also added 9.900s for their Yurchenko fulls. Sophomore Makie Sedlacek scored a 9.825 for her Yurchenko 1.5 in the fourth spot, and Williams posted Arkansas' fourth 9.900 of the rotation with just a small hop on her 1.5 up fifth. Hambrick added a 9.825 as the anchor in her season vault debut, which sealed the record-setting rotation of 49.425.
Up Next
The Hogs have a week off before heading to NCAA Regionals, which run from March 29-April 2. They will learn their next destination at the conclusion of conference championships.
More Information
Visit ArkansasRazorbacks.com for the latest information on all things Arkansas Gymnastics. You can also find the Razorbacks on social media by liking us on Facebook (Arkansas Razorback Gymnastics) and following us on Twitter and Instagram (@RazorbackGym).