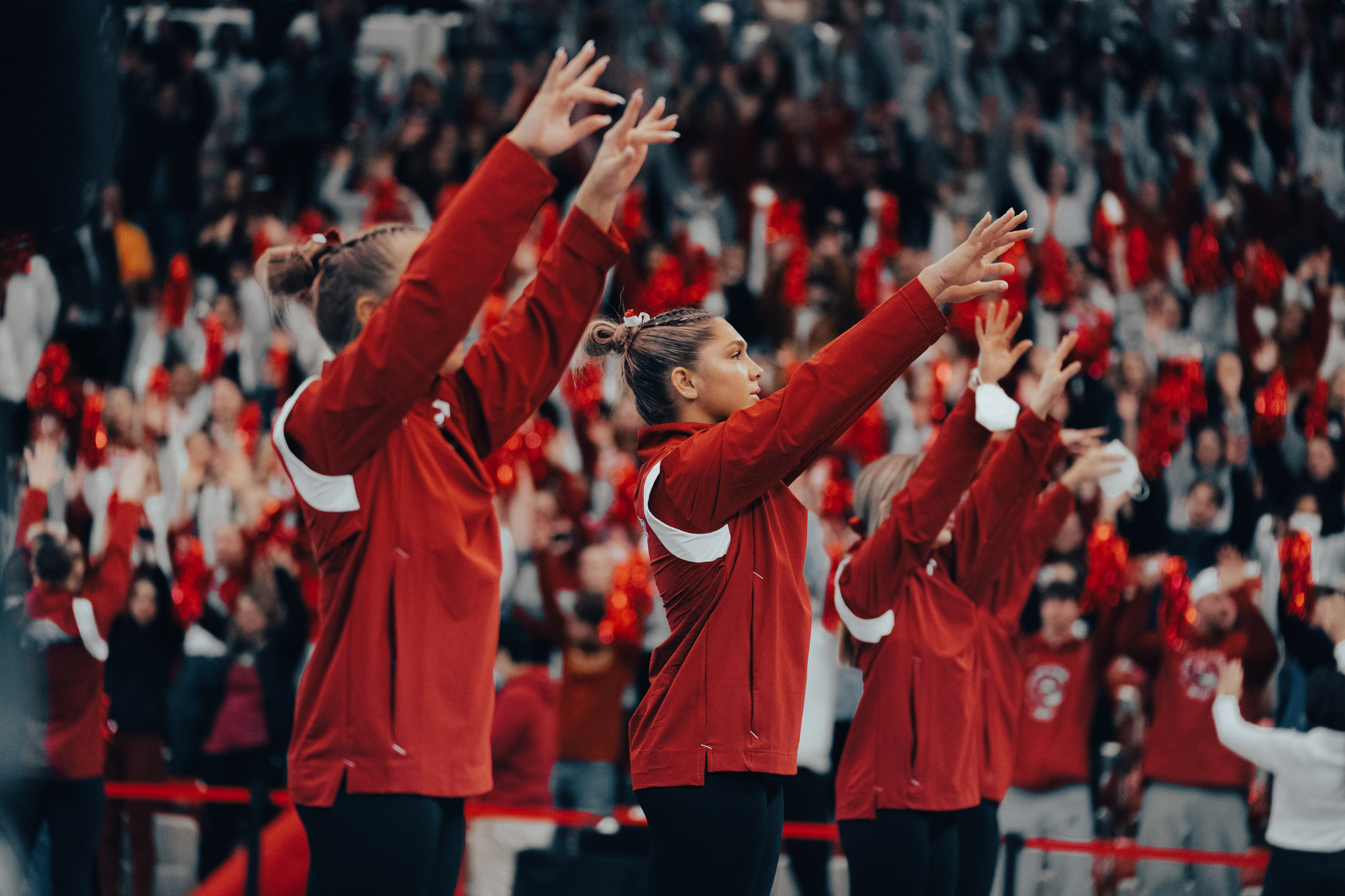 Gymbacks Rebound at Elevate the Stage, Place Third
In the second meet of the weekend, the Arkansas gymnastics team bounced back from a tough loss at Alabama on Friday to tie its third-highest season score and place third among SEC rivals Alabama, Auburn and Georgia on Sunday at Elevate the Stage.
The Crimson Tide won the meet with a score of 198.000, the Tigers came in second with a 197.750, the Razorbacks posted a 196.800 and the Bulldogs earned a 196.200. Arkansas also came in third on vault and bars for the day, and the Hogs' 49.225 on vault and 49.500 on bars are team's second-highest scores all season.
Bars has plagued the Gymbacks for the past few meets, but they answered in a huge way in the meet and counted no scores less than 9.850, with three above 9.900. The rotation featured a big 9.950 from Sarah Shaffer, a career high in her sixth year at Arkansas, and she also tied for second place.
Arkansas added another top three finish with matching 9.900 scores from senior Kennedy Hambrick and freshman Makie Sedlacek to tie for third on vault. Freshman Leah Smith also tied her career high in the all-around with a score of 39.425 that featured new personal bests on vault (9.875) and floor (9.900) for fourth place, and Hambrick came in fifth with a 38.500.
Beam
The Hogs got things started on beam and freshman Kalyxta Gamiao continued to prove why she's a solid lead-off for Arkansas with a 9.850 routine and stuck dismount. Junior Kiara Gianfagna's veteran grace showed through in the third spot as she nailed each element of her set with ease and put down a 9.850. Senior Bailey Lovett and Hambrick added matching 9.775s and the Gymbacks closed the rotation with a 49.050.
Floor
Arkansas' rookies gave a big boost for the team down the stretch of the floor lineup. Freshman Maddie Jones yet again upped her game on the apparatus and hit each of her passes clean en route to a new personal best of 9.925. Smith stepped up in the fourth spot and delivered near-perfect first two passes and a stuck round-off back handspring double pike to end it for a new career high 9.900 on the event. The Gymbacks finished the second rotation with a score of 49.025.
Vault
Looking to gain some ground after a couple of missteps on floor, Arkansas took the vault runway with confidence. Smith put up a stuck Yurchenko full in the two spot to match her best of 9.875 to set the tone. Sedlacek went fifth and posted one of her best Yurchenko 1.5s yet as a Razorback with a stick to match her high of 9.900. Hambrick closed out the rotation and overcame a floor fall with a solid Yurchenko 1.5 that matched Sedlacek's 9.900. Arkansas finished vault with a 49.225, its second-highest score of 2022.
Bars
The event that has given the Razorbacks the most trouble this year turned out to be their best of the night. Smith started the Hogs off right with a 9.850, and sophomore Jensen Scalzo again proved how dependable she is on the event with a 9.875 in the two spot with a stuck double layout dismount. The back half of the lineup – Shaffer, Hambrick and graduate student Maggie O'Hara – looked about as strong as it has all season. Shaffer had a career-best 9.950 in the fourth spot with solid releases and another cold-stuck double lay, and Hambrick added a 9.925 after with a great Jaeger and solid full-twisting double back dismount. Bars All-American O'Hara was the anchor and floated through each of her skills. Her textbook double layout dismount was the cherry on top of a great rotation, and the Gymbacks posted a 49.500, their third-highest score in program history and second-best this season.
Up Next
Arkansas closes the regular season with a quad meet on Sunday, March 13 at Denver with Nebraska and Oregon State. The action is set for 3 p.m. CT and will be streamed live via Pioneers All-Access.
More Information
Visit ArkansasRazorbacks.com for the latest information on all things Arkansas Gymnastics. You can also find the Razorbacks on social media by liking us on Facebook (Arkansas Razorback Gymnastics) and following us on Twitter and Instagram (@RazorbackGym).