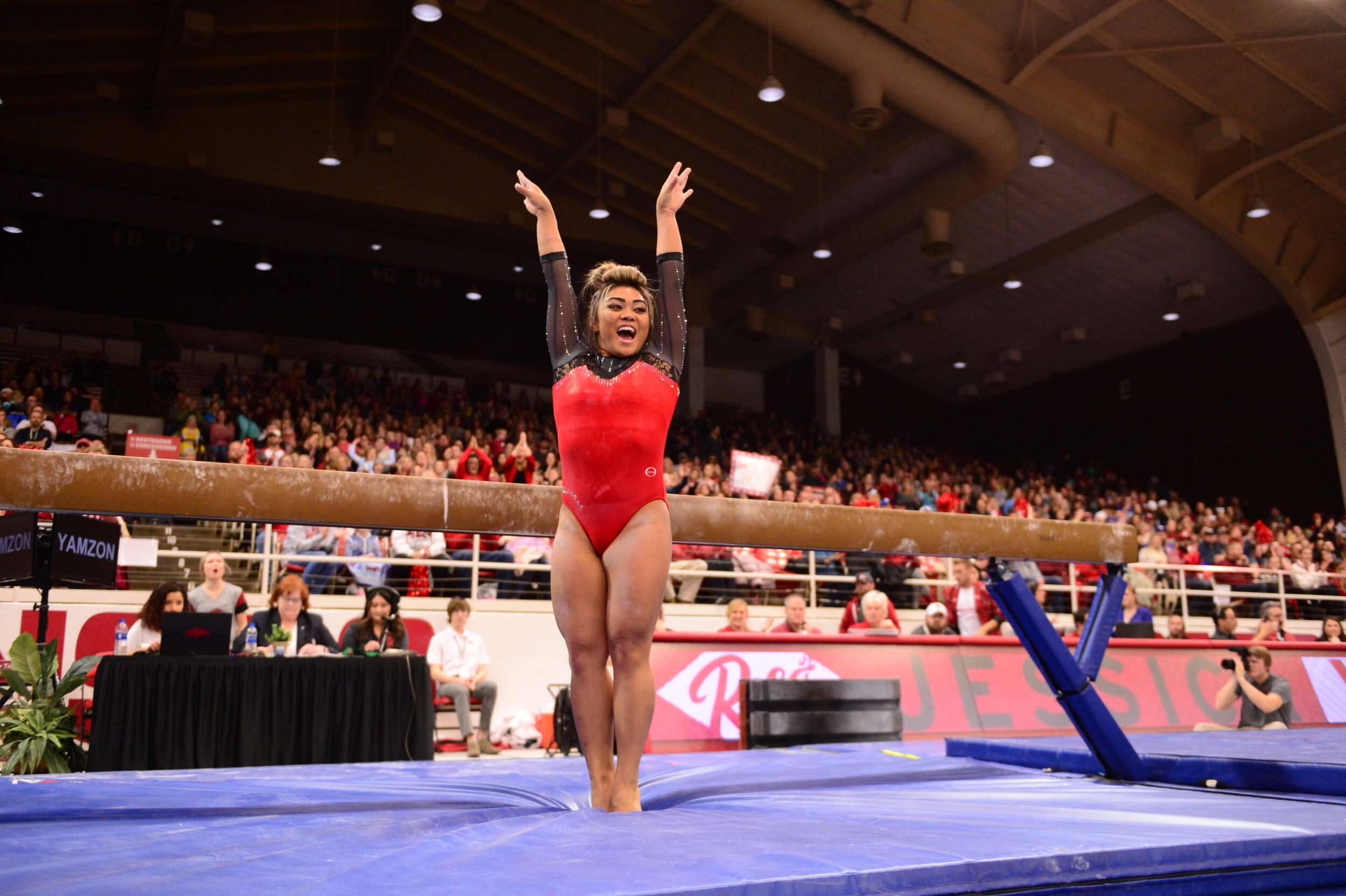 Gymbacks Set More Season Bests in Loss to Kentucky
FAYETTEVILLE – Trailing 147.125 – 147.550 after three rotations, the University of Arkansas gymnastics team recorded four scores of 9.900 or better on the floor en route to a season-best 49.525 on the floor. The Gymbacks narrowly fell to no.13 Kentucky, 196.750 – 196.650.
It marks the third consecutive meet that the Razorbacks scored a 196.500 or better, as four Gymbacks set season highs. One of those highs includes sophomore Kennedy Hambrick's all-around score of 39.425. Hambrick's score was good for second among competitors and ties her career high.
Rotation One | Vault
Redshirt-junior Sarah Shaffer has consistently done well on the vault, but in front of a crowd of 5,321 Arkansas fans, she stuck her Yurchenko layout half for a career-high 9.900. Shaffer was followed by Hambrick in the anchor spot who's Yurchenko full earned her a 9.800 for the Razorbacks. Freshman Madison Hickey also landed a 9.800 with her Yurchenko full, part of a team score of 49.000.
Rotation Two | Bars
For the third meet in-a-row, junior Sydney Laird executed her bars routine beautifully, complete with ray and double layout dismount. Laird earned her first event title of the season on the apparatus, finishing with a score of 9.900. Hambrick and redshirt-freshman Bailey Lovett both earned 9.850s in the event, as Arkansas' final bars score of 47.075 left them trailing 98.350-98.075.
Rotation Three | Beam
Veteran leadoff, senior Jessica Yamzon nailed her gainer full dismount to start Arkansas off on the right foot on the beam. Yamzon scored a season-high 9.875 and took home her first event title of the season in the event. It's her third beam title in her career. Hambrick also set a season high on the beam, improving her previous high of 9.750 to 9.850 with a well done back handspring-layout series.
Rotation Four | Floor
The Razorbacks flourished on the floor tonight, with all six performances in the top eight. Hambrick and junior Sophia Carter both scored 9.925s and took home the event crown as the Gymbacks made a late push to overcome their deficit. Yamzon's leadoff performance earned her a 9.850, tying her career high. Yamzon was followed by freshman Kiara Gianfagna who set a season high 9.875 on the floor, sticking her double tuck last pass. Shaffer and Lovett both scored 9.900s to help Arkansas to its 49.525 team score, tied for second highest in program history.
Visit ArkansasRazorbacks.com for the latest information on all things Arkansas Gymnastics. You can also find the Hogs on social media by liking us on Facebook (Arkansas Razorback Gymnastics) and following us on Twitter and Instagram (@RazorbackGym).