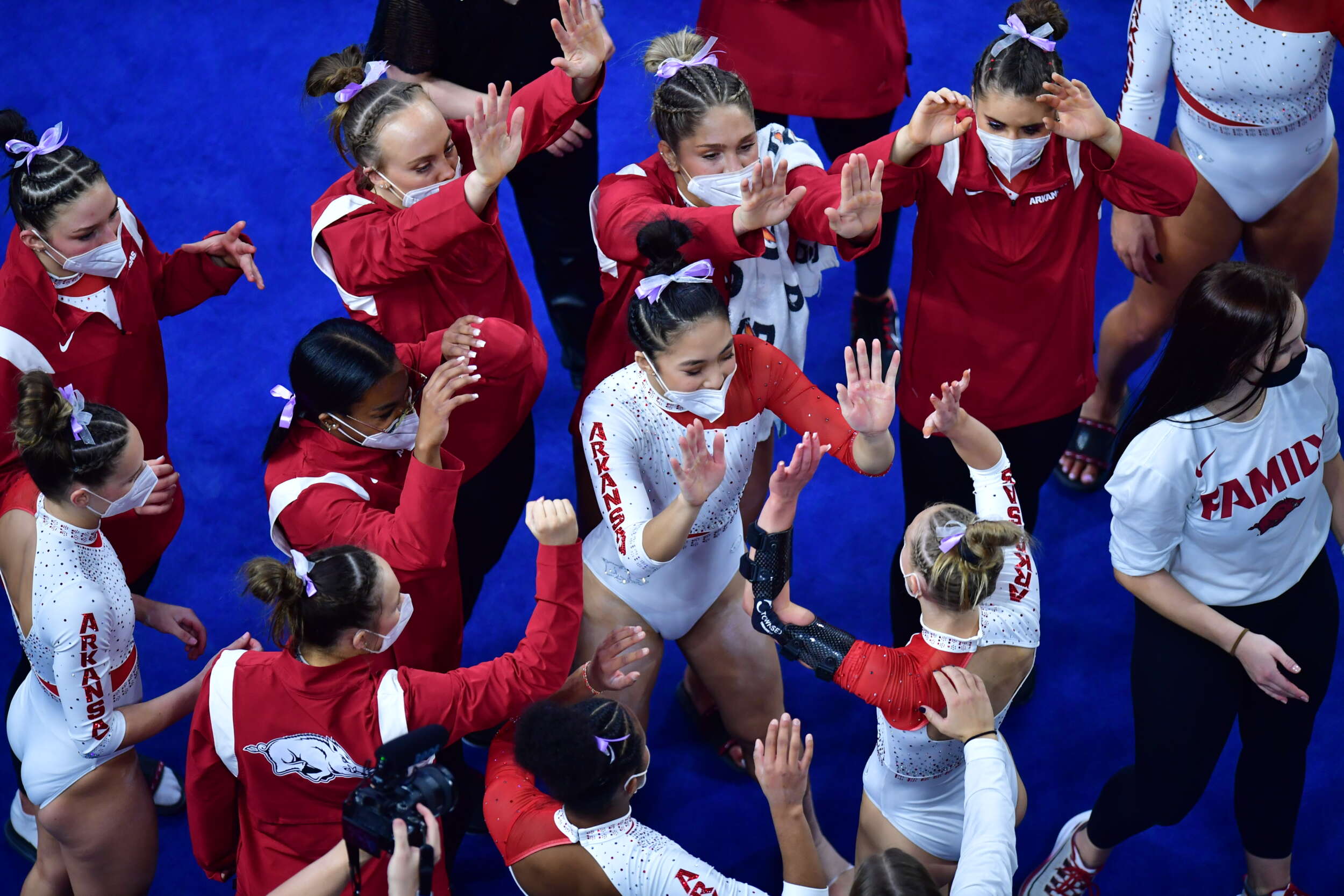 Gymbacks Set New Attendance Record at Night in the Palace Meet
It was a Friday night like no other as the Gymbacks hosted a meet in Bud Walton Arena for the first time and shattered the program attendance record with 10,345 fans. 
The previous record was set at Barnhill Arena on Jan. 17, 2020, which was head Coach Jordyn Wieber's home debut at Arkansas. 
Wieber had set a goal of 10,000 fans for the meet, but was extremely pleased with the showing from the Arkansas faithful. 
"I knew that 10,000 was a lofty goal, and that's totally my style. But to exceed it was really amazing," Wieber said. "I'm just so overwhelmed at the support for our student-athletes and for this program, and from our athletic department for allowing us to have a meet in Bud Walton … not only the crowd, but the energy, the atmosphere. It was so special. Chills just thinking about it."
The Razorbacks were edged by the Auburn Tigers by just one-half of a tenth with a final score of 197.250-197.200. Despite the loss, Arkansas has never scored over 197 in the first two weeks of any season, and it was the sixth-highest team score in program history. 
The Gymbacks posted 49-plus on each of the four events and defeated Auburn on bars with a 49.550, which ties the second-best bars score in program history. 
Senior Kennedy Hambrick won her second all-around title in as many weeks with a score of 39.525 and also took the title on beam with a 9.950. She finished in second on floor (9.875) and third on bars (9.925). Freshman Leah Smith made her collegiate all-around debut and came in third with a score of 39.175.
Graduate student Maggie O'Hara scored a 9.950 on bars to share the title with Auburn freshman and Tokyo 2020 all-around champion Suni Lee, and senior Amanda Elswick posted a 9.900 on vault for the crown. 
Vault
Senior Savannah Pennese made a splash right away as she stuck her Yurchenko full vault for a score of 9.775 to get Arkansas started. Elswick vaulted in the No. 3 spot for the Gymbacks and delivered Arkansas' first 9.900 of the season and what would be the highest vault mark of the meet. Freshmen Leah Smith and Makie Sedlacek both scored matching 9.800s and the Gymbacks finished the first rotation with a score of 49.050.
Bars
Yet again the lead-off came up big for Arkansas as Jensen Scalzo earned a 9.900 to get the second rotation rolling and stuck her double layout dismount. Hambrick, graduate student Sarah Shaffer and O'Hara made up the second half of the lineup and all stuck their landings for three in a row. O'Hara capped things off with a beautifully-executed routine that garnered a 10 from one judge and helped pushed the Gymbacks to their second-best bars score ever, 49.550.
Beam
Arkansas carried the momentum into the third rotation on beam, in the Gymbacks counted no scores less than 9.750. The lineup was highlighted by Hambrick, who nailed her back handspring-layout-step out series and stuck her gainer full dismount for a 9.950. Senior Bailey Lovett also put up a solid 9.90 routine which included a stick to tie for third on the night. The Gymbacks wrapped up beam with a 49.300 total and held a slight edge over Auburn headed into the final rotation.
Floor
Pennese was up first and blew her previous personal best out of the water with a 9.875 to get Arkansas off on the right foot. Each Gymback after scored at least a 9.800, including Smith in her collegiate floor debut with a 9.850. Hambrick added a 9.875 in the No. 4 spot and Lovett tied her as the anchor in the last routine of the historic night. Arkansas earned a 49.300 on floor to maintain the second-longest active streak of 49+ on floor at 34 meets, which is also a program record. 
Up Next
Arkansas begins its road slate next week with a dual meet at LSU on Friday, Jan. 21 in Baton Rouge. The Tigers are currently ranked No. 6 in the country. The meet is set for 8 p.m. and will air live on SEC Network.
More Information
Visit ArkansasRazorbacks.com for the latest information on all things Arkansas Gymnastics. You can also find the Razorbacks on social media by liking us on Facebook (Arkansas Razorback Gymnastics) and following us on Twitter and Instagram (@RazorbackGym).