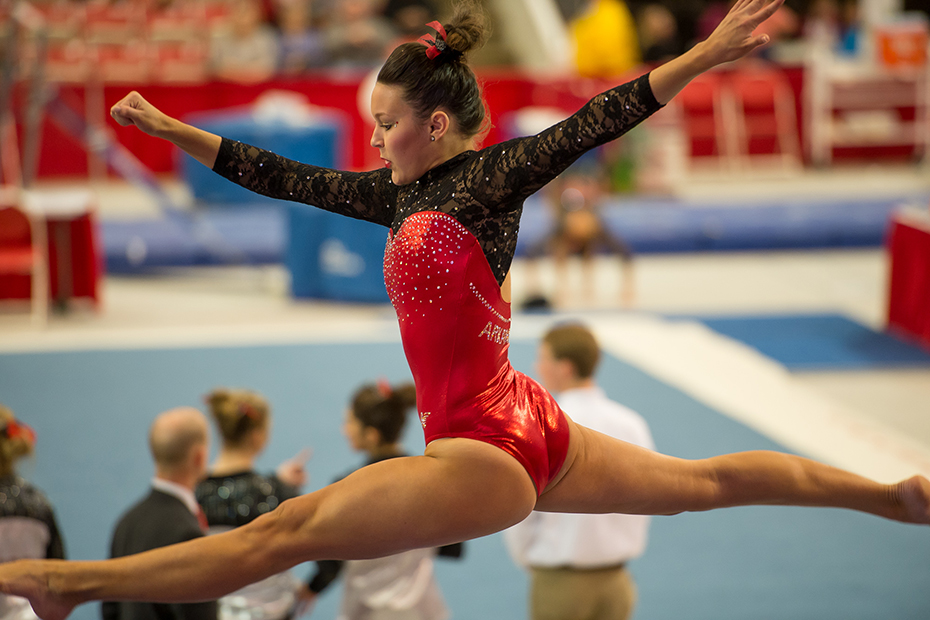 Gymnastics Beats Bama Again
TUSCALOOSA, Ala. — For the second consecutive year, Arkansas gymnastics found itself down early against high-powered Alabama. And for the second consecutive year, the Razorbacks kept their composure, clawed back and got the victory.
The No. 9 Gymbacks overcame the No. 4 Crimson Tide, 196.700-196.400, to win at Coleman Coliseum for the first time in program history.
Down .625 after the first rotation, Arkansas started the improbable comeback on vault. Back-to-back season-high 9.875's for Leah MacMoyle and Paige Zaziski got things started, and Amanda Wellick recorded her third 9.900 of the season as the Razorbacks posted a season-high 49.275 in the second rotation.
Just as it was in 2015, the Crimson Tide let things slip away on balance beam, where the home squad fell three times. Visiting Arkansas took advantage, with six stellar performances on floor exercise. Stephani Canizaro, Samantha Nelson and Sydney McGlone all produced 9.900's, as McGlone became the first gymnast in program history to complete a double layout on floor.
From the second rotation to the third, the Razorbacks gained 1.100 on Alabama, going from trailing big to grabbing a 147.475-147.025 lead. What was left for Arkansas was the beam, an apparatus that had been hit or miss for the team through the first three meets.
But on this night it was a big hit, as the Razorbacks scored a season-high 49.225 to blow the door wide open. Wellick recorded a career-high 9.900 in the rotation, while Nelson added her own career-best mark of 9.850. Once again, it was a leadoff 9.850 by Sydnie Dillard to spring Arkansas to a strong team beam score.
GYMQUOTES
"We were very aggressive on vault, floor and balance beam when we knew it was all on the line. We circled the girls before our last event and said, "This is what sports are about, these are opportunities. Will you embrace it and take advantage of this opportunity and get it done?' Then they went to the event and they embraced that." — Head coach Mark Cook
"In our first break, Mark talked to us about Gymback pride. It kind of was a reminder to get after it, show there's a lot of Arkansas Razorback pride in this program and we needed to go after each event aggressively in everything that we do." — Junior Amanda Wellick
"Beating Alabama for the first time here means a lot for the confidence of our program, we need to take what we did today and use it as we go through the season. On a personal note, it's almost like an impasse in your career to finally go someplace and beat a team to get that monkey off your back. It was extremely empowering and just fulfilling for me." — Head coach Mark Cook
UP NEXT
Arkansas returns home for a meet on Friday, Jan. 29 at 7:30 p.m. against Auburn. Tickets are still available for this meet and all future meets by clicking HERE. The event will also be televised live on SEC Network and streamed on SEC Network +.