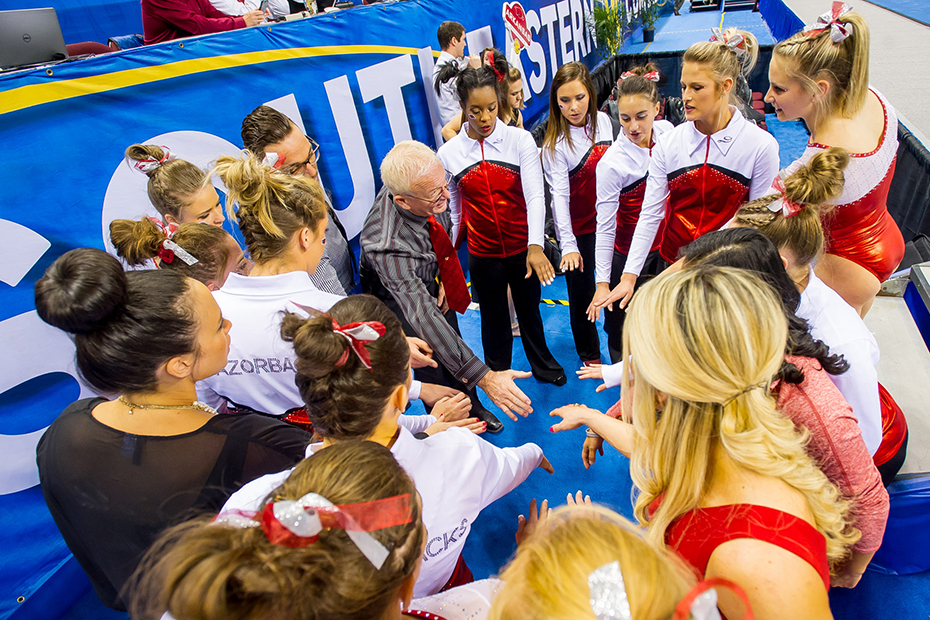 Gymnastics Scores Big In Little Rock
NORTH LITTLE ROCK, Ark. — The Arkansas gymnastics team made history for the fourth time this season by posting its best score in an SEC Championship with a 196.500 on Saturday afternoon in Verizon Arena.
The team's performance placed the No. 6 seed Razorbacks (7-5, 4-3 SEC) second among four teams in the afternoon session, besting No. 8 Kentucky (196.250) and No. 7 Missouri (195.750), but falling short of No. 5 Georgia (196.850).
With their score in the SEC Championship first session, the Razorbacks broke their program-best mark in the event, which was previously 196.400 in 2013.
Three Arkansas gymnasts earned spots on the All-SEC Team: Paige Zaziski with a 9.875 on uneven bars, Amanda Wellick with a 9.875 on floor exercise and Samantha Nelson also with a 9.875 on floor, as well as an event title score of 9.900 on balance beam.
Starting off on bars, Keara Glover got things started with a 9.825, her fourth score of at least 9.800 this season from the leadoff spot. Erin Freier, Wellick and Braie Speed each notched a 9.800, while Zaziski capped the rotation with her 9.875. Zaziski's big score from the anchor spot ended up tied for second in the session.
Zaziski ignited the beam lineup as well, earning a 9.850 in the second spot of the rotation. Through five routines, a 9.825 from Freier was the only other mark from the Razorbacks in the 9.800's. In the anchor spot, Nelson tied her career-high mark of 9.900 and helped Arkansas reach a 49.025 for the event.
On floor, the Razorbacks counted five scores of 9.800 or better, which included Sydnie Dillard's 9.825 in the leadoff spot. Stephani Canizaro also posted a 9.825, while Makenzie Anderson tied her career high of 9.800. Then, a pair of 9.875 marks from Nelson and Wellick in the anchor spot pushed the team total up to 49.200.
Those team-best scores tied for second among all gymnasts in the session.
To end the afternoon, Arkansas headed to the vault runway. A trio of 9.850's from Zaziski, Sydney McGlone and Wellick led the way, while a 9.800 by Speed added to the team score. Anderson had a career-high 9.775 on the apparatus for the fifth counting score, and the Razorbacks' final performance of the day.
In the evening session, No. 1 Florida took home the title with a 197.775, edging No. 2 Alabama by only .025 as the Crimson Tide posted 197.750. No. 3 LSU (197.500) and No. 4 Auburn (196.950) followed to round out the top four.
GYMQUOTES
"Before I went up on beam I was just thinking about the moment and how you only get one chance, and then embracing every second of it. The routine was kind of a blur, honestly, but sticking the dismount definitely put the cherry on top. It was exciting to see all my hard work pay off." — Junior Samantha Nelson
"After today I think we all feel pretty confident going into regionals. We had a really solid meet and we're ready to go and hit there. Knowing we set the program record gives us a boost, which is exactly what we need." — Sophomore Paige Zaziski
UP NEXT
Following all conference championship action this weekend, Arkansas will learn its bid for NCAA Regionals during the national Selection Show on Monday, March 21 at 3 p.m.