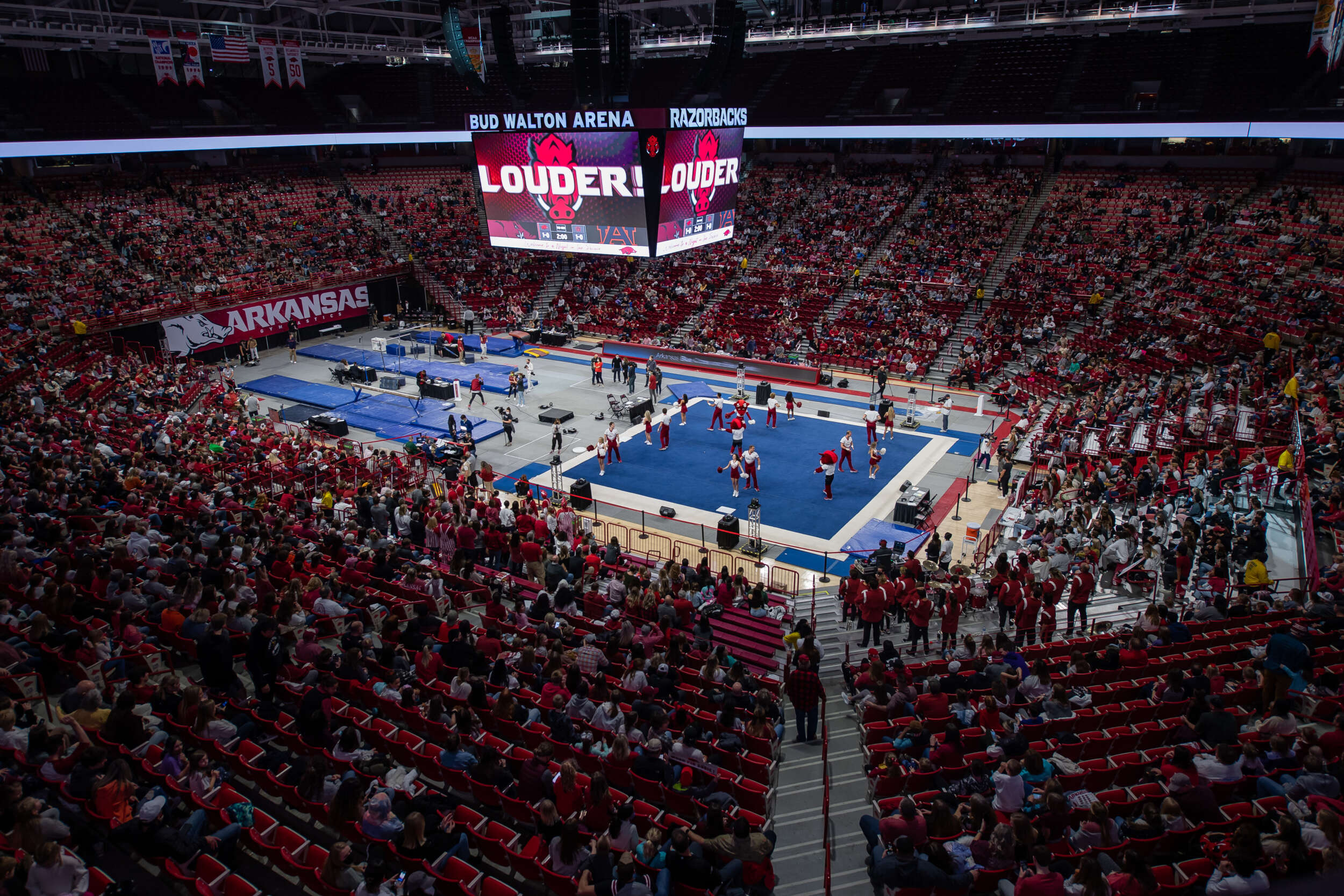 Gymnastics Season Ticket Renewals Now Open
The Gymbacks kick off action in less than three months and season tickets are now available for the 2023 slate.
"Thank you to all of our season ticket holders that have supported us the last few seasons! We can't wait to see you back in Barnhill and Bud Walton Arena for our 2023 season," head coach Jordyn Wieber said. "Your support fuels this program and the team can't wait to shine in front of our home crowd in January!"
Arkansas has seen a record number of season ticket holders in each year since Wieber's arrival with 1,711 in 2022 and has broken the single meet attendance record twice. Last season, the new record was set at the Gymbacks' first-ever meet in Bud Walton Arena on Jan. 14, in which 10,345 fans flocked to the Palace.
The Hogs look to shatter both metrics again in an exciting 2023 home slate, which includes four SEC meets, two inside Bud Walton Arena and all with top 20 national finishers in 2022. All meets are included in season ticket packages.
Arkansas advanced to the regional final in 2022, posted new program records on beam and vault, and bring back key returners in Kennedy Hambrick, Bailey Lovett and Leah Smith, as well as the addition of UCLA graduate transfer Norah Flatley, an NCAA individual all-around qualifier in 2022 and three-time All-American.
New season ticket purchases are available for $25, and renewing holders can now do so online, by phone, or at the Razorback Ticket Center.
2023 Arkansas Gymnastics Home Schedule
1/13: Alabama – Barnhill Arena
1/27: LSU – Barnhill Arena
2/3: Florida – Bud Walton Arena
2/24: Missouri – Barnhill Arena
3/10: Minnesota – Bud Walton Arena
More Information
Visit ArkansasRazorbacks.com for the latest information on all things Arkansas Gymnastics. You can also find the Razorbacks on social media by liking us on Facebook (Arkansas Razorback Gymnastics) and following us on Twitter and Instagram (@RazorbackGym).