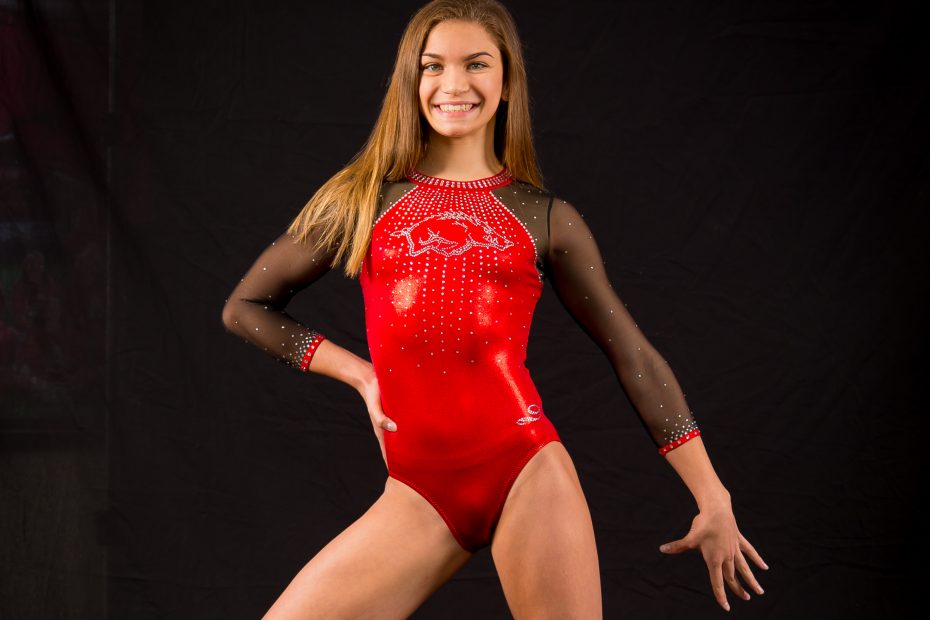 Gymnastics Signs Gillings For 2017
FAYETTEVILLE, Ark. — Arkansas gymnastics head coach Mark Cook announced his first signee of the 2017 class on Thursday, as Kailey Gillings has signed a National Letter of Intent (NLI) to join the Razorbacks next season.
Gillings comes to Arkansas from Stars Gymnastics in Houston, Texas, where she has competed at Level 10 since 2013. She concluded her 2014 season competing at the Elite level in the American Classic and the U.S. Classic.
This past spring, Gillings finished third in the all-around and first on balance beam at the Texas Level 10 State Championships. She also came in third in the all-around, second on balance beam (9.450) and tied for third on bars at the Region 3 Level 10 Championships.
Gillings concluded her season at the Level 10 Junior Olympic Nationals, finishing tied for eighth in the all-around and third on bars. She also competed at the Level 10 Junior Olympic Nationals in 2013, 2014 and 2015, finishing as high as sixth in the all-around with a career-best 37.975 in 2015.
In addition, she was the floor exercise champion at the 2014 Texas Level 10 State Championships, beam champion at the 2014 Region 3 Level 9 and 10 Championships and beam champion at the 2016 Texas Level 9 and 10 State Championships.
Gillings is the daughter of David and Megan Gillings and attends Texas Connections Academy, a homeschooled program in Houston, Texas. She plans to major in accounting. A Beach City, Texas, native, Gillings will become the latest in a long line of Arkansas gymnasts from the Lone Star State. Current freshman Kirby Rathjen also competed for Stars Gymnastics.
"Kailey is a beautiful gymnast with fantastic lines.  Her Uneven Parallel Bars are phenomenal with a lot of difficulty.  Her Balance Beam is also packed with a lot of difficulty and exhibits great technique. She will train as one of our All-Around athletes and bring four strong events to our program.  We are very excited to finally cement her future here in ink." — Head coach Mark Cook
"I chose Arkansas because the coaches and athletes on the team were so welcoming and I could see myself fitting in well and becoming a successful adult after going to Arkansas. I enjoyed the atmosphere of the campus and how much it felt like home." — Kailey Gillings
Personal bests:
Vault: 9.600
Bars: 9.675
Beam: 9.850
Floor: 9.625
AA: 37.975
For more information on Arkansas gymnastics, follow @RazorbackGym on Twitter, Instagram and Facebook.