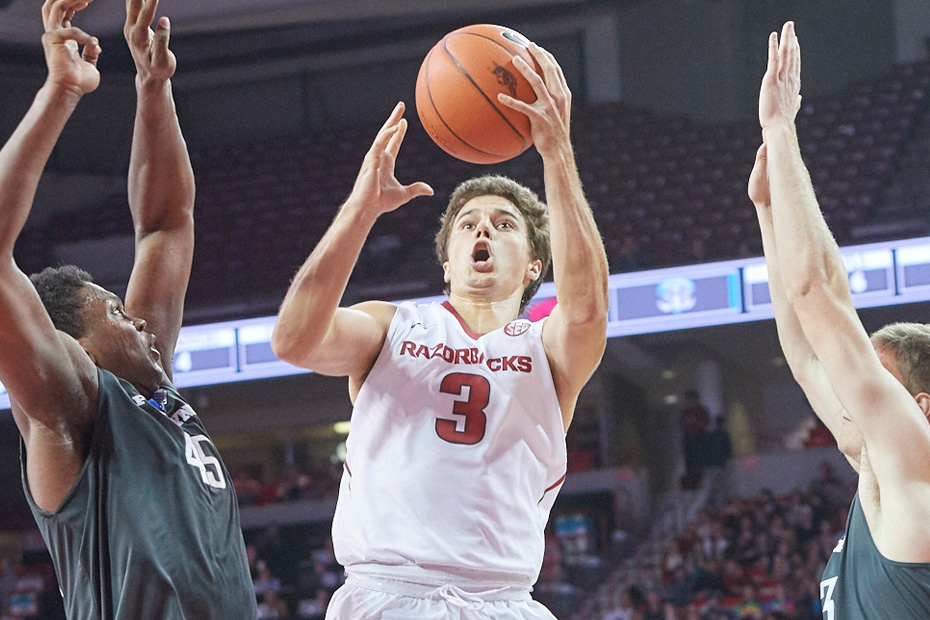 Hannahs Leads Hogs In Season-Opening Victory
Box Score | Highlights | Anderson Interview | Player Interviews
FAYETTEVILLE, Ark. — The Arkansas men's basketball team opened its 94th season of competition on Friday night, beating Fort Wayne 92-83 inside Bud Walton Arena.
With the win, the Razorbacks have now won 43 straight home openers, including a perfect 24-0 record inside Bud Walton Arena to open the season. The victory marks the 22nd straight season opener Arkansas has won and the 44th in the last 46. Mike Anderson coached teams have never lost a season opener, going 15-0 with an average margin of victory of 16.6 points.
Arkansas opened the game on 9-0 run, but Fort Wayne quickly fought back to eventually take a six-point lead, its largest of the night. Down five with 5:50 left in the first half, Arkansas used a combined 14 points from Dusty Hannahs and Anton Beard to go on a 21-9 run to take a 51-45 lead into the locker room and never looked back.
Hannahs finished with a game-high 23 points on 7-of-17 shooting, including 8-of-10 from the free throw line.  Senior Moses Kingsley finished with nine points and nine rebounds to go along with seven blocks and three assists.
Six Razorbacks finished in double-figures as Beard provided 12 points off the bench. In his first game in an Arkansas jersey, junior guard Daryl Macon recorded 13 points, seven rebounds and a game-high five assists. Jaylen Barford, Manuale Watkins and Dustin Thomas each added 10 points a piece.
The Razorbacks outscored the Mastodons 52-22 inside the paint and 24-0 on the fast break. Fort Wayne uncharacteristically finished 36.2 percent from the field after averaging 46.2 percent last season.
QUOTABLES
"As a coach, you don't know how your kids are going to come out and play. The nerves are going and early on I saw some stage fright. Hopefully, we have that over with now and we can go play basketball." – head coach Mike Anderson
"They hit their run and we got stagnant at times but we kept playing our game. We were able to get the pace back up to our liking. I thought we were at our strength when we were running, pushing the ball against them and that's what happened from there on." – Senior guard Dusty Hannahs
UP NEXT
Arkansas will face Southern Illinois on Monday, Nov. 14 at 7 p.m. inside Bud Walton Arena as the Razorbacks look to improve to 2-0 for the sixth time in the last seven years.
TICKETS
Season tickets, mini plans, mobile passes and single-game tickets for the 2016-17 season are available now at the Razorback Ticket Center by calling at 1-800-982-HOGS (4647) and online by clicking here.