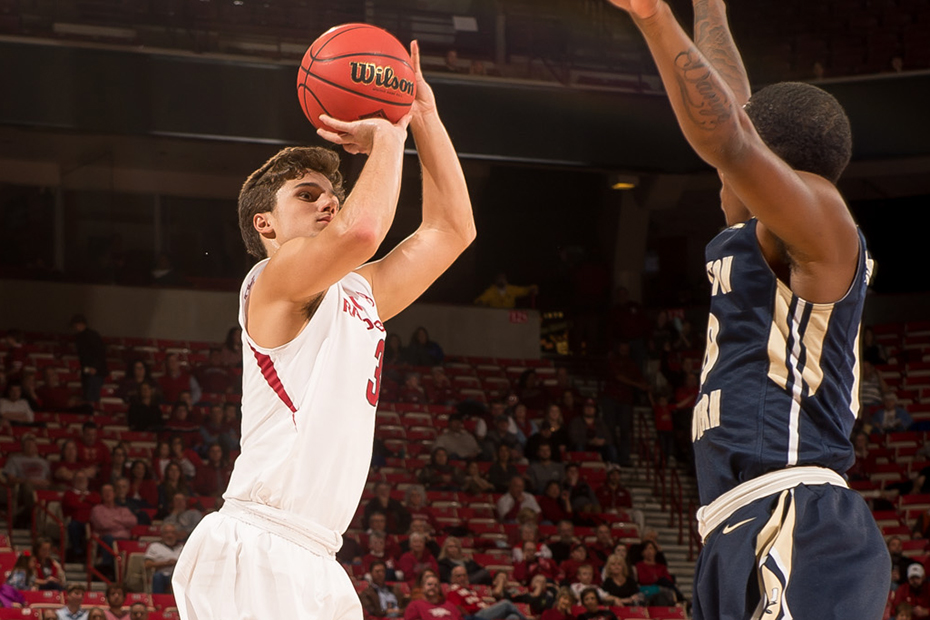 Hannahs Perfect From Deep in 93-75 Win
FAYETTEVILLE, Ark. — Behind the sharpshooting of Dusty Hannahs and a balanced scoring attack, Arkansas men's basketball recorded a 93-75 victory over Charleston Southern Friday night in Bud Walton Arena.
Hannahs led the Razorbacks in scoring for the second time in three games with 21 points, including a perfect 5-for-5 performance from beyond the arc. Four other players joined him in double figures as the hosts improved to 2-1 on the season.
Hot shooting and effective ball distribution paced the Razorbacks in the first half, as Hannahs and Anthlon Bell went toe-to-toe in what was effectively a shooting contest. The two combined for 26 points on 9-for-13 shooting from the field, including a 6-for-8 mark from beyond the arc. Bell scored all 12 of his points in the first frame, while Hannahs led the way with 14 first-half points.
After the first 20 minutes, Arkansas was shooting 57.1 percent from the floor and led the Bucs 49-32. Jabril Durham was the facilitator for the offense early and often, with seven assists in the first half and a career-high 11 for the game. Bell also set a career high with five dimes. As a team, the Razorbacks assisted on each of their first 11 baskets and finished with 23 helpers on 32 team field goals.
The Razorbacks' lead ballooned to as many as 29 at the 11:12 mark of the second half, when Arkansas came out of the locker room and produced a 21-8 run. CSU combated Arkansas' three-point barrage with a 12-for-31 performance of its own from deep, but the Bucs never got within the final margin of 18 for the rest of the contest.
QUOTABLES
"We did a good job of distributing the basketball. Our defense created some offense for us and got us into a rhythm, much more of a rhythm of how we want to play. Guys played some quality minutes and I think that was the biggest difference. [CSU] was playing in four or five minute spurts, which allowed our bench to really get involved tonight." — Head coach Mike Anderson
"It was a bad taste in our mouth from the previous game. We had to get back to Razorback basketball, and that's playing active and playing defensive basketball. I thought we had a great effort tonight." — Senior guard Jabril Durham

QUICK HITS
• The Razorbacks had three dunks in the game, two by Trey Thompson and one by Keaton Miles.
• Durham is the first Razorback in the SEC era to have multiple 10-plus assist performances in Arkansas' first three games (via @HogStats).
• Manny Watkins and Jimmy Whitt each had 14 points to set career-high scoring marks. Watkins' previous high was 12 (vs. Akron) and Whitt's was 12 (vs. Southern).
• Moses Kingsley scored 15 points for his third-consecutive double-digit scoring effort to begin the season. He finished with three blocks, two of which were on CSU's first two shots of the night.
• Five Razorbacks scored in double figures for the first time this year. Last season, that was achieved two times, while six Arkansas players scored in double-figures once (vs. Wake Forest on Nov. 19, 2014).
• Hannahs went 2-for-2 from the foul line. He's a perfect 11-for-11 on the season and has hit 27 consecutive foul shots dating back to Feb. 8, 2014.
• The Razorbacks had major edges over the Bucs in fast-break points (13-2) and blocks (8-1). Arkansas has outscored all three opponents on the fast break so far this season.
• Arkansas had a player make five-plus three-pointers in a game twice last year and have done so in all three games this season with Hannahs twice and Bell once.
UP NEXT
The Razorbacks travel to Brooklyn, New York, to compete as one of the final four teams of the NIT Season Tip-Off. Arkansas faces Georgia Tech on Thursday, Nov. 26 at 1 p.m., while Stanford and No. 11/8 Villanova battle on the other side of the bracket.