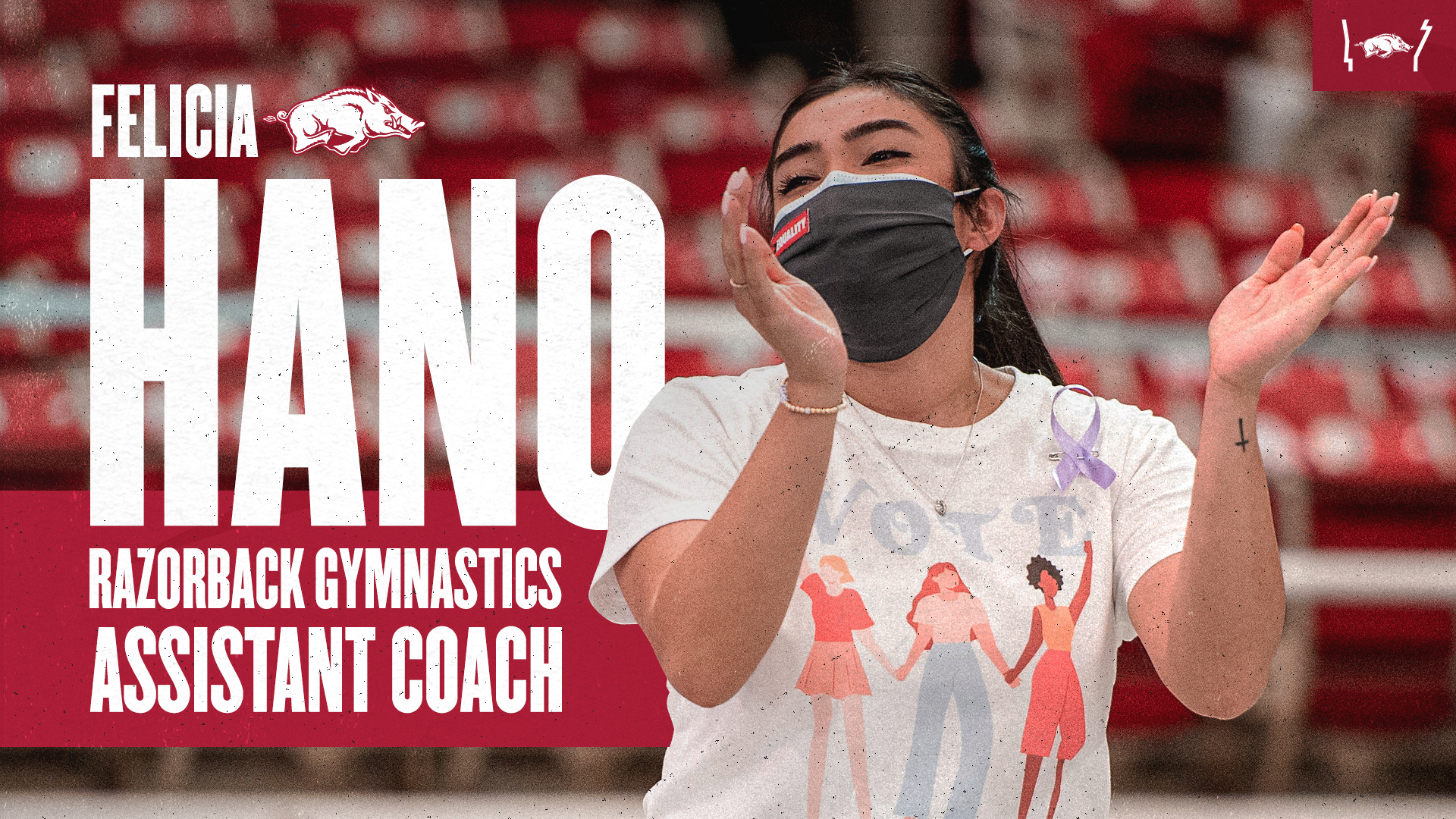 Hano Promoted to Assistant Coach
FAYETTEVILLE, Ark. – Felicia Hano, a decorated collegiate gymnast at UCLA and former United States senior national team member, has been promoted to assistant coach, Arkansas head coach Jordyn Wieber announced Friday.
Hano, who joined the Razorback gymnastics program in the fall of 2020 as a volunteer assistant coach, replaces Catelyn Orel, who was named the head coach at Lindenwood University. Hano will continue to assist with the vault and floor performers as well as collaborate with the Razorback social media and creative content teams.
"I'm so excited to continue as part of the Razorback family," Hano said. "I'm grateful to have been a part of last year's record-breaking season, and I look forward to contributing more as an assistant coach. I am thrilled for the future of Arkansas gymnastics."
Hano helped lead Arkansas to its 17th consecutive NCAA regional appearance (no postseason competition held in 2020) this past season as the Razorbacks earned the No. 10 overall seed. The Gymbacks set the program record for team total score on two occasions during the regular season, including a school-best 197.425 in the win at No. 12 Auburn.
She also assisted in the development of Maggie O'Hara (first-team bars) and Kennedy Hambrick (second-team vault, bars, beam and all-around), who earned All-America honors after their performances the 2020 NCAA Gymnastics Championship.
"Felicia is more than prepared to step into this assistant position," Wieber said. "From the first day she stepped on campus, she has embraced what it means to be a part of the Razorback family. She has incredible leadership qualities and really connects with our student-athletes. I feel confident that her knowledge of the sport combined with her creative ideas will continue to be a huge factor in the growth of the program."
Prior to joining the Gymback staff, Hano capped an outstanding career at UCLA as a four-time All-Pac-12 honoree (first-team vault and floor in 2019, second-team floor in 2018 and 2020) and six-time All-American (four times on vault and twice on floor). The San Gabriel, Calif., native was a member of the 2018 NCAA National Championship team and scored her first career perfect 10 on the floor against Oklahoma that season to help spur the Bruins to their title run.
Hano, who was the 2019 Pac-12 vault co-champion, competed in the all-around in the final five meets of the pandemic-shortened 2020 season – her last at UCLA. She finished the year with the second-highest average score among her Bruin teammates on both the vault (9.900) and floor (9.950).
Before beginning her collegiate career at UCLA, Hano was a member of the 2014-15 U.S. senior national team. She competed alongside three of Wieber's "Fierce Five" teammates – Gabby Douglas, Aly Raisman and Kyla Ross – as well as one of the most dominant gymnasts of all time, Simone Biles.
Hano graduated from UCLA in the spring of 2020 with a bachelor's degree in political science.