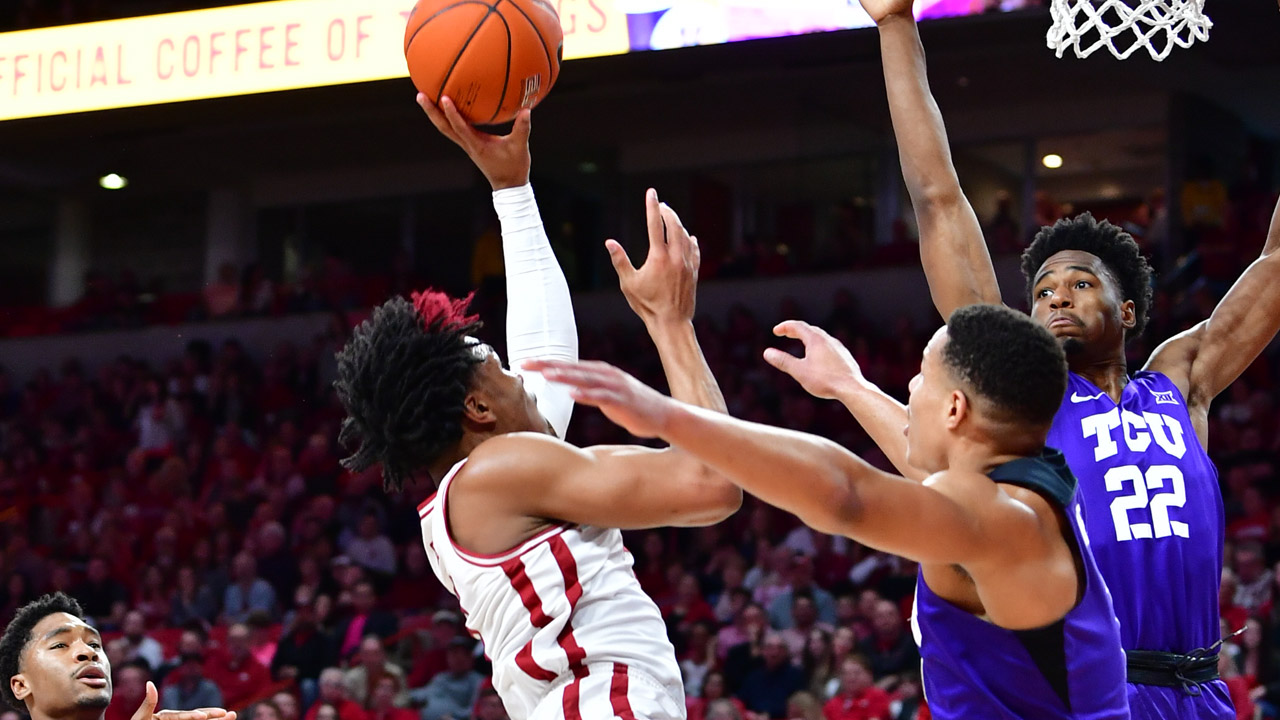 Arkansas "Plays Best Game" in Beating TCU
FAYETTEVILLE – Jimmy Whitt Jr., and Mason Jones each scored 20 points and Desi Sills added 18 off the bench, to lead Arkansas to a 78-67 victory over TCU Saturday afternoon before a sold-out Bud Walton Arena in the annual Big 12/SEC Challenge.
The Razorbacks, playing without injured sophomore guard Isaiah Joe, improves to 15-4 on the season and are now 3-3 in the Challenge with home wins over Texas Tech (2016), Oklahoma State (2028) and TCU (2020). The Horned Frogs fall to 13-6.
TCU jumped out to a quick 4-0 lead and Razorback head coach Eric Musselman called a timeout. Arkansas responded with an 8-2 run. TCU battled back and grabbed a one-point lead (11-10) with 14:56 remaining in the half. The teams combined to score just seven points over the next three-and-a-half minutes as the teams were tied, 14-14. Whitt got a steal and fastbreak dunk with 11 minutes left to put the Hogs up two (16-14) and Arkansas never relinquished the lead the rest of the game.
"I thought, overall, this was our best game of the year," Musselman said.
Harris Cleans Up on the Break
Arkansas led by as many as seven in the first half but took a four-point lead into the locker room (33-29).
Jones, who only scored one point in the first half, opened the second half with a 3-pointer and Whitt had a layup to push the lead to nine. TCU worked its deficit to three twice over the next minute-and-a-half before Reggie Chaney reeled off six straight points for the Razorbacks to regain a 9-point lead (46-37 with 16:09 left).
The Horned Frogs hung around until a technical foul was called on TCU head coach Jamie Dixon. From that point, the Razorbacks turned a five-point game (51-46 with 10 minutes left) into a 15-point game (63-48 with 7:53 left) and held on for the win.
Whitt Turns Defense Into Offense
Jones scored 10 of his 20 points at the free throw line, adding five rebounds and four assists. Whitt, who played all 40 minutes for the second time this season, was 8-of-15 from the field and 4-of-4 at the line. Sills only missed one shot, going 7-of-8 from the field and 3-of-3 from 3-point range. Adrio Bailey led Arkansas with six rebounds while Jalen Harris had season-high six assists.
Joe missed his first career game after aggravating a knee injury at Mississippi State on Wednesday. Joe initially hurt his knee at Ole Miss.
Kevin Samuel led TCU with 24 points and 18 rebounds.
Arkansas stays home to host South Carolina on Wednesday (Jan. 259). Tipoff is set for 7:3 pm and the game will be telecast on SEC Network.
Sills Drives to the Hoop
FIRST HALF: Arkansas 33 – TCU 29
TCU scored the game's first four points. Arkansas rallied to tie the game at 6-6.
The first 17 minutes featured four ties and three lead changes. The last lead change was a 6-0 Razorback run for a seven-point (24-17) lead at 5:04.
Jimmy Whitt Jr., led the Hogs with 12 first-half points (5-of-8)
Desi Sills added 11 off the bench (4-of-5 FG including 2-of-2 from 3-pt range).
Chaney Slams it Home
SECOND HALF: Arkansas 45 – TCU 38
Arkansas scored the first five points of the second half – a Mason Jones 3-pointer and Jimmy Whitt jumper – to go up nine 38-29.
Mason Jones scored 19 of his 20 points in the first half.
Bailey with the Tough Finish
GAME NOTES
Arkansas' starting lineup was Jimmy Whitt (G) – Jalen Harris (G) – Mason Jones (G) – Adrio Bailey (F) – Reggie Chaney (F) for the first time this season. It was the third different starting lineup Arkansas has used this season.
Arkansas won the tip for the 10th time in 19 games this season. Arkansas is 8-2 in such games.
TCU's Kevin Samuel scored the first points of the game, a put-back at 19:16. Jalen Harris scored Arkansas' first points, a 3-pointer at 18:20. It was his first time to score the team's first points this season.
TCU is one of Arkansas' oldest rivals. The Horned Frogs are one of three teams on the Razorbacks' schedule in 1923-24 – the program's first year of basketball. Arkansas is now 105-38 versus TCU, including a 55-15 mark in Fayetteville.
Arkansas played in its sixth consecutive Big 12/SEC Challenge. The Razorbacks are 3-3 in the Big 12/SEC Challenge with wins over Texas Tech (2016), Oklahoma State (2018) and TCU (2020) at home. Arkansas lost at Iowa State (2015), at Oklahoma State (2017) and at Texas Tech (2019).
Both teams attempted 50 field goals, Arkansas made 27 shots and TCU 24. Both teams made six 3-pointers.
This was the third game Arkansas shot over 50% from the field (54%.).
Arkansas' 14 assists were its most since Valpo (Dec. 21).
TCU's 19 turnovers were the most by an opponent since Austin Peay (Dec. 3).
Desi Sills' 18 points were his second-best career effort.
Jimmy Whitt played all 40 minutes for the second time this season and he has played at least 44 in Arkansas' two overtime times. Whitt played all 40 minutes at LSU to become the first Razorbacks to play all 40 minutes in a regulation game since 2009.
Whitt has scored in double-digits in seven straight, including 22 points at LSU, 30 versus Vanderbilt and 20 at Mississippi State.
In addition to Whitt's 20 points, the graduate senior was impressive guarding TCU leading scorer Desmond Bane. Bane entered the game averaging 17.2 ppg while averaging 6.3 shots made and 13.2 attempts. Bane also ranked 14th in the NCAA in 3-point shooting (44.1%). Whitt held Bane to just 3-of-6 shooting from the field (2-of-3 from 3-point range) and he scored just eight points – his third single-digit scoring output of the year.
Reggie Chaney was 3-of-6 from the field He has made 19-of-his-last-23 shots from the field (82.6%).
Sills Pushes the Lead to Double Digits