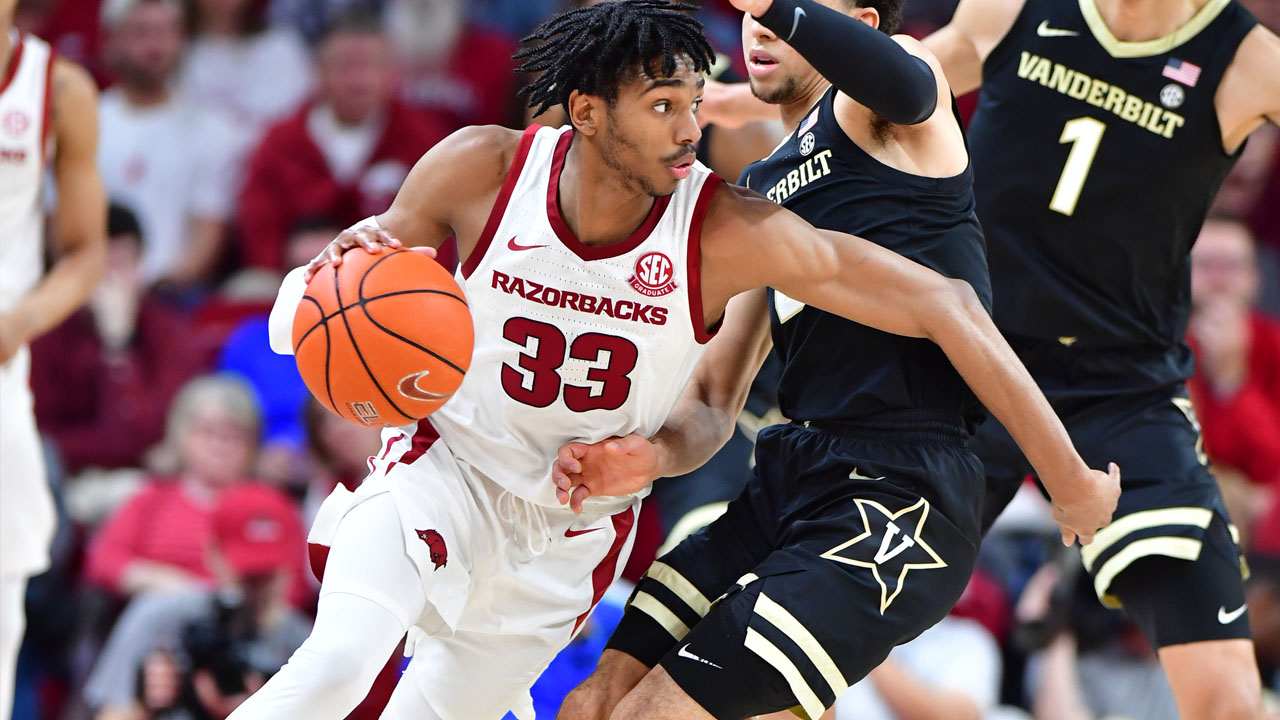 Hogs Hustle Past Vanderbilt
FAYETTEVILLE – Jimmy Whitt Jr., scored a career-high 30 points and grabbed eight rebounds to lead Arkansas to a 75-55 victory over Vanderbilt Wednesday night at Bud Walton Arena. The Razorbacks improve to 14-2 overall, 3-1 in the SEC.
Reggie Chaney (6-of-6 from the field and 2-of-2 at the line) tied his career-high with 14 points while Desi Sills contributed 13 points and a career-high seven rebounds.
Whitt's career-high 30 points were unexpected as the game featured three of the top 10 scorers in the SEC – Arkansas' Mason Jones (#2 in scoring in the SEC) and Isaiah Joe (#4) as well as Vanderbilt's Saben Lee (#10).
All three went scoreless in the first half.
– Lee scored his first points – a dunk and free throw – at 17:24 of the second half. Lee finished with 17 points.
– Joe made his first basket – a deep 3-pointer at 16:47. Joe would make back-to-back 3-pointers for a 10-point Razorback lead (43-33). Joe finished with 12 points.
– Jones' first point came on free throw at 5:35. Up to that point, Jones did have seven assists and he finished with eight – one shy of his career high (set the previous game at Ole Miss).
After Lee's first points – and old-fashion 3-point play at 17:24 – the Commodores got to within four (37-33). However, that is as close as they would get. Arkansas got the back-to-back 3-pointers from Joe to lead by 10 and held a double-digit advantage the rest of the way.
Whitt, who attempted his first 3-pointer of the season as the buzzer sounded to end the first half, made 14 (of 24) shots to set an Arkansas record for most field goals made by a Razorback guard in the 3-point era. Four of his 14 makes were dunks. Earlier this season, Whitt set a record for most points by a Razorback guard (24) without attempting a 3-pointer.
Arkansas stays home to host #10 Kentucky on Saturday (Jan. 18). The sold-out Kentucky game is set to begin at 3:00 pm and will be televised on ESPN.
Fast Break Leads to Whitt Put Back Dunk
FIRST HALF: Arkansas 34 – Vanderbilt 28
Reggie Chaney scored eight points off the bench with 7:10 to play in the first half. His season high coming into the game was six on two occasions He had only scored eight points the previous five games combined.
Arkansas used a 12-3 run from (9:53 to 2:39) to go up nine (29-20).
Vandy's Maxwell Evans answered with an old-fashion 3-point play and a 3-point for the Commodores.
Desi Sills got Arkansas back on track with a 3-pointer. The teams traded baskets and the Hogs lead by six, 34-28, at the break.
Jimmy Whitt Jr., scored 17 first-half points, including two dunks. He was also credited with his first 3-point attempt of the season, a desperation shot as the buzzer sounded to end the half.
Chaney finished with eight points and Sills had seven with a team-best five rebounds.
Sills Spin Move for Fast Break Layup
SECOND HALF: Arkansas out-scores Vandy 41-27
Vandy got to within four (37-33) at 17:24 in the second half. Arkansas answered with an 8-0 run – its largest run of the game – to take a 12-point lead. Arkansas led by double digits the final 16:10 of the game.
Isaiah Joe hit back-to-back 3-pointers and Jimmy Whitt had a dunk for the run.
Whitt Block Turns to Sills Three
GAME NOTES
Arkansas' starting lineup was Jimmy Whitt (G) – Isaiah Joe (G) – Desi Sills (G) – Mason Jones (G) – Adrio Bailey (F) for the 15th time this season.
Arkansas won the tip. It was the ninth time in 16 games. Arkansas is 7-2 in such games.
Adrio Bailey scored the first points of the game on two free throws at 19:17. Arkansas has scored first 11 times and is 9-2 in such games. It was the first time Bailey scored the team's first points.
Arkansas out-rebounded Vanderbilt 38-30. It was just the fourth time Arkansas has out-rebounded an opponent this season.
Vanderbilt entered the game first in the SEC in 3-point percentage (.375) and second in the SEC in 3-pointers made (9.5). The Razorbacks held Vandy to just 5-of-20 (25%).
Arkansas leads the NCAA in 3-point FG% defense (22.8%).
Vanderbilt had zero steals. The entered the game fifth in the SEC by averaging 7.6 steals per game. The last time an Arkansas opponent had zero steals was North Texas 0 Jan. 3, 2004.
Arkansas tied a season high with 19 assists. (Also had 19 in the season-opener versus Rice.)
Arkansas shot a season-low 53.3% from the free throw line (8-of-15). The Razorbacks were 29th in the NCAA in free throw percentage entering the game.
Arkansas is 3-1 in SEC play for the first time since 2015-16. Arkansas will be looking for its first 4-1 in SEC play since opening 9-1 in league play in 1997-98.
Arkansas is 14-2 overall for the first time since 1997-98 as well. The '97-98 team lost game 17 to fall to 14-3.
All 12 Razorbacks saw game action.
Joe Catches Fire in Second Half
For more­­ information on Arkansas Men's Basketball, follow @RazorbackMBB on Twitter.
Whitt Goes for Career Best 30 Points