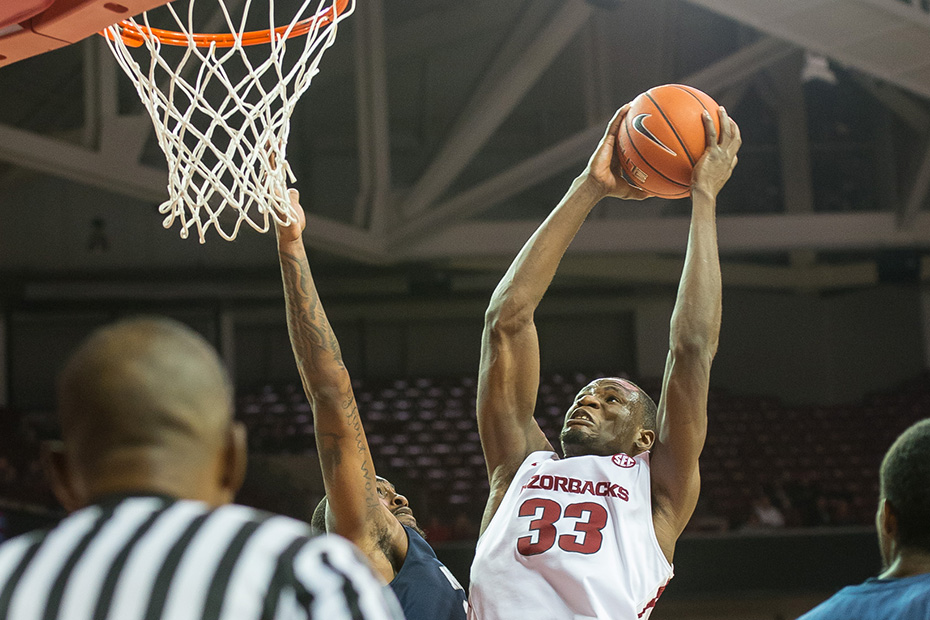 Hogs Dominate Ospreys Down Low in 97-72 Win
FAYETTEVILLE, Ark. — The Arkansas men's basketball team saw an advantage inside against North Florida (UNF) and exploited it, recording a 97-72 victory Tuesday night in Bud Walton Arena to improve to 6-5 on the season.
The Razorbacks out-rebounded UNF 52-28 and notched a 60-20 advantage in points in the paint. Moses Kingsley had his second consecutive double-double with a career-high 22 points and 10 rebounds, while Keaton Miles grabbed a career-high nine boards of his own. Anthlon Bell added 20 for his eighth career 20-plus point performance and Anton Beard scored a season-high 13 points on 5-for-8 shooting.
The Arkansas bigs announced their presence with authority early, as the Razorbacks scored all 22 of their first-half baskets from inside the arc. Manuale Watkins provided an immediate spark as head coach Mike Anderson inserted the junior guard into the starting lineup for the first time in his career. He scored nine points in the first half, including a driving and-one layup with 1.4 seconds left to give the Razorbacks a 49-41 lead going into the locker room.
With 90 total points scored in the first half, oddly enough it was the defense that allowed Arkansas to extend its lead early on in the second period. The Razorbacks held the Ospreys scoreless for the first 4:50 of the second half as they upped their lead to 55-41. The lead teetered around that mark until there was 2:37 remaining, as Arkansas proceeded to go on a 10-0 run to end the contest and finish off UNF with a 25-point win.
Bell scored 14 of his 20 points in the second frame, while Kingsley grabbed his 10th rebound with two minutes remaining to record his seventh double-double of the season. Even though the Razorbacks went 0-for-3 from beyond the arc in the first half, they responded with a 4-for-7 performance from deep in the last 20 minutes, including two treys apiece from Bell and Beard.
QUOTABLES
"I was proud of our defensive mindset. I thought we did a good job of staying with the shooters and cutting penetration out. We put Manuale in the starting lineup because he's a blue-collar kind of guy. I thought it really paid dividends because we didn't let those guys get off shooting open threes. If you let those guys get started, they can be awfully tough. " — Head coach Mike Anderson
"Moses just dominated the paint on both ends of the floor. They couldn't stop him down there tonight. He was doing anything he could and we saw that, so we wanted to take advantage of it. On the defensive end, he was altering shots, blocking shots, just getting rebounds and then we pushed it." — Senior guard Anthlon Bell
QUICK HITS
• After scoring 17 points in the first half on Saturday vs. Mercer, the Razorbacks reached 17 points in the first 6:25 Tuesday against UNF.
• Kingsley became the second player in the country with two games this season of 20 points, 10 rebounds and five blocks, joining Pascal Siakam of New Mexico State.
• After recording one double-double the last two years, Kingsley now has seven double-doubles in the first 11 games of the year.
• When Jimmy Whitt drove for a layup at the 8:26 mark of the first half, all 10 Arkansas players had made a field goal.
• Watkins made his first-career start, recording 11 points, seven rebounds and three steals in 20 minutes, including a three-point play with 1.4 seconds left in the first half.
• Nine different Razorbacks had an assist and nine different players had a rebound.
• Trey Thompson had a career-high five assists and tied a career high with seven rebounds.
• Arkansas had season highs of 52 rebounds and 27 assists, while attempting a season-low 10 shots from behind the arc.
UP NEXT
After an eight-day break for the holidays, the Razorbacks travel to Dayton, Ohio, for a 7 p.m. tip-off with the Flyers on CBS Sports Network.