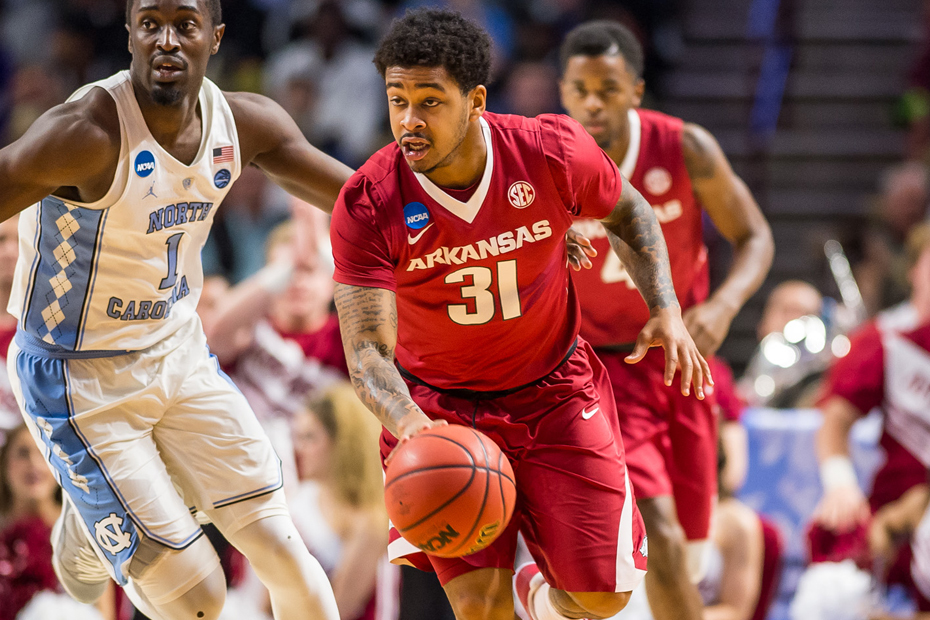 Hogs Drop Heartbreaker To Heels
GREENVILLE, S.C. — The No. 8 seed Arkansas Razorbacks dropped a nail biter against the No. 1 seed North Carolina Tar Heels Sunday night 72-65 in the round of 32 of the NCAA Tournament.
Ending the year with a 26-10 overall record, the Razorbacks put a lid on one of the best seasons in school history, finishing tied for the seventh-most wins in the history of the program.
Arkansas ends the year winning nine of its final 12 games, including a trip to the SEC Championship game and the round of 32 in the NCAA Tournament. The Razorbacks capped the season with their best road/neutral site record (11-7) in 22 years and the best since going 18-6 in 1994-95.
Arkansas erased a 17-point first-half deficit to take a five-point lead with 3:28 left to play in the game. UNC used an 8-0 run from that point to hold a three-point lead with 36 seconds to go. North Carolina hit two late free throws to stretch it to two-possession game where they would eventually win by seven.
The Razorbacks clawed back in the game with their defense. After being outscored 17-7 in the first half in points off of turnovers, Arkansas forced 10 North Carolina errors in the second half and ended the game outscoring the Tar Heels 24-23 in points off turnovers.
Arkansas got a spark from Daryl Macon and Adrio Bailey to close the first period on a 20-8 run to cut the North Carolina lead to five at the break, 38-33. Macon scored 12 first-half points in Arkansas' run, while Bailey put up four quick points on a lay-up in transition and a steal on an in bounds pass.
Macon finished with a game-high 19 points on 6-of-8 shooting, including going 3-for-5 from behind the arc. Macon also led the team with three assists. Beard was the only other Razorback to finish in double figures as the junior posted 10 points and pulled down five rebounds. Jaylen Barford and Moses Kingsley each finished with nine, as Dusty Hannahs tallied eight.
For more information on Arkansas Men's Basketball, follow @RazorbackMBB on Twitter.