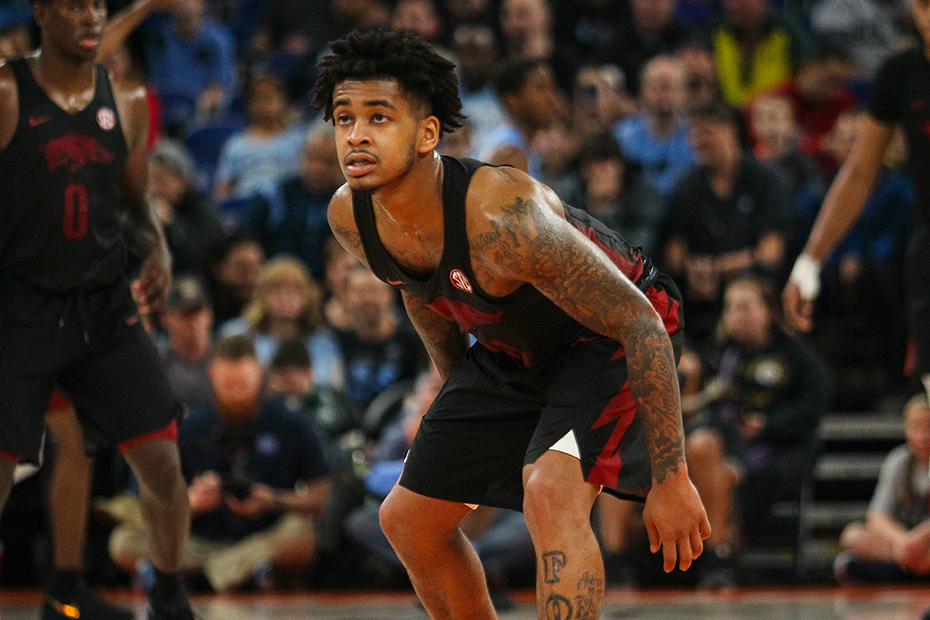 Hogs Drop Regular-Season Finale At Missouri
FAYETTEVILLE, Ark. – The Arkansas men's basketball team fell on the road Saturday night to the Missouri Tigers 77-67  to close out the regular season at 21-10 overall, 10-8 in Southeastern Conference play.
Arkansas finishes tied for fourth in the SEC, ahead of their projected finish for the fifth straight season. The Razorbacks will be the six seed in the SEC Tournament next week and will play at 8 p.m.
Arkansas' defense forced the Tigers to miss their first five shots of the game, as the Razorbacks opened on a quick 5-0 run to take the initial lead. After Arkansas built a 14-7 lead, Missouri would eventually settle in on its Senior Day. The Tigers would go on a 15-2 run to take their first lead at 22-16, as Arkansas struggled to box out on the defensive end. Missouri would score eight of their first 22 points off of offensive rebounds, finishing with 10 in the first half thanks to eight offensive boards.
Missouri finished the first half on a 11-4 run, as Arkansas could not find any flow on the offensive end. The Tigers would lead the Hogs 39-31 at the break.
Arkansas would come out of the gate and would get a quick three by Jaylen Barford to push the Missouri lead to five. The Tigers would stretch it back out to eight before Arkansas scored four straight in transition to cut it to four.
Down four, Arkansas turned up the pressure.
Missouri would go on a 16-4 run to take a double-digit lead again, six of those points coming from the free throw line. The Tigers would go on to hold off the Razorbacks, winning 77-67.
Arkansas' foul trouble hurt the Razorbacks, as the Razorbacks committed 26 fouls to Missouri's 17. The Tigers went to the line 33 times, while Arkansas attempted just 15 free throws. Arkansas did not attempt a free throw in the second half until the 5:06 mark.
Daniel Gafford led the way for Arkansas with 16 points, recording four rebounds and four blocks. Daryl Macon added 12 points, while Barford and Anton Beard each posted 11 a piece.
For more information on Arkansas men's basketball, follow @RazorbackMBB on Twitter.