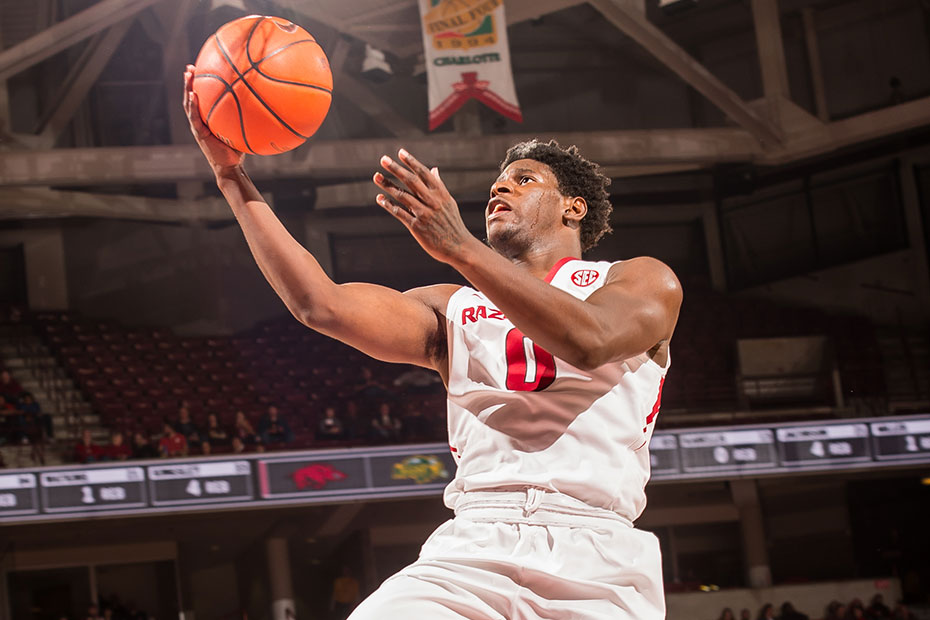 Hogs Fall At OSU In SEC/Big12 Challenge
STILLWATER, Okla. – Despite Jaylen Barford's career afternoon, the Arkansas men's basketball team (16-5) fell on the road 99-71 Saturday afternoon in the SEC/Big12 Challenge to the Oklahoma State Cowboys (13-8) at Gallagher-Iba Arena.
The Razorbacks went down 9-0 early to the Cowboys and could never recover. Arkansas gave up 59 first-half points to Oklahoma State on 19-of-35 (.543) shooting, 5-of-10 from behind the arc in the opening period. The Razorbacks, down 26 at the break, could not overcome their largest halftime deficit of the season.
After scoring Arkansas' first seven points in the game, Barford failed to score again in the first period, but did lead all Razorbacks in scoring at the intermission. Barford finished 8-of-13 from the field, scoring a season and game-high 21 points.
Arkansas struggled shooting the ball, going 24-of-58 (.414) from the field and 5-of-18 (.278) from behind the arc.
Dusty Hannahs finished with 13 points on 4-of-10 shooting. Dustin Thomas had a team-high five rebounds.
The Southeastern Conference's active leader in career blocked shots, Moses Kingsley had a game-high four swats, marking the 11th time this season the big man has blocked three or more shots in a game. Kingsley finished with 10 points and four rebounds.
Anton Beard reached double figures for the 10th time in the last 13 games, scoring 11 points on 3-of-7 shooting, including 2-of-3 from deep.
UP NEXT
Arkansas will return to Bud Walton Arena on Tuesday, Feb. 1, to continue conference play against the Alabama Crimson Tide at 6 p.m. on SEC Network.
TICKETS
Tickets for the 2016-17 season are available now at the Razorback Ticket Center by calling at 1-800-982-HOGS (4647) and online by clicking here.
For more information on Arkansas Men's Basketball, follow @RazorbackMBB on Twitter.