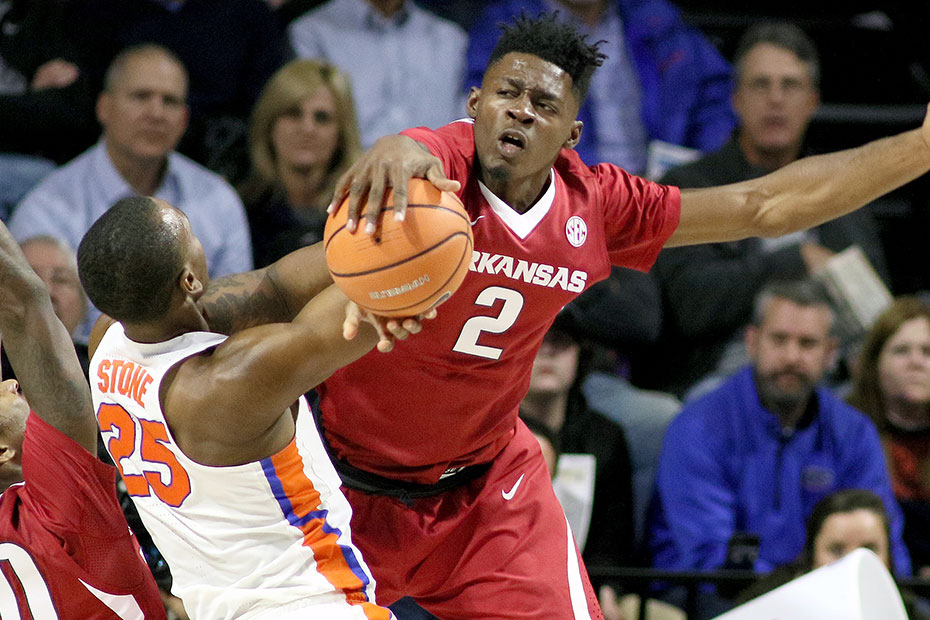 Hogs Fall On The Road To Gators
GAINESVILLE, Fla. –  The Arkansas men's basketball team was unable to overcome an early deficit Wednesday night in Gainesville, as the Razorbacks fell on the road 88-73 to the Florida Gators.
At the first media timeout of the evening, all five of Arkansas' starters were already in the scoring column. Down 7-2, Arkansas hit three consecutive three-point attempts to take its first lead at 11-10.
Following the media break, Florida would go on a 28-10 run to take their largest lead of the game to that point at 18. Arkansas would trail the Gators 48-33 at halftime, as Florida out-shot Arkansas 55.6 percent to 41.9 percent from the field in the first period. The Razorbacks struggled to get any production from their bench, as Florida outscored Arkansas 17-4 off the bench in the opening frame.
A bright spot for Arkansas was guard Jaylen Barford's shooting. The senior went 4-of-6 from the field, hitting three from deep, in the first period. However, he was in foul trouble, earning three before half.
Arkansas would open the second half on a quick 5-0 run to cut the Florida lead to 10, after Barford started the the half with a three from the top of the key and freshman Daniel Gafford hit a short hook shot.
Arkansas and Florida would trade shots for the next seven-plus minutes, before Barford hit a lay-up and sophomore guard C.J. Jones stepped into a three to cut the Florida lead to nine at 62-53.
That was as close as Arkansas would get, as the Gators went on a 20-8 run following Jones' three to take their largest lead of the game at 82-61.
Barford led all scorers, recording his seventh 20-point effort of the season, tying a career high with 28 points on 10-of-15 shooting, going 5-of-6 from behind the arc. Barford also recorded four assists. Barford has 12 career 20-point efforts, including nine coming away from home.
Gafford posted 14 points and 11 rebounds for his first career double-double and the only one recorded ever by a current Razorback.
Senior guard Daryl Macon finished with 13 points, six rebounds and five assists.
Arkansas returns home Saturday to host the Ole Miss Rebels at 2:30 p.m. in front of a sold-out crowd in Bud Walton Arena.
Ticket Packages
Single-game tickets are available now at the Razorback Ticket Center by calling at 1-800-982-HOGS (4647) and online by clicking here.