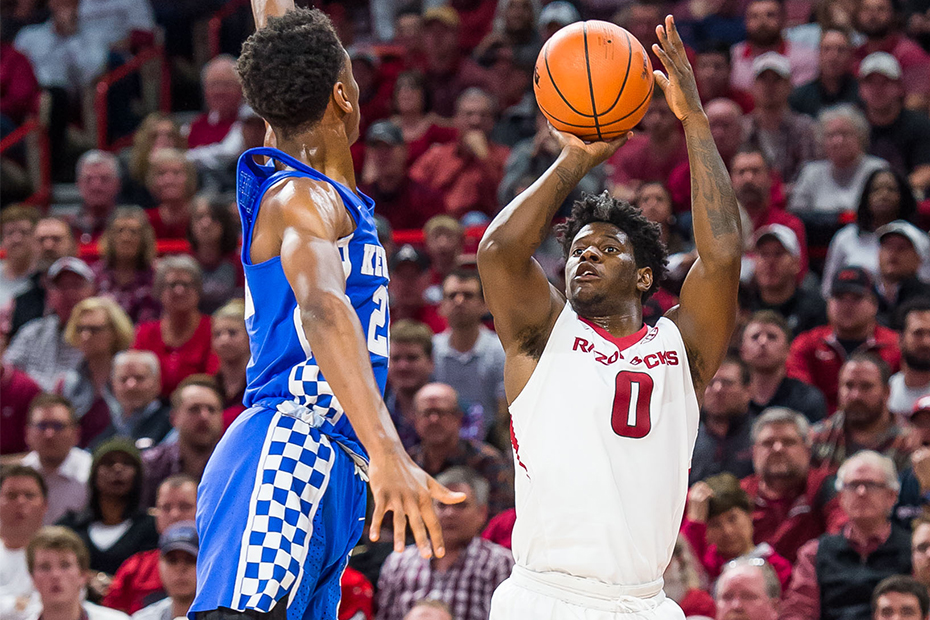 Second-Half Surge Leads Kentucky Past Arkansas
FAYETTEVILLE, Ark. – The Arkansas men's basketball team could not hold on to its early lead Tuesday night, as the the Razorbacks fell to the Kentucky Wildcats 87-72 in Bud Walton Arena.
The Razorbacks came out swinging. Arkansas would use an 11-0 run right out of the gate to go up early on the Wildcats. The Razorbacks hit their first two three-point attempts to take a 6-0 lead, before needing a little help on the offensive glass from senior forward Dustin Thomas. Thomas would tie his career high in offensive boards just in the first three minutes of the game with four, as the Razorbacks would score five early second chance points off of his rebounds.
Kentucky would claw back in it to eventually take the lead, but Arkansas would tie it at half, 43-43, thanks for senior guard Daryl Macon, who hit a last second three. Macon would lead the Razorbacks at the break with 14 points, going 4-of-7 from deep.
With 13 minutes and 16 seconds left in the game, Arkansas would lead 61-56 after a pull-up three in transition by Anton Beard. The Wildcats would go on a 25-5 run over the next eight-plus minutes to take their largest lead of the night at 81-66. A big reason for that run was Arkansas' inability to create anything on the offensive end. The Razorbacks went a period of seven minutes and 43 seconds without a made basket. Arkansas missed 10 of its last 12 shots of the game, including a streak of seven straight.
Kentucky would go on to win 87-72, as the Razorbacks fall to 19-9 overall this season, 8-7 in SEC play.
Macon led Arkansas with 26 points on 8-of-16 shooting, hitting 4-of-9 from behind the arc. Senior forward Dustin Thomas led Arkansas in rebounding, pulling down 10 boards, including a career-high six on the offensive end, to go along with six points. Beard scored 13 for Arkansas and had a team-high five assists.
Arkansas returns to action on Saturday, as the Razorbacks travel to Tuscaloosa, Alabama, for a 5 p.m. tip off against the Alabama Crimson Tide on SEC Network.
Tickets
Single-game tickets for Arkansas' senior day against No. 12 Auburn game on Feb. 27 are available now at the Razorback Ticket Center by calling at 1-800-982-HOGS (4647) and online by clicking here.

For more information on Arkansas men's basketball, follow @RazorbackMBB on Twitter.