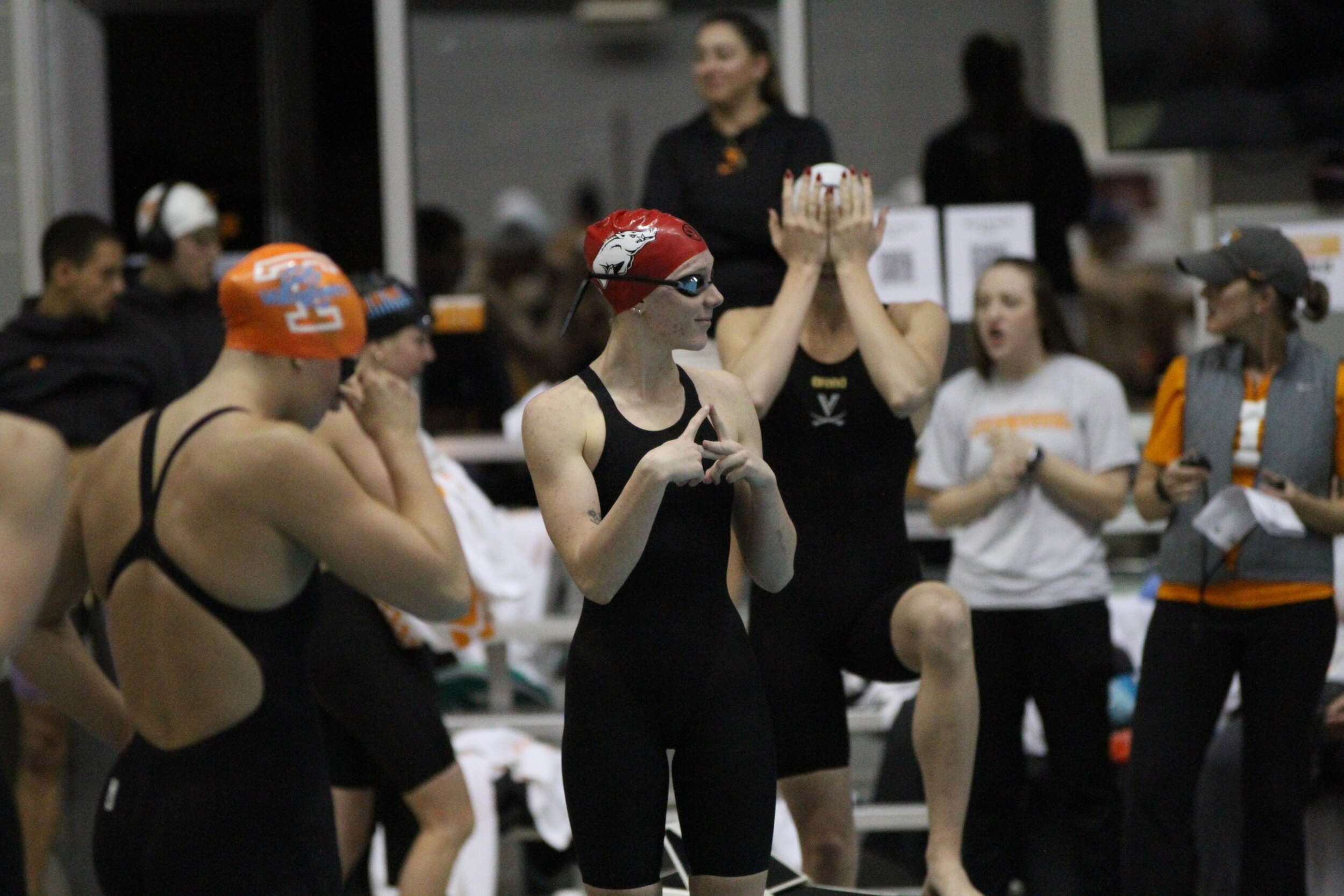 Hogs Have Solid Day Two in Tennessee Invite
FAYETTEVILLE, Ark. – Day two of the Tennessee Invite saw the Razorbacks continue their success against a very talented field of opponents in Knoxville. In the finals, several Razorbacks posted podium finishes, and a handful of NCAA B-Cut times.
Hog Highlights
Sophomore Maddy Hartley finished second in the A-Final of the 100 Yard Butterfly with a time of 52.74 which was good for an NCAA B-Cut time. Her 52.74 finish also ranks her at number three on Arkansas' all-time finishes in the 100 Yard Butterfly.
Senior Bella Cothern finished third in the B-Final of the 100 Butterfly followed by Adela Vavrinova in fourth.
Alessia Ferraguti put up a spectacular performance in the 100 Yard Breaststroke A-Final, finishing fourth with a time of 59.26 which tied her for fifth on Arkansas' all-time finishes and met the NCAA B-Standard.
Alaya Smith finished sixth in the B-Final of the 100 Breaststroke with a time of 1:01.46, an NCAA B-Cut time.
Reilly Shaner also put up an NCAA B-Cut time in the C-Final of the 100 Breaststroke, finishing in 1:01.40.
The A-Relay team consisting of Maddy Hartley, Rebecca Simpson, Adela Vavrinova, and Betsy Wizard finished second in the 800 Yard Freestyle Relay with a time of 7:14.71.
Bryze Sanchez and Isa Perreira had strong showings in Platform Diving, finishing seventh and ninth with scored of 227.55 and 226.65 respectively which are both NCAA Zone Diving qualifying scores.
More Information
Visit ArkansasRazorbacks.com for the latest information on all things Arkansas Swim and Dive. You can also find the Razorbacks on social media by liking us on Facebook (Arkansas Razorback Swimming and Diving) and following us on Twitter (@RazorbackSD) and Instagram (@RazorbackSwimDive).
— ArkansasRazorbacks.com || On Twitter @ArkRazorbacks || Facebook.com/ArkansasRazorbacks –