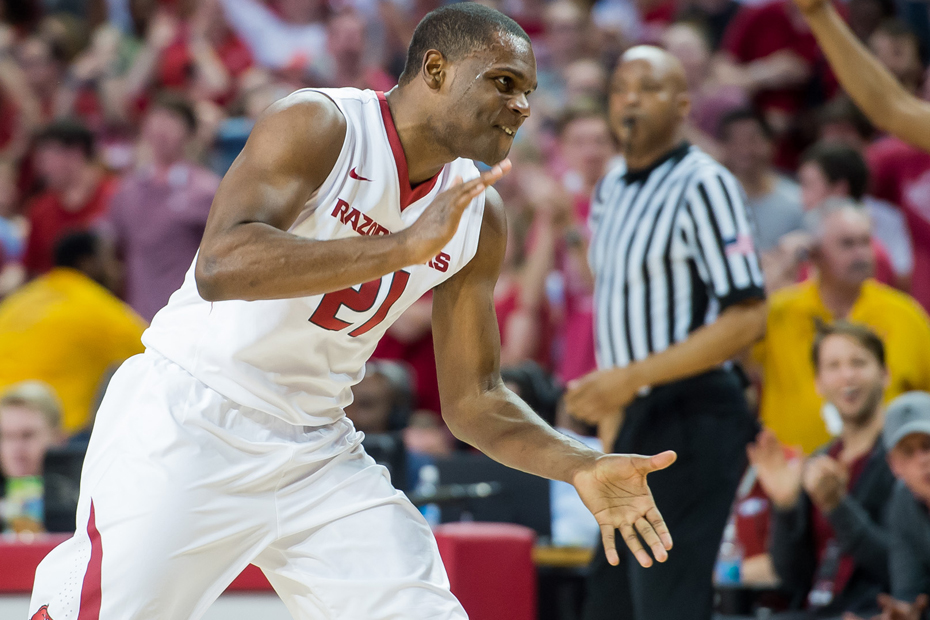 Hogs Hold Off Aggies For Fourth Straight Win
Box Score | Highlights | Player Interviews | Anderson Interview
FAYETTEVLLE, Ark. — Behind a 50-point second-half performance, the Arkansas men's basketball team held off Texas A&M 86-77 Wednesday evening to extend its winning streak to four games and sweep the season series from the Aggies.
Arkansas (21-7, 10-5) has won three consecutive games over the Aggies, including nine straight in Fayetteville, as Texas A&M Texas A&M (14-13, 6-9) remains winless in Bud Walton Arena.
The Aggies and Razorbacks got into an absolute dogfight. Neither team could build a run larger than five points until Arkansas scored six straight late in the second half to jump out to an eight-point lead on the Aggies. After only going to the line three times in the opening frame, the Razorbacks went 21-24 from the charity stripe in the second half to seal the game.
Offensively, the game got off to a slow start as neither team could find its rhythm early. Soon enough, they each began to trade baskets. After opening the contest a combined 1-of-10 from the field, the Razorbacks and Aggies sank 18 of their next 26 attempts to give Arkansas a 24-21 lead. The Razorbacks maintained their lead and went into halftime up 36-33.
Arkansas continued to use its depth, outscored the Aggies 27-4 in bench points, as Daryl Macon led the way with 12 points, while Trey Thompson was a huge spark off, assisting on a game-high six baskets to set a new career high.
The Razorbacks recorded 11 steals, scoring 21 points off 17 Aggie turnovers.
Jaylen Barford led all Razorbacks with 16 points, going 6-of-11 from the field. Moses Kingsley finished with his sixth double-double of the season, scoring 10 points and pulling down 10 rebounds. Manuale Watkins put up 13 and Dusty Hannahs rounded out the five double-figure scorers with 11 points.
WHAT MIKE ANDERSON IS SAYING
"You take their five and my five, from a talent standpoint they probably out talent my guys. But where we can get you is with the eighth, ninth and 10th guys we put out there. You think about it, they're putting starting numbers up. Daryl Macon, he had 12 and 4 and had 30 the other night. Thompson had six assist, that's from one of the big guys." – Mike Anderson
UP NEXT
Looking for its third straight conference road win and fifth consecutive win overall, Arkansas travels to Auburn, Alabama, this weekend to face the Auburn Tigers on Saturday, Feb. 25 at 7:30 p.m.
For more information on Arkansas Men's Basketball, follow @RazorbackMBB on Twitter.