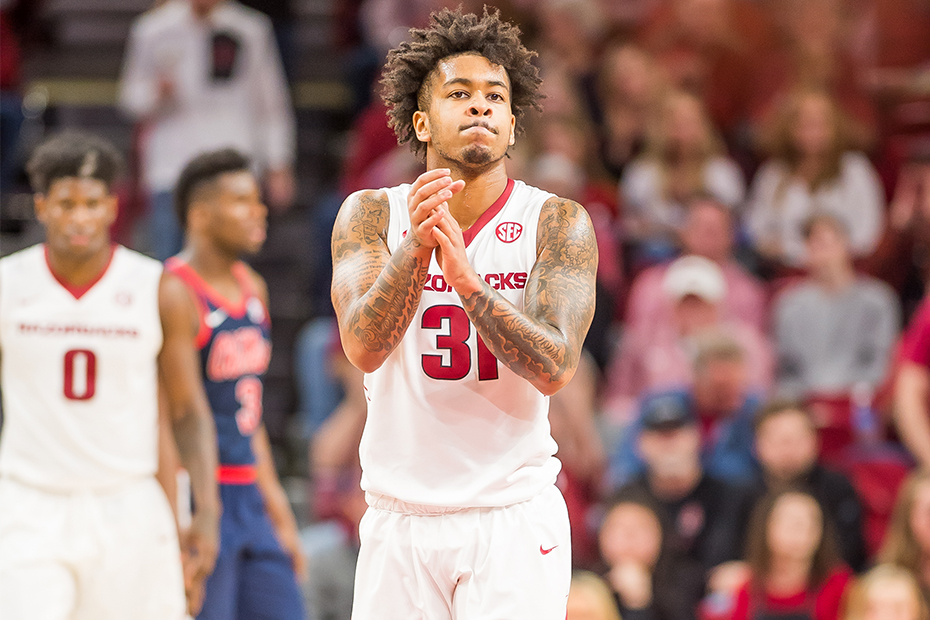 Hogs Look To Get Back In Win Column Against Gamecocks
FAYETTEVILLE, Ark. – After three straight conference games on the road, Arkansas returns home for four of its next five contests, beginning Tuesday night with a 6 p.m. tip against South Carolina in Bud Walton Arena.
The Rundown
Opponent: South Carolina Gamecocks (13-10, 4-6 SEC)
Date: Tuesday, Feb. 6
Site: Bud Walton Arena (Fayetteville, Ark.)
Tip-off: 6 p.m. CT
TV: ESPN2 | WatchESPN
Live Stats: Click Here
Sirius/XM Radio: 145/385
The #Fastest40 Facts
• Arkansas is 11-1 in Bud Walton Arena this season with a +13.9 average margin of victory, including a +107 scoring margin in the first half.
• Arkansas has won 32 consecutive games in which it has led at halftime. During Mike Anderson era, the Razorbacks are 117-7 when leading at the intermission.
• Arkansas' last five wins have come by a combined 12 points, with one coming in overtime and one in double overtime. The Razorbacks are 10-1 in their last 11 one possession game.
• Daryl Macon is the first Arkansas player since Corliss Williamson in 1994-95 to score 20-plus points in five consecutive games.
• Jaylen Barford is the only player in the SEC to rank in the top five in points per game (2nd), field goal percentage (4th) and three-point FG percentage (1st).
• Barford (19.9) and Macon (18.4) rank first and fifth in the league in scoring during SEC games. No other team in the conference has two players in the top 10.
• Daryl Macon is a perfect 24-of-24 from the free throw line in the final minute and overtime of games this season. In his career, he is 54-of-58 (.931).
• Barford (.448) and Macon (.427) are one of two sets of teammates (TCU) from a high-major conference to hold the top two spots in their league in three-point field goal percentage.
A Win Would…
• Give the Razorbacks 12-plus victories in Bud Walton Arena for the 14th consecutive year.
• Make Arkansas 32-6 in its last 38 games inside Bud Walton Arena.
• Tie Arkansas for the fourth-most home wins in the country during the Mike Anderson era at 107.
For more information on Arkansas men's basketball, follow @RazorbackMBB on Twitter.