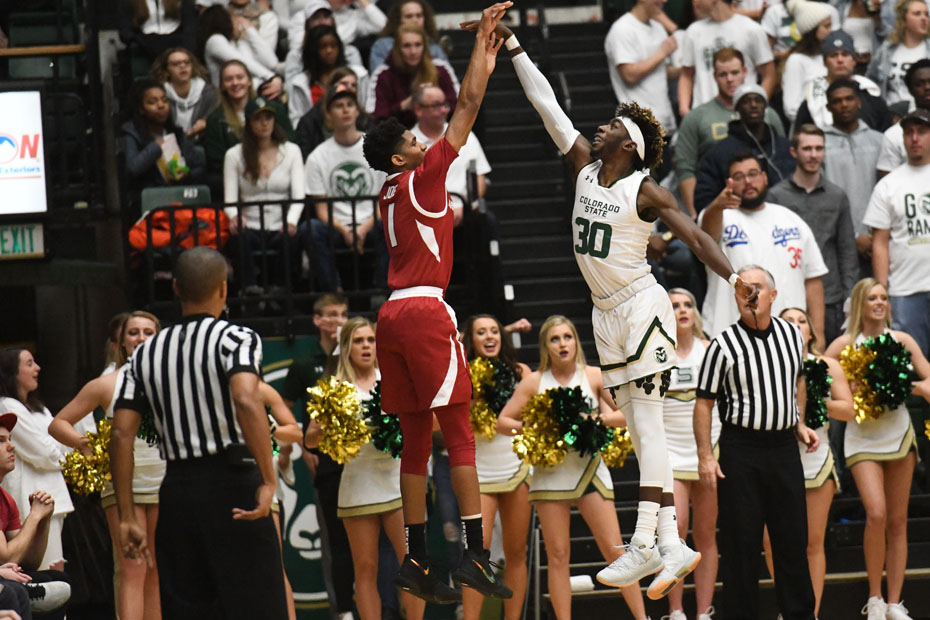 Hogs Pick Up Road Win at Colorado State
FORT COLLINS, Colo. – Jalen Harris had 12 assists, with just two turnovers, and six Razorbacks scored in double figures to lead Arkansas to a 98-74 victory over Colorado State Wednesday night at Moby Arena.
The game was the first true road game for the 6-1 Razorbacks, who dished out at least 20 assists for the fourth time in five games. Arkansas finished with 28 helpers, the second-best total of the season, while it committed a season-low seven turnovers.
The Razorback bench played a huge factor in Arkansas leading 44-33 at the break. Reggie Chaney scored nine off the bench and Keyshawn Embery-Simpson added eight as the Razorback bench out-scored the Rams' bench 22-2.
The Razorbacks shot 50 percent from the field in the first half, including 42.9 from 3-point range, but was just 4-of-6 at the line. The Rams were able to stay close by making 7-of-11 free throws and 42.9 percent from 3-point range despite shooting just 34.5 percent from the field overall.
In the second half, Daniel Gafford had 10 points and six rebounds, while Isaiah Joe scored nine. The pair played a key role in a 13-0 run to put their team up 20.
The Rams made 14 free throws, versus just 11 field goals, but Arkansas only committed two, second-half turnovers.
Mason Jones led the Razorbacks with 16 points, followed by Joe (14), Embery-Simpson (14), Gafford (12), Chaney (11) and Adrio Bailey (10). Gafford was a rebound shy of a double-double, getting nine boards, and Chaney had eight rebounds.
Arkansas will return home to face Western Kentucky on Saturday (Dec. 8). Tip-off is set for 2:30 pm and the contest will be telecast on the SEC Network.
FIRST HALF: Arkansas 44 – Colorado State 33
Arkansas jumped out to a 12-2 start as Mason Jones hit three, 3-pointers and Isaiah Joe one.
While the Rams cut their deficit to three, 14-11, the Razorback bench played well, and Arkansas led 22-13 at the 11:19 timeout.
Ultimately, Arkansas went on a 9-0 run, keeping the Rams off the scoreboard for 4:11 to take a 27-13 lead.
The Rams got it back to single digits at 1:45 (39-31) and again at 0:56 (41-33) but Keyshawn Embery-Simpson hit a 3-pointer with 32 seconds left to put the Razorbacks up 11. The Rams had two chances to score inside the final 20 seconds but Adrio Bailey had one blocked shot and Reggie Chaney another to keep the score 44-33 at the break.
Reggie Chaney played 11 minutes off the bench as Daniel Gafford picked up two fouls. Chaney was 4-of-6 from the field to score nine points, tied for team-high honors, and he had a team-best five rebounds.
Mason Jones joined Chaney with nine points while Keyshawn Embery-Simpson added eight off the bench.
SECOND HALF: Arkansas uses 13-0 run to turn seven-point lead into a 20-point lead.
Isaiah Joe started the second half with a pair of 3-pointers, Adrio Bailey had a dunk and Mason Jones made a pair of free throws to give Arkansas its first 20-point lead (54-34) with 17:45 left in the game.
The Rams went on a 13-0 run over 1:32 to trim their deficit to nine (65-56).
Colorado State would ultimately get to within seven (67-60) to force an Arkansas timeout. The Razorbacks came out of the break with the starting five back out on the floor. Daniel Gafford got a dunk and Isaiah Joe made a 3-pointer to give the Hogs some breathing room. Arkansas went on a 13-0 run to take a 20-point lead (80-60), keeping the Rams scoreless for 4:28.
Colorado State's Nico Carvacho made a free throw with 4:27 left to get the Rams within 16, but that is as close as they would get the rest of the way.
GAME NOTES:
Arkansas starters for the seventh straight game were Isaiah Joe (G) – Jalen Harris (G) – Mason Jones (G) – Adrio Bailey (F) – Daniel Gafford (F).
Arkansas controlled the tip and Mason Jones scored the first points of the game on a 3-pointer at 19:26.
This was the second meeting between Arkansas and Colorado State on the hardwood. The Razorbacks won the previous meeting, 92-66, at Bud Walton Arena exactly one year ago to the day (Dec. 5, 2017).
Arkansas has won six straight. The Razorbacks have had win streaks of at least six games in six of the eight years of the Mike Anderson era.
Freshman Keyshawn Embery-Simpson scored a season-high 14 points, making 5-of-6 shots from the field including 4-of-5 from 3-point range.
Jalen Harris finished with an impressive stat line with 8 points, 12 assists, 6 rebounds and 4 steals. Harris, who entered the game sixth in the NCAA in assist-to-turnover ratio, has dished out 39 assists with just five turnovers spanning the last four games.
Isaiah Joe and Daniel Gafford each scored in double figures and the pair are the only two Razorbacks to score in double figures in all seven games this season.
Arkansas is now 131-7 in games under Mike Anderson when leading at halftime with a current streak of 46 wins in such games.
As a head coach, Mike Anderson's teams are now 67-1 when scoring between 90-99 points, including a 35-0 mark at Arkansas. Over the last two games, Arkansas has scored 121 and 98 points, respectively, and Anderson's teams are a combined 90-2 when scoring at least 90 points, including a 46-0 ledger at Arkansas.
 For more information on Arkansas Men's Basketball, follow @RazorbackMBB on Twitter.