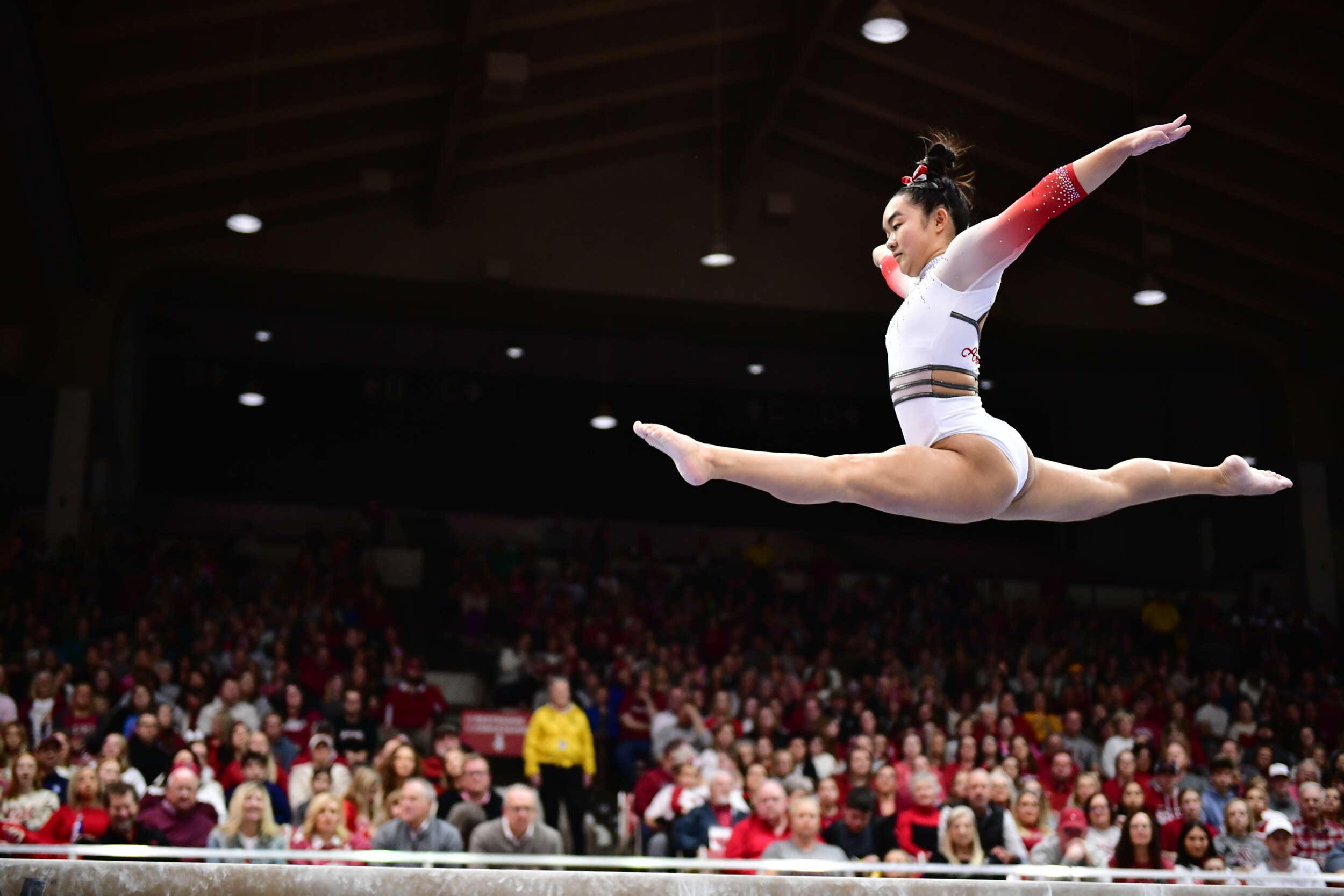 Hogs Set New Program Event High for Second Consecutive Week, Fall to Tigers
Arkansas took the floor for its final meet at Barnhill Arena on Friday night and set a program high for the second week in a row.
The No. 17 Hogs were defeated by the No. 14 Missouri Tigers 196.650-197.850 but hit a new record of 49.525 on beam in the third rotation. This comes a week after the Gymbacks set a new program vault high, also of 49.525, last Friday.
The beam team performance was highlighted by a 9.975 for graduate transfer Norah Flatley, which is a new career high and was good for first place on the night. Sophomore Kalyxta Gamiao also earned a career high, a 9.925, for a share of second place.
Vault
Arkansas put up solid scores through its first three vaulters on the night, with 9.800s for redshirt sophomore Cami Weaver and sophomore Leah Smith, and a 9.850 for Flatley. Both of the Gymbacks' Yurchenko 1.5s were impressive in the fifth and sixth spots, as sophomore Makenzie Sedlacek earned a 9.875 and freshman Lauren Williams put up a 9.900 as the anchor.
Bars
Freshman Cally Swaney and junior Jensen Scalzo got bars off to a good start with a pair of 9.825s, which brought up freshman Reese Drotar in the third spot. She hit a clean routine with a stuck double layout dismount for a 9.900 to keep the momentum going. Freshman Jaime Pratt earned another 9.825 up fifth, and Flatley came to close. She had a solid set and finished with another 9.900 for Arkansas, which brought the event total to 49.275.
Beam
Gamiao showed her strength as a lead-off as she hit all her skills effortlessly and stuck her round-off 1.5 dismount for a new personal best of 9.925. Senior Kiara Gianfagna kept the pressure on as she cruised through her routine and stuck her dismount for a 9.900, which matches her career high. Swaney earned a 9.875 up third, and graduate Kennedy Hambrick came in clutch after a fall with a 9.850 score. Flatley was next and delivered a near-perfect routine with a stuck dismount. She received a 10 from one judge and 9.950 from another for a 9.975 final, a new personal high and just the fourth 9.975 in Arkansas beam history. The mark cemented the Hogs' new program high of 49.525, the second time in two years the record has been broken.
Floor
Arkansas got a hot start in its final rotation as junior Maddie Jones paced the Gymbacks with a lead-off 9.900. Senior Maddie Hickey followed with a stellar routine with stuck passes for a 9.925. The Hogs then ran into some trouble with scores below 9.200 in the next two performances. Williams helped recover with a 9.750 in fifth, and it was redshirt sophomore Frankie Price's turn as anchor. She nailed each tumbling pass and brought the energy for a big 9.925 score, which ended the meet on a high note.
Up Next
The Gymbacks have their final regular season road meet on Friday, March 3 as they head to Athens to take on the Georgia Bulldogs. The meet is set for 6 p.m. CT and will be streamed live on SEC Network Plus.
More Information
Visit ArkansasRazorbacks.com for the latest information on all things Arkansas Gymnastics. You can also find the Razorbacks on social media by liking us on Facebook (Arkansas Razorback Gymnastics) and following us on Twitter and Instagram (@RazorbackGym).