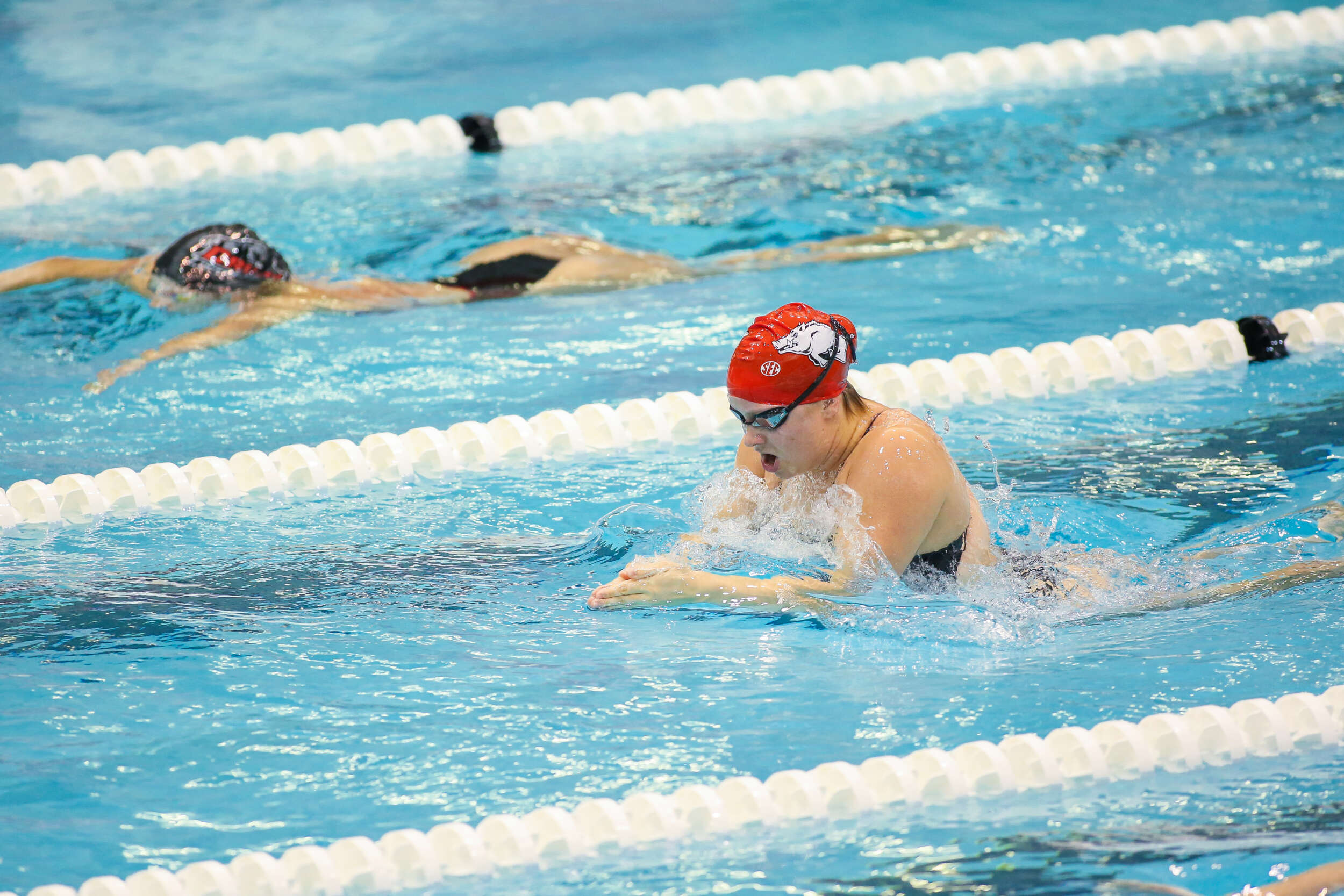 Hogs Set To Wrap Last Home Meet
FAYETTEVILLE, Ark. – The Razorbacks regular-season finale is approaching, and the Hog swimmers will look to win a home meet against Little Rock, while the divers are headed to Dallas, where they will clash with SMU, Tulane, and North Texas.
Opponents: SMU Mustangs, Tulane Green Wave, North Texas Mean Green, Little Rock Trojans
Date: January 15 & 16 2022
Location: Fayetteville, Ark. // Dallas, TX.
Dive Time:  Friday 2 p.m. CT & Saturday 11 a.m. CT
Last Time Out
 Arkansas comes into the meet off a fourth-place finish at the Tennessee Invitational. The Hogs scored 408 points as a team in the meet. The Razorbacks totaled 27 personal best times at the meet and broke three school records, as well.
 Scouting the Trojans
The Trojans are coming into Fayetteville after a loss to North Texas on December 15. The Trojans put up a team score of 113.5 to North Texas team score of 139.5. The Trojans have already faced the Razorbacks this season in the All Arkansas Invite where they finished second behind the Razorbacks.
Scouting the Mustangs
SMU is coming off a dual meet split against Houston and Rice. The Mustangs put up a team score of 164 while, Rice scored 98. Additionally, the Mustangs would fall to Houston where they put up a team score of 118 to Houston's team score of 167.
Scouting the Green Wave
Tulane is coming into Dallas off a loss to LSU on December 4. The Green Wave put up a team score of just 97 to LSU's team score of 203.
Scouting the Mean Green
North Texas is coming to Dallas on a three-meet winning streak. The Mean Green are currently 3-0 on the year, and they are coming off a win against Little Rock. The Mean Green beat Little Rock, 139.5-113.5.
More Information
Keep up with all the latest news and information and get behind the scenes looks into our program on our social media accounts. Follow us on Twitter at @RazorbackSD and check out our Facebook page. Stats, news, and player information can be found at ArkansasRazorbacks.com.