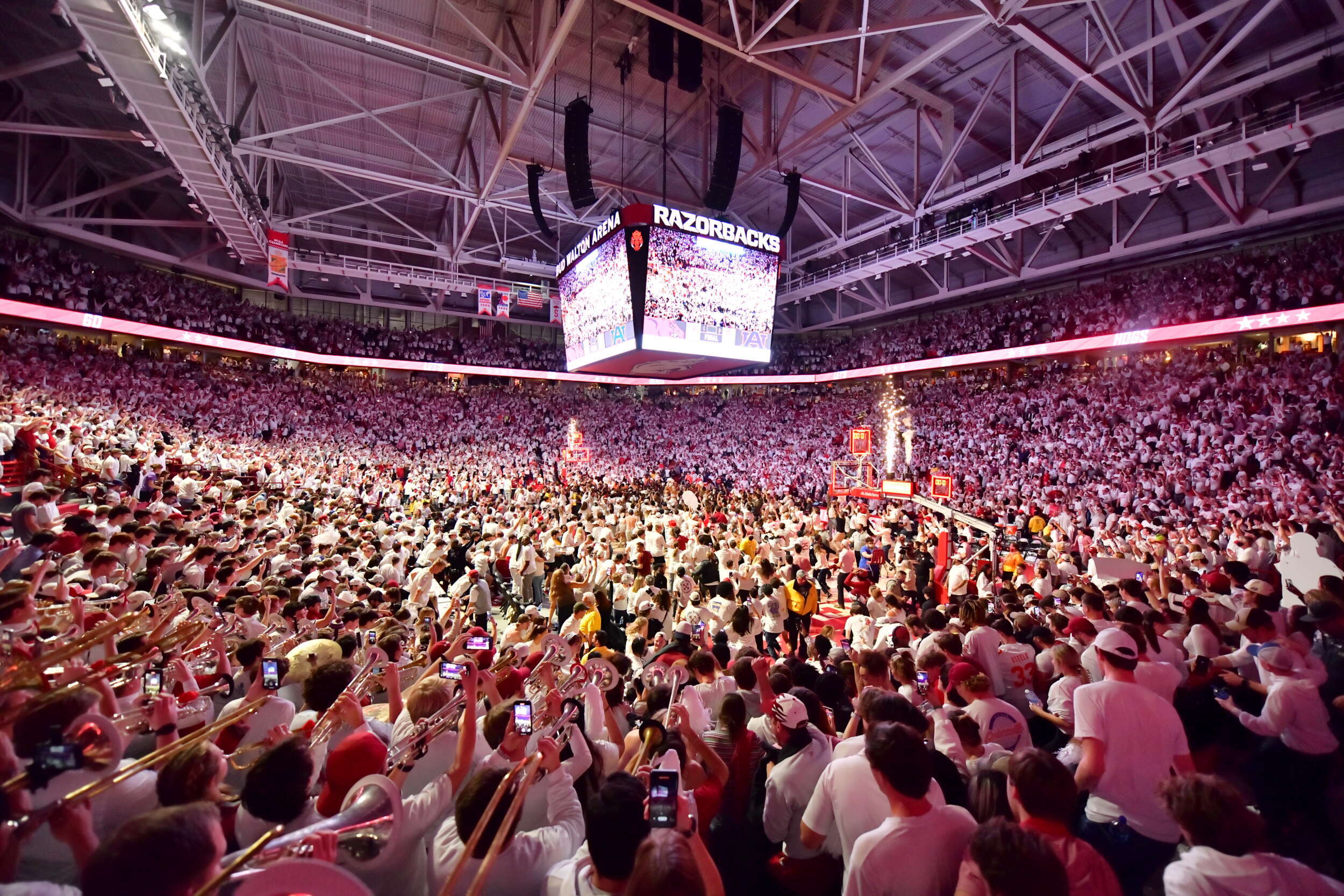 Hogs take down No. 1 Auburn in front of record crowd
FAYETTEVILLE, Ark. – Bud Walton Arena had never hosted the No. 1 team in the nation and had never had a bigger crowd until Tuesday night when the Razorbacks beat top-ranked Auburn 80-76 in overtime in front of an arena record 20,327.
Down one with 2:39 left in overtime, Jaylin Williams (13 points and 11 rebounds) and JD Notae (28 points, three steals and four blocked shots) made seven straight free throws to give the Razorbacks a lead it would not relinquish.
The win was just the second time Arkansas has ever beaten the #1 team in the land and Arkansas improves to 2-11 all-time in such games. It was also just the third time an opponent came to Fayetteville ranked #1 and it was the first time they had played in Bud Walton Arena.
The game featured 15 ties and 17 lead changes.
The last lead change came when Auburn led, 70-69, with 2:39 left in overtime. From that point, Williams made two free throws, Notae made two free throws and Williams finished the 7-0 run with three free throws to put the Hogs up six, 76-70.
Auburn battled back as Jabari Smith sank a 3-pointer with 36 ticks left to cut the Tiger deficit to three (76-73). After two free throws by Chris Lykes, Smith drilled another 3-pointer to get the Tigers to within two with 19 seconds remaining. Au'Diese Toney went 1-of-2 at the line but Williams grabbed an offensive rebound on the miss. Notae was fouled with 12 seconds to go for a 4-point Razorback lead. Auburn missed a jumper on the ensuing possession and Williams grabbed the defensive rebound to seal the win.
Overall, Arkansas was 11-of-14 at the free throw line in overtime while Auburn was 0-of-3 at the stripe.
Notae made and attempted career highs at the line (11-of-14) and his four blocked shots are a career high. He added five rebounds, three assists and three steals, including a critical theft with 56 seconds left in regulation.
Williams tallied his sixth double-double (all within the last 10 games) with two assists and two steals. Toney also recorded a double-double with 14 points and 10 rebounds (five offensive). It was his fifth career double-double and second as a Razorback.
Davonte Davis was +15 (the only Razorback in double digits) thanks t 10 points and a career-high five steals.
Auburn was led by Smith's 20 points and nine rebounds. Wendell Green Jr., added 19 points while Walker Kessler had 16 points and 19 rebounds.
Arkansas hits the road to face Alabama on Saturday (Feb. 12). Tipoff is set for 11:00 am (CT) and the game will be televised on SEC Network.
FIRST HALF: Arkansas: 28 – Auburn: 25
Arkansas used a 20-4 run, holding Auburn to 1-of-13 FG and two free throws, to take a 27-15 lead.
The Tigers answered with a 6-0 run and closed the half with a 10-1 spurt to make it a three-point game at the break.
Arkansas held the Tigers 26.5% (9-of-34) shooting from the field and 16.7% (2-of-12) from 3-point range.
Auburn out-rebounded the Hogs 31-15, grabbing 11 offensive boards.
Arkansas forced Auburn into 11 first-half turnovers.
JD Notae led the Hogs with eight points while Jaylin Williams and Stanley Umude each scored six.
Chris Lykes led Arkansas with four rebounds while Davonte Davis had three steals.
SECOND HALF: Arkansas: 38 – Auburn: 41
Auburn's Smith converted an old-fashion 3-point play to open the second half ant tie the game.
Arkansas' biggest lead of the second half was five (51-46) at the 10:17 mark. Auburn's largest lead in the second half was five (64-59) at the 2:40 mark.
After going down five, Arkansas went on a 5-0 run to tie the game thanks to two free throws by Au'Diese Toney (at 2:28), one by Stanley Umude (at 1:51) and two by JD Notae (at 0:54) to tie the game at 64-64.
Wendell Green Jr., quickly gave Auburn the lead back with a jumper with 42 seconds left. Jaylin Williams answered with a layup – of a Notae assist – with 23 seconds left to knot the game at 66-66. Green missed a 3-pointer with six seconds left and Davonte Davis grabbed the rebound to force overtime.
JD Notae made two key defensive plays late in the game. First, with 1:29 left, he blocked a shot. Arkansas missed a shot on the other end but Notae came up with a steal with 56 seconds left. He was fouled after the steal and made the two free throws to tie the game at 66.
OVERTIME: Arkansas: 14 – Auburn: 1
JD Notae (6) and Jaylin Williams (5) combined for 11 of Arkansas' 14 points in overtime.
JD Notae and Jaylin Williams played all 20 minutes in the second half and all five of overtime.
GAME NOTES
Arkansas' starting lineup was JD Notae – Au'Diese Toney – Stanley Umude – Trey Wade –Jaylin Williams for the eighth straight game.
Arkansas won the opening tip.
Auburn's Jabari Smith scored the games' first points, at 18:51. JD Notae scored the first points to Arkansas, a layup at 18:03.
Kamani Johnson and Chris Lykes were the first Razorback subs.
Arkansas is now 37-20 all-time versus Auburn and 23-5 in games played in Fayetteville. Arkansas as won three straight in the series and 13 of the last 17.
The record crowd of 20,327 was seven more than the previous Bud Walton Arena top crowd of 20,320 versus #3 Kentucky on Jan. 26, 1997. (Arkansas lost 83-73)
With the win and since Eric Musselman arrived as the Razorback head coach – Arkansas has an SEC-best 64 wins (Auburn is second with 60); Arkansas has an SEC-best 44 overall home wins (LSU is second with 37) and Arkansas ties LSU for most home SEC wins with 18.
The last time Arkansas faced #1 was Kentucky at the 2015 SEC Tournament.
The only other times an opponent ranked #1 played in Fayetteville – both in Barnhill Arena – was when #1 Houston beat #5 Arkansas (74-66) on Mar. 3, 1983, and when #1 UNLV beat #2 Arkansas (112-105) on Feb. 10, 1991.
Auburn entered the game ranking 5th in the NCAA in field goal percentage at 45.1%. Arkansas held the Tigers to 37.5%.
Arkansas has won nine straight and has held its opponent below 40% shooting from the field in eight and below 31% shooting from 3-point range in eight.
Arkansas was 26-of-32 at the free throw line. It was the eighth time Arkansas made at least 20 free throws in a game this season.
Jaylin Williams has pulled down double-digit rebounds nine times this season, including six times with double-digit defensive boards.
Chris Lykes made two free throws in overtime. He is now 36-of-38 at the line inside the final three minutes of regulation and overtime.
Arkansas is 2-0 in overtime games this season. Arkansas is 4-3 in overtime under Coach Musselman, and he is 10-6 all-time as a collegiate head coach in overtime games. Arkansas is now 68-59 all-time in overtime games
Auburn had 60 rebounds (24 offensive and 36 defensive). It was the most rebounds by an opponent. The 24 offensive boards were the first time an opponent had 20-plus since LSU had 23 on Jan. 8, 2019.
Auburn's 80 field goal attempts were the most by an opponent since FIU had 83 on Dec. 1, 2018.