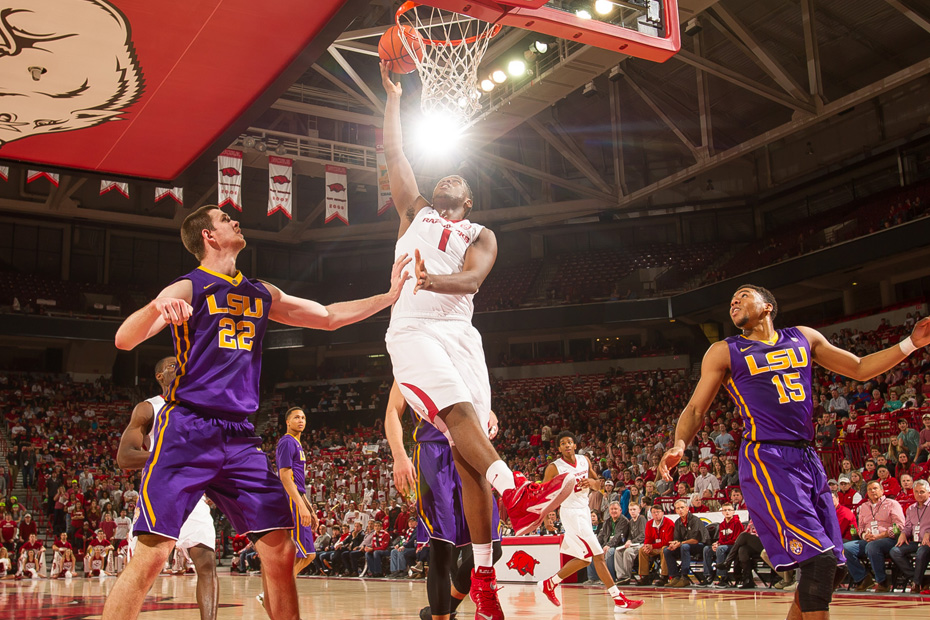 Hogs Tame Tigers in 20-Point Win
Box Score (PDF) | Anderson Presser | Players Presser
FAYETTEVILLE, Ark. — A career night by Trey Thompson helped propel the Arkansas men's basketball team to a 85-65 victory over SEC foe LSU on Tuesday night in Bud Walton Arena.
The sophomore forward had a career-high 13 points on a perfect 6-for-6 shooting performance from the field and added six rebounds.
Meanwhile, Moses Kingsley went toe-to-toe with freshman phenom Ben Simmons, with a jack-of-all-trades performance of 21 points, 12 rebounds, four assists and three blocks. It was Kingsley's fourth-consecutive double-double and 15th on the season.
The win was head coach Mike Anderson's 100th with the Hogs and 300th of his career.
Early on, both teams found it difficult to but the ball in the basket, as Arkansas led 7-6 at the first media timeout. But a Kingsley dunk at the 15 minute mark opening things up, and the game was officially off to the races. Seven minutes later, the Razorbacks led 25-16, but a quick 10-0 run by LSU gave the visitors a one-point lead.
It would be the last lead the Tigers saw, as 12 first-half points from Jimmy Whitt helped give the hosts a 34-32 lead at halftime. Dusty Hannahs also put forth a productive first 20 minutes, with nine points of his own on 4-of-6 shooting.
The second half was particularly one-sided, with Arkansas outscoring LSU 51-33 to clinch the 20-point win. The Razorbacks shot 63.3 percent (19-for-30) from the field, including 5-of-11 from beyond the arc. Kingsley (17), Thompson (11) and Anthlon Bell (10) all scored in double digits in the final frame alone, while combining to shoot a 14-for-15 mark.
Simmons held his own for the Tigers, with 23 points, 12 rebounds and six assists in 37 minutes of playing time. However, the freshman also had five turnovers, and fouled out with two minutes remaining in the game on a technical foul.
QUOTABLES
"I started the halftime talk right at Moses, and he responded. My voice carries in the locker room, trust me it does. He knew I was right in what I was saying; I thought he wasn't playing like he was capable. Moses has the trickle down effect on our team, when he has energy it can change the momentum of everyone. The team rallies around him." — Head coach Mike Anderson
"I just went out and played. My teammates put me in a great position to score. I didn't know I had a career high until someone told me. Coach said we still haven't played our best basketball yet. We just have to take it day-by-day and one game at a time, but this one does feel pretty good." — Sophomore forward Trey Thompson
"Guys on our bench are starting to understand their role on this basketball team. At one point tonight we were up 10 or 12 and LSU cut the lead down to 8, but I kept them in because they build their confidence and dig themselves out of it. I can't say enough about the guys coming off the bench." — Head coach Mike Anderson
QUICK HITS
• Head coach Mike Anderson notched his 100th win at Arkansas and the 300th win of his career.
• Moses Kingsley had 21 points, 12 rebounds, four assists and three steals. It was only the eighth time this season in college basketball that those numbers have been reached in a single game.
• Kingsley recorded his fourth straight double-double and his 15th of the season.
• Arkansas' bench outscored LSU's reserves 32-0.
• With the win, Anthlon Bell has now defeated every SEC team in his career.
• Bell scored in double figures for the 50th time in his career.
• Bell has hit a three-pointer in all 28 games this season.
• Trey Thompson had a career-high 13 points on a perfect 6-of-6 shooting from the field. He also grabbed six rebounds in a career-high 29 minutes.
• Jimmy Whitt scored 12 points in the first half, it was the eighth time this season he reached double figures.
• Jabril Durham had six assists and zero turnovers for the second consecutive game. He's the first Arkansas player in 20 years to do (via @HogStats).
• By going 8-for-19 from three-point range, the Razorbacks have hit eight-plus threes in three consecutive games for the first time this season.
• Arkansas shot 54.1 percent (33-for-61) from the field. The team is now an undefeated 9-0 when shooting 50-plus percent from the floor.
• By scoring 65 points, LSU was held under 70 points for the third consecutive game for the first time this season.
UP NEXT
Arkansas hits the road this weekend, traveling to Knoxville to battle Tennessee on Saturday, Feb. 27 at 6:30 p.m. The game will be televised on SEC Network.