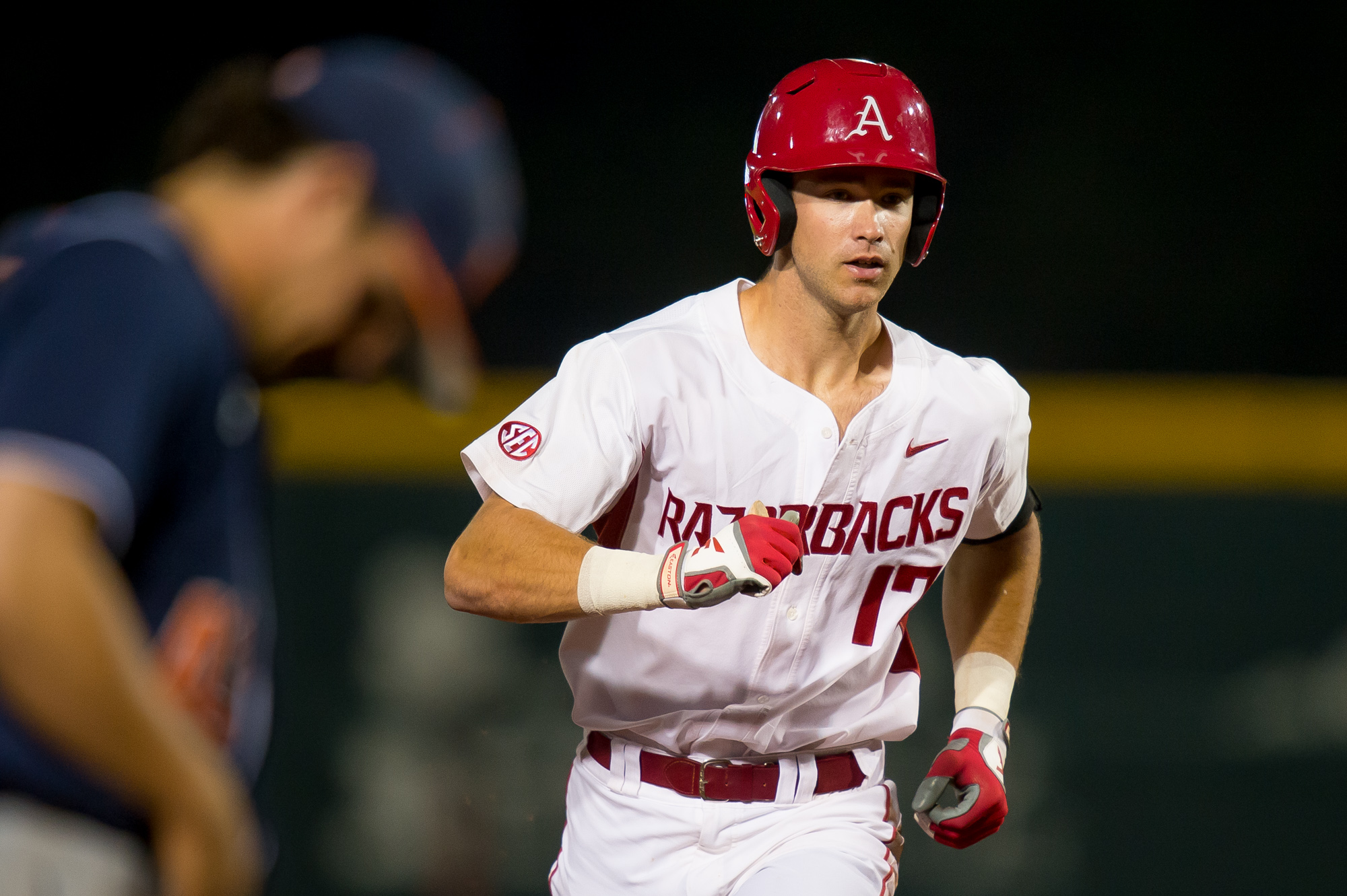 Hogs To Face Louisiana-Monroe In North Little Rock
Listen Live | Follow @RazorbackBSB on Twitter | Arkansas Notes vs. ULM (PDF)
FAYETTEVILLE, Ark. – The Razorbacks will play at Dickey-Stephens Park in North Little Rock for the seventh consecutive season Tuesday when they take the field against Louisiana-Monroe. First pitch is set for 6:35 p.m. CDT.
Arkansas (20-12, 4-8) is set to start freshman right-hander Blaine Knight, opposite right-hander Chris Hunt for ULM. Knight is fresh off a four-inning relief appearance against No. 14 Ole Miss on Friday, where he gave up no runs on three hits with a career-high six strikeouts.
Knight has split time between the starting and relief role this season. With four starts in eight appearances, Knight has compiled a 4.15 ERA with two wins and 24 strikeouts. Tuesday will be his second midweek start this season as he went up against No. 16 Oklahoma State in Stillwater, Oklahoma, late last month, going just two innings and giving up three runs.
Things to know
Arkansas will be making its seventh appearance at Dickey-Stephens Park in as many years when it faces ULM. The Razorbacks, seeking to snap a three-game losing streak, have only lost in Little Rock once since 2010, coming last season against Memphis (5-4).
Tuesday's game will be the first between Arkansas and ULM since 2009 and the third game since 1999. The Razorbacks hosted the Warhawks for a two-game midweek series during the 2009 season at Baum Stadium. ULM took game one 3-2 but Arkansas came back to win game two in extras 10-9.
Sophomore Luke Bonfield is currently on a five-game hitting streak going into Tuesday's game. During the streak, the New Jersey native is hitting .381 with eight hits, two doubles and two home runs, the best out of any Razorback during that span.
Senior Michael Bernal hit his team-leading seventh home run of the year Sunday against Ole Miss sparking a near-comeback. Bernal is currently hitting .298, and is batting .333 over his last five games with five RBIs and only two strikeouts.
Follow live
Tuesday's game will not be televised, but Phil Elson (PXP) can still be heard on the radio via the Razorback Sports Network from IMG. Fans in the Fayetteville area can listen to the game on the flagship station 92.1 FM The Ticket or online at ArkansasRazorbacks.com. In Little Rock, the game can be heard on 103.7 FM The Buzz.
Probable Starters
Tuesday | 6:35 p.m. CDT | (ARK) RHP Blaine Knight (2-0, 4.15 ERA, 24/7 K/BB) vs. (ULM) RHP Chris Hunt (2-3, 5.68 ERA, 35/11 K/BB)
HOGS AND WARHAWKS LAST 10 RESULTS
| Date | Location | Result | Score |
| --- | --- | --- | --- |
| April 15, 2009 | Fayetteville, Ark. | W | 10-9 (10) |
| April 14, 2009 | Fayetteville, Ark. | L | 3-2 |
| March 17, 1999 | Monroe, La. | W | 10-8 |
| Feb. 13, 1999 | Lafayette, La. | L | 8-6 |
| Feb. 9, 1997 | Fayetteville, Ark. | W | 10-6 |
| April 20, 1965 | Monroe, La. | L | 2-1 |
| April 20, 1965 | Monroe, La. | L | 11-10 |
| April 2, 1964 | Monroe, La. | L | 7-5 |
| April 1, 1964 | Monroe, La. | L | 1-0 |
| April 23, 1962 | Monroe, La. | W | 6-1 |