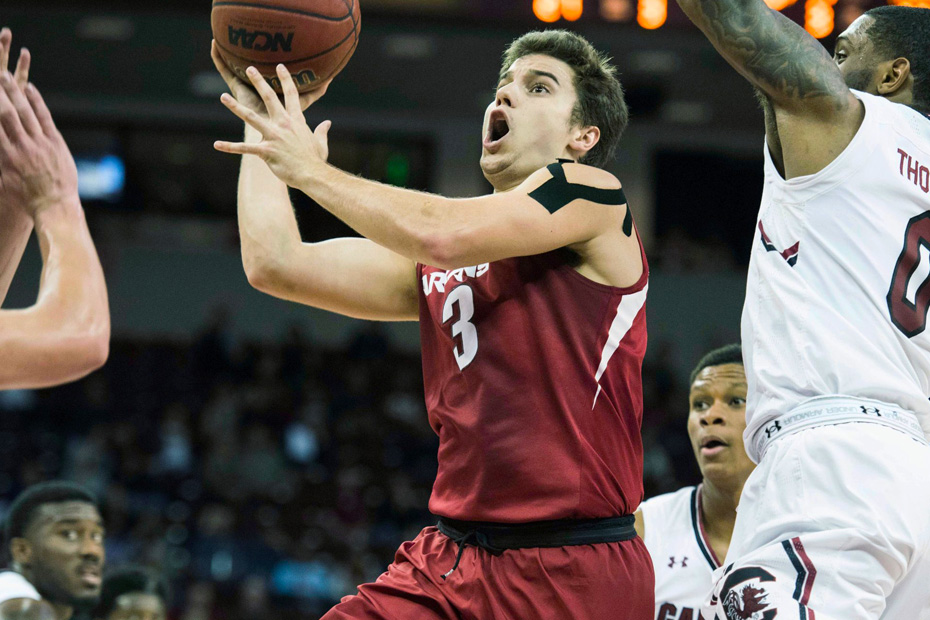 Hogs Topple Gamecocks, Earn Top 25 Road Win
Box Score | Tickets vs. Ole Miss
COLUMBIA, S.C. — The Arkansas men's basketball team used a 25-2 first-half run Wednesday evening and never looked back, knocking off No. 21 South Carolina 83-76 in Colonial Life Arena.
Arkansas (19-7, 8-5 SEC) picks up a win over a ranked team on the road for the first time since the 2013-14 season and is now tied with South Carolina (20-6, 10-3 SEC) for the SEC lead with five conference roads on the year.
The Razorbacks improve to 9-5 on their last 14 road games, including a 7-2 mark in the last nine SEC road contests. Head coach Mike Anderson now has 19 SEC road wins in the last five-plus seasons, which is five more than Arkansas had in the previous 10 years before he took over.
The guard duo of Jaylen Barford and Dusty Hannahs dominated all night, combining for 43 points as Barford led the way with 23 points, including 17 in the first half. Hannahs was unstoppable for most of the game, adding 20 points and going 8-for-14 from the field and 4-of-7 from behind the arc.
Manuale Watkins provided the dagger with 27 seconds left as he launched a desperation fade away jumper that bounced around before falling as the shot clock expired.
Daryl Macon was clutch down the stretch, going 4-of-4 from the charity stripe in the final 15 seconds to seal the win. As a team, Arkansas went 16-of-18 from the free throw line, good for 89 percent.
Moses Kingsley finished in double figures with 16 points, with 11 of those coming in the second half. He had seven rebounds and the SEC's leader in blocks added four more swats to bring his season total to 70 on the year. He became the third Razorback in the last 20 years to record 16-plus points, seven-plus rebounds and four-plus blocks in an SEC game.
UP NEXT
The Razorbacks return home Saturday evening, welcoming Ole Miss to town for a 5 p.m. tip-off inside Bud Walton Arena on SEC Network. Click here to buy tickets.