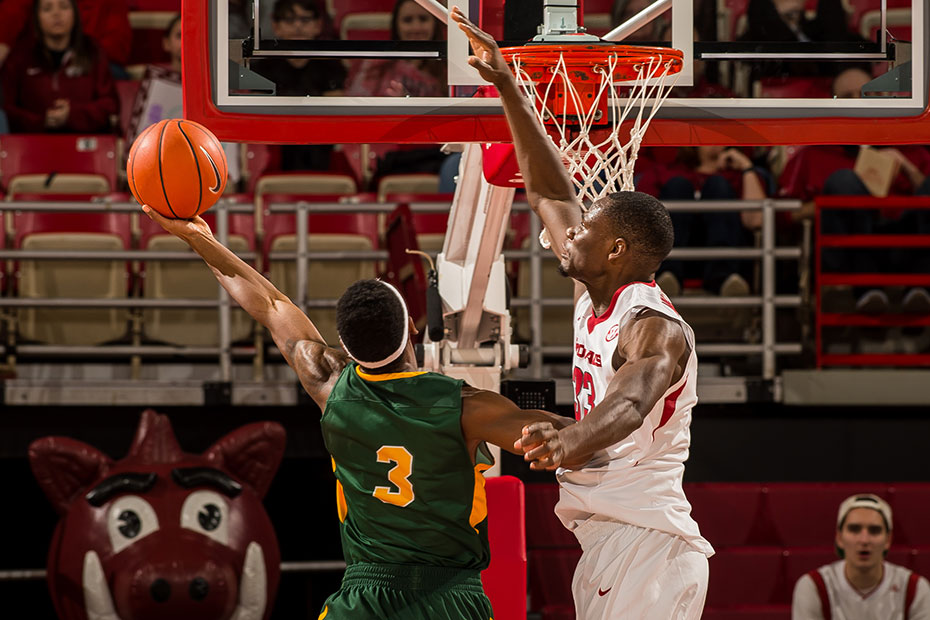 Hogs Use Second Half Run To Put Away Bison
Box Score | Highlights | Player Interviews | Anderson Interview | Little Rock Tickets
FAYETTEVILLE, Ark. – The Arkansas men's basketball team locked in on defense Tuesday evening and used a big second-half run to cruise to a 71-55 victory over North Dakota State in Bud Walton Arena.
Arkansas captured its seventh straight victory, moving to 10-1 on the year to continue its best start under head coach Mike Anderson.
In the first half, the Razorback defense used two scoring droughts of three-plus minute to hold North Dakota State to the lowest point total by an Arkansas opponent in a half this season (21), as the Bison shot 26.7 percent (8-of-30) from the field in the opening period.
The Bison opened the second half on an 8-2 run to tie the game at 29-29, but the Razorback defense would force North Dakota State into another scoring drought. Arkansas used the five minute, 14 second defensive stand to build a 16-0 run, the 12th run of at least 10-0 this season, to take a 45-29 lead. Arkansas was able to eventually extend that lead to 20, marking the fourth game this year the Razorbacks have led by at least 20 points.
Arkansas continued to stay red hot from the charity stripe, going 14-of-16 (87.5 percent) from the free throw line. The Razorbacks have now made 43 of 47 free throws (91.5 percent) in the last two games. Junior guard Daryl Macon extended his streak of consecutive free throws made to 21 with a 2-for-2 performance.
Macon led all Razorbacks in scoring for the second straight game with 15 points to go with six rebounds and a game-high five assists.
Moses Kingsley, Dusty Hannahs and Anton Beard all finished with 11 points for Arkansas. Kingsley finished two rebounds shy of recording his third double-double this season, tallying with 11 points, eight rebounds and one blocked shot.
Hannahs drained a 3-pointer at the buzzer to extend his streak of consecutive double figure scoring games to 18.
WHAT THEY ARE SAYING
I told our guys we were going to have to grind it out. After the Texas game, kind of emotional, guys have been patted on the back. I was worried about this game because our guys could have checked out because Christmas is coming up. Sometimes you can overlook a team. You look at the first half and it seems like we were real flat. I was trying to find someone on the bench that could ignite us. True to form, we came out in the second half with a little bit more of a sense of urgency" – head coach Mike Anderson
"I think it's good but we can always get better. Going into conference ball, we're not worried about it. We can only worry about practice, tomorrow, getting better and going to Little Rock." – Moses Kingsley on the seven-game win streak
UP NEXT
Arkansas will take its annual trip to central Arkansas on Thursday, Dec. 22 as the Razorbacks face the Sam Houston State Bearkats at Verizon Arena in North Little Rock at 7 p.m.
TICKETS
Mini plans and single-game tickets for the 2016-17 season are available now at the Razorback Ticket Center by calling at 1-800-982-HOGS (4647) and online by clicking here.
For more information on Arkansas Men's Basketball, follow @RazorbackMBB on Twitter.