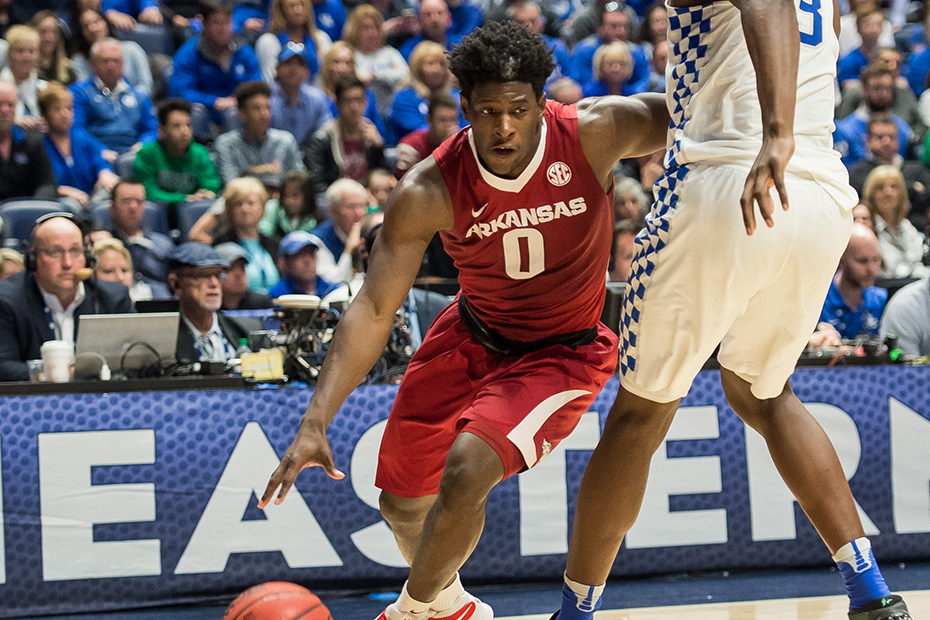 Hogs Welcome Wildcats For Super Tuesday Matchup
FAYETTEVILLE, Ark. – Riding a league-best four-game winning streak, the Arkansas men's basketball welcomes the Kentucky Wildcats to town for Super Tuesday on ESPN at 8 p.m., as Bud Walton Arena is sold out for the sixth time this season.
The Rundown
Opponent: Kentucky Wildcats (18-9, 7-7 SEC)
Date: Tuesday, Feb. 20
Site: Bud Walton Arena (Fayetteville, Ark.)
Tip-off: 8:00 p.m. CT
TV: ESPN | WatchESPN
Live Stats: Click Here
Sirius/XM Radio: 137/190
The #Fastest40 Facts
• For the first time in 10 years, Arkansas is 3-0 in its last three games against ranked teams, including Saturday's 19-point win against No. 21 Texas A&M.
• Daniel Gafford earned his third SEC Freshman of the Week honor on Monday. He joins NBA players Bobby Portis and Patrick Beverley as the only Razorbacks to ever earn the honor three times.
• During the last five years, the Razorbacks have posted a 33-14 (.702) regular season record in the months of February and March.
• The Razorbacks are 14-1 in Bud Walton Arena this season with a +17.2 average margin of victory, including a +130 scoring margin in the first half.
• Arkansas has knocked off three ranked opponents at home for the first time in six years.
• Arkansas has won 36 consecutive games in which it has led at halftime. During Mike Anderson era, the Razorbacks are 121-7 when leading at the intermission.
• Arkansas has the fourth-most home wins in the country during the last seven seasons. The Razorbacks are 109-16 (.872) at BWA under Mike Anderson.
• Arkansas is 6-0 this season when Daryl Macon and Jaylen Barford both score 20+ points in the same game, including 5-0 in SEC play. The Razorbacks are 8-1 the duo combines for 40 points.
•  Jaylen Barford is the only player in the SEC to rank in the top five in three-point field goal percentage (1st), points per game (2nd) and field goal percentage (5th).
•  Daryl Macon is a perfect 26-of-26 from the free throw line in the final minute and overtime of games this season. In his career, he is 56-of-60 (.933).
A Win Would…
• Make Arkansas the only team in the SEC to win five straight SEC games in four of the last five years.
• Give the Razorbacks a 4-1 record in their last five home games against Kentucky.
• Send Arkansas to 15+ wins in Bud Walton Arena for the seventh time in the last eight seasons.
• Give Arkansas 20+ wins in four of the last six years.
For more information on Arkansas men's basketball, follow @RazorbackMBB on Twitter.