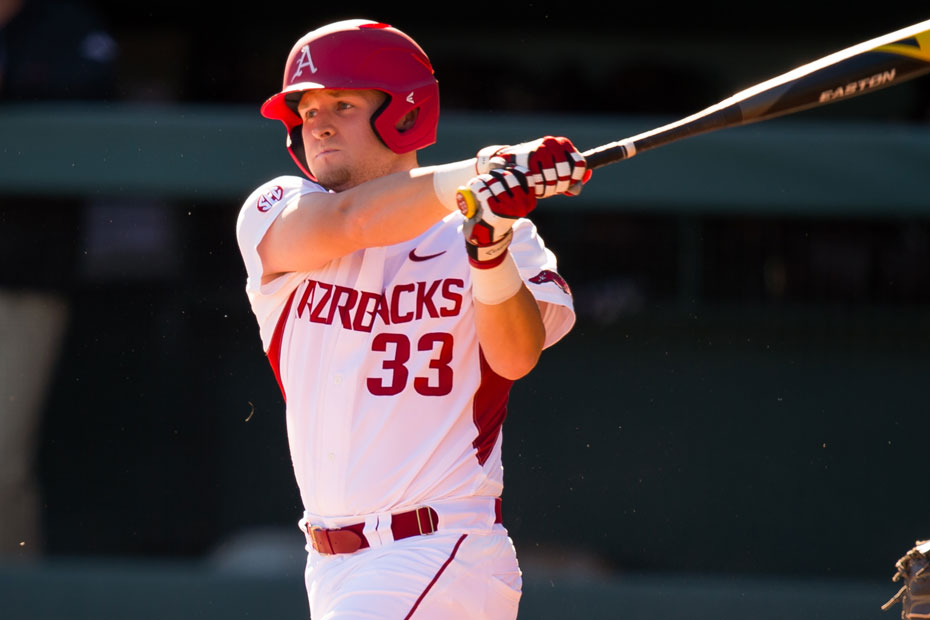 Homestand Continues For Hogs Against Rhode Island
FAYETTEVILLE, Ark. – Arkansas continues its 11-game homestand on Friday when it welcomes Rhode Island for a three-game series starting on Friday at Baum Stadium. This will be the first meeting between the Razorbacks and the Rams and the two teams will play a double-header on Friday to avoid potential bad weather on Saturday. First pitch for game one is set for 3 p.m. Game two of the double-header will start roughly 40 minutes after game one concludes.
Follow Live
All games will be available on SEC Network+ with Alex Perlman (PXP) and Troy Eklund (Analyst) on the call. Phil Elson (PXP) and Rick Schaeffer (Analyst) will call both games for the Razorback Sports Network on the radio.
Probable Starters
Fri. | 3 p.m. | (ARK) RHP Blaine Knight vs. (URI) LHP Tyler Wilson
Fri. | 40 minutes after game one | (ARK) RHP Trevor Stephan vs. (URI) RHP Nick Johnson
Sun. | 1 p.m. | (ARK) TBA vs. (URI) RHP Matt Murphy
Koch Leads The Charge
Grant Koch is one of the hottest hitters for the Razorbacks through 13 games. Last week against Louisiana Tech and the Frisco Classic field, Koch went 6-for-20 (.300) and hit his third and fourth home run of the year along with three doubles and slugged .750. Koch's bat wasn't silent during the nine-run comeback at Louisiana Tech, as he went 3-for-5 at the plate including a three-run home run. Against Nebraska, Koch hit a grand slam, part of a 2-for-3 day.
Currently hitting .352 on the year, Koch has five home runs, which ties with LSU's Greg Deichmann and Alabama's Chandler Taylor for the SEC lead. His 19 RBIs this year not only leads all Razorbacks, but is second in the SEC, highest among all catchers.
Stephan Continues Strong Start To Season
Junior pitcher Trevor Stephan has only been a pitcher for two seasons, but he looks like a seasoned veteran on the mound after his first three starts this season. Stephan has been the Saturday starter for all three weekends this year and he has yet to give up more than three hits or two runs each time.
Stephan currently leads all Hog pitchers with a 1.15 ERA and a perfect 3-0 record. Last week against Nebraska, Stephan battled through a tough first two innings to go a season-high six innings, giving up one earned run, and striking out eight batters, also a season-high.
The run support has been healthy for Stephan as well. In his three starts, the Razorbacks have scored 33 runs, 11.0 per game, which is the highest among all starters on the staff with two or more starts. Stephan's ERA is the ninth lowest among all SEC pitchers and he is one of four with three wins already this year.
Taccolini Mows Down ULM In Victory
Arkansas may have found its Sunday starter after the performance that Dominic Taccolini showed on Tuesday against ULM. The senior right-hander threw six strong innings, striking out 10 batters to match a career-high. It was the second performance in four games that a Razorback pitcher recorded 10 strikeouts in a game after Blaine Knight achieved the feat against No. 5 Arizona last week at the Frisco Classic. Taccolini now has three wins on the year which is tied with Trevor Stephan for the most on the team. The 10 strikeouts matches his previous high from last season when he struck out 10 at No. 15 Kentucky in a complete-game 10-inning shutout.
Murphy Continues String Of Strong Starting Pitching
Sophomore Kacey Murphy followed Taccolini the next day against ULM with a near identical performance. The Rogers, Arkansas native, making his first start of his career went a career-long five innings and struck out nine, also a career-high. Murphy had never pitched more than two innings before Wednesday's game, but proved he could be used in any situation as the season goes on. Over the last five games, Arkansas' starting pitchers have struck out 39 batters over 25 innings with all but one pitching through the fifth inning.
For more information on Razorback Baseball, follow @RazorbackBSB on Twitter.