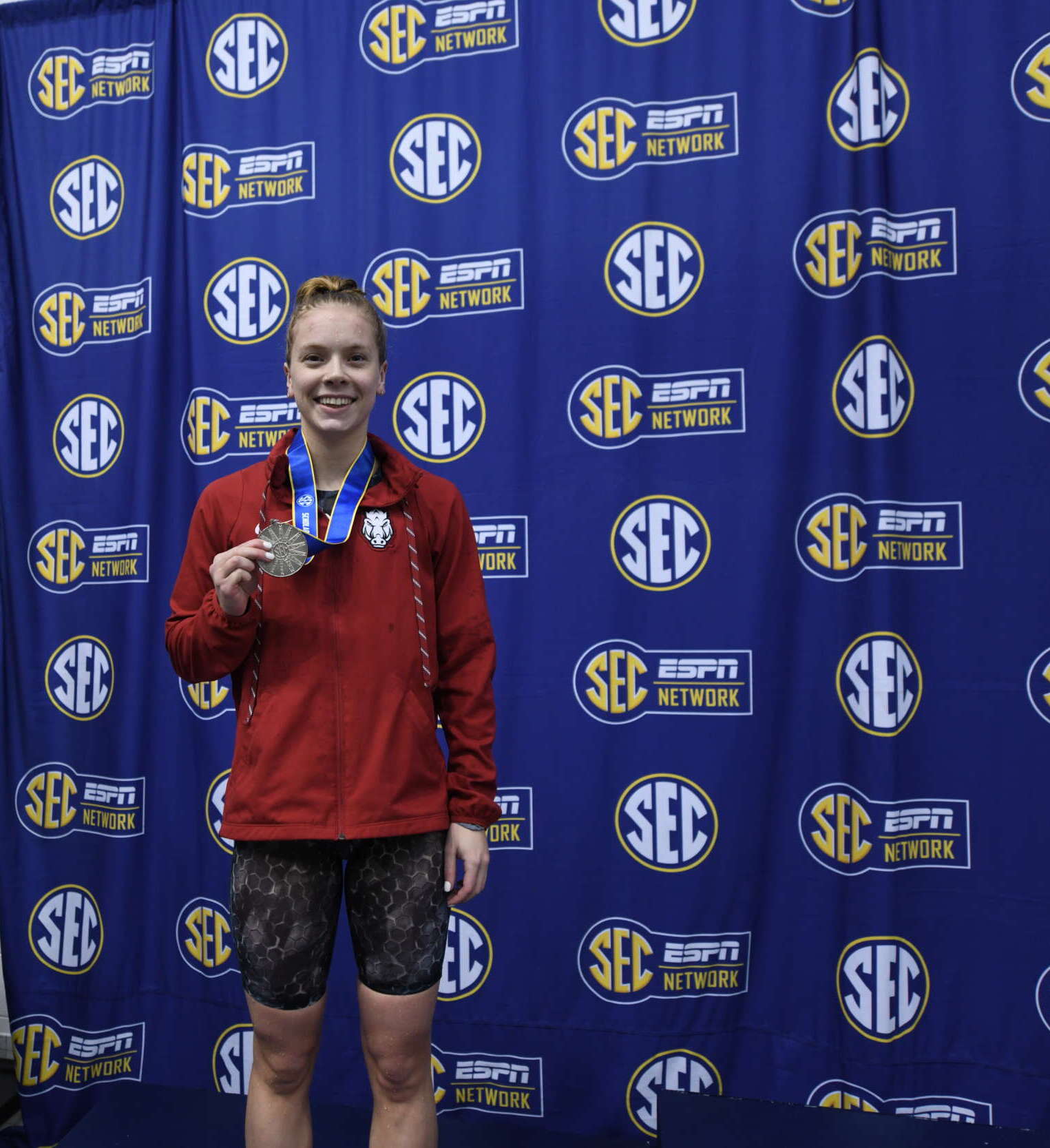 Hopkin Takes Silver in 200 Free, Breaks Own School Record
AUBURN, Ala. – The Arkansas swimming and diving team entered day three of the 2020 SEC Swimming and Diving Championships prepped and ready to swim fast, taking a silver medal, posting 10 season bests, seven personal bests, three NCAA 'A' cuts and two NCAA 'B' cuts.
TOP RAZORBACKS
Anna Hopkin and Peyton Palsha entered Thursday night's finals with the mindset to make an impact in their respective events and they did just that.
In the 200 free prelims, Hopkin clocked in a time of 1:44.64, placing her second in the A finals. She then went on to swim a 1:42.45, that would not only win the senior her second silver medal of the Championships but also break her own school record by a little over two seconds. The swim set a new personal record and earned her an NCAA 'A' cut.
Palsha took the pool by storm, finishing the 400 IM prelims with a time of 4:13.22. The time earned her third in her heat, 14th overall and a spot to compete in the B finals. After falling behind, the junior made an astonishing comeback in the 100 breast taking fourth-place with a time of 4:09.83. This time shaved off four seconds from her previous season best, set a new personal record and earned an NCAA 'B' cut qualifying time.
Emma Garfield set the pace for the day in the 400 IM prelims earning third in her respective heat. The sophomore shaved a little over five seconds off her season best, touching the wall at 4:20.30. The time also earned Garfield a new personal best.
Four Razorbacks recorded season-best times in the 200 free prelims led by Emma Hultquist at 1:48.14. The time also gave the freshman a personal best. Lexi Ljunggren touched in at 1:49.14 followed by junior Kenedy Thaman, who notched a personal record as well, touching the wall at 1:50.07. Brittany Pike trailed behind with a time of 1:50.85.
Freshman Jessie Beckwith clocked in a time of 55.08 in the 100 fly prelims to mark a new personal and season best.
QUOTING HEAD COACH NEIL
"Today was another day of individual success, personal bests and team pride. We recorded 10 season bests and seven lifetime bests. I thought Emma G in the 400 IM, Jessie and Andrea in their 100 fly and Emma H and Brittany in the 200 free all stood out this morning. Tonight, we were led by Peyton and Anna who both produced lifetime bests. Peyton had a great 400 IM to place fourth in the B final. Anna pulled out all the stops and dropped her PB and school record by over two seconds to almost win the 200 free. Tomorrow is another day of opportunity so we will go for it again. Go Hogs!"
UP NEXT
Arkansas returns to action in the SEC Championships on Friday at 9:30 a.m. to race in the 200 fly, 100 back and 100 breast. The Hogs will wrap up the day with finals in the 200 fly, 100 back and 100 breast.
– For more information on Arkansas women's Swimming and Diving follow @RazorbackSD on Twitter, Instagram and Facebook.