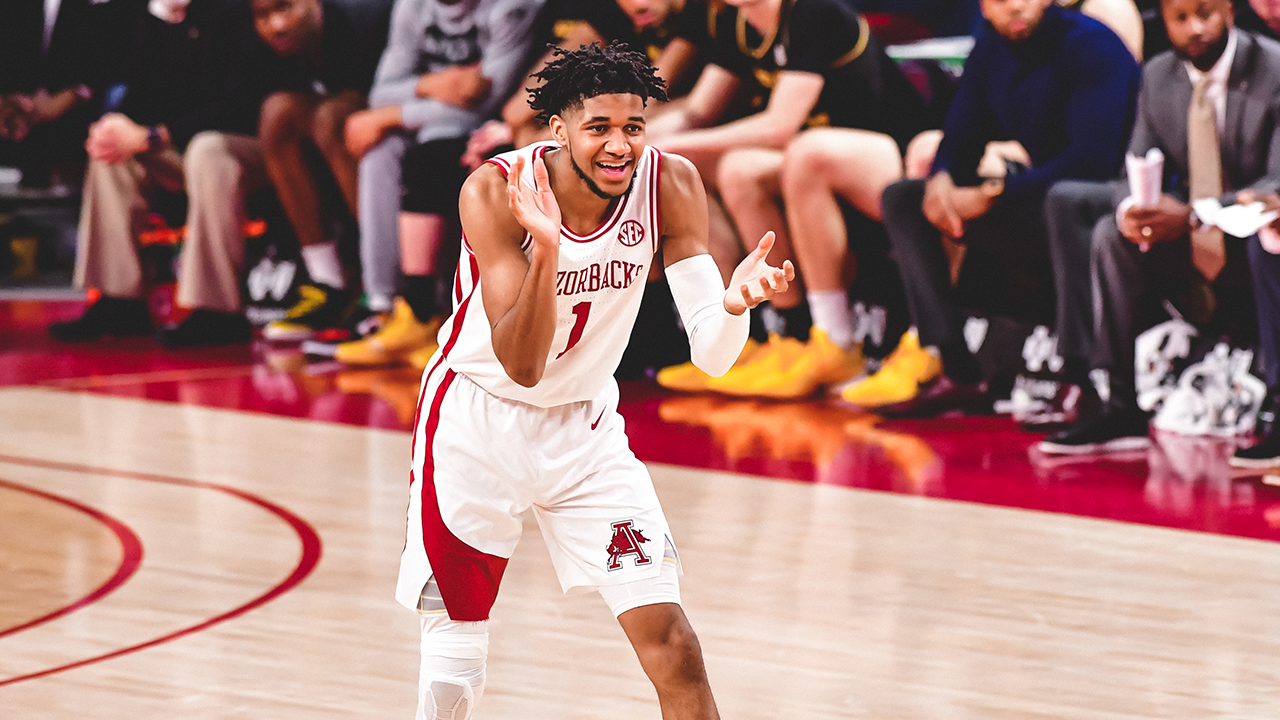 Huge Bounce-Back Win
FAYETTEVILLE – Isaiah Joe made five 3-pointers and scored a game-high 21 points in his first game back in the lineup, after missing the last five due to injury, to lead Arkansas to a 78-68 victory over Missouri Saturday afternoon.
Joe, 1 of 10 finalists for the Jerry West Award, had missed the TCU game (Jan. 25) due to a right knee injury then had surgery Feb. 4 forcing him to miss the last five games. He was 5-of-10 from 3-point range, including a trey with 1:10 left to help seal the win, in his return while adding three rebounds and three assists.
Joe was not a one-man show in the win. Four other Razorbacks scored in double figures as well, including Desi Sills (17), Jimmy Whitt Jr., (14), Mason Jones (12) and Adrio Bailey (11).
Joe did not score until making two free throws at the 9:15 mark of the first half and his first triple did not come until 6:05. However, he caught fire, making a 3-pointer with 1:27 left to give Arkansas its first lead, 33-31 – a lead the Hogs would not surrender the rest of the way. Joe scored 10 first-half points to help the Razorbacks go on a 12-2 run to end the first half and lead 35-33.
Desi Sills Old Fashioned 3-Point Play
As important to the win for Arkansas were the clutch 3-pointers made by Sills down the stretch. The sophomore scored 14 second-half points, including three triples inside the final 7:45. The first two came with Arkansas clinging to a 2-point lead and the last came with 1:33 left to put the Hogs up eight.
However, the Tigers fought back to trail by three with 1:17 remaining. Seven seconds later, Joe sank a 3-pointer to go back up six. Mason Jones was 4-of-4 from the free throw line to close the game for the 10-point victory (78-68).
Sills finished with an SEC career-high 17 points, draining 4-of-6 from 3-point range. Jones, the SEC's leading scorer and NCAA leader in free throws, was 7-of-8 from the line in scoring 12 points. He led the team with eight rebounds and four assists.
Arkansas stays home to host Tennessee on Wednesday (Feb. 26).
Adrio Bailey Throws It Down!
FIRST HALF: Arkansas 35 – Missouri 33
Missouri led 18-11 at the second media timeout. Jimmy Whitt Jr., had six of the team's 11 points.
The Tigers used an 8-0 run to push their lead to 13, 24-11, and forced a Razorback timeout at 9:58.
Arkansas answered with a 10-0 run, highlighted by an Isaiah Joe 3-pointer and Mason Jones steal/layup, to get to within three, 24-21 (5:32).
Isaiah Joe drained a 3-pointer at 1:27 to give Arkansas its first lead, 33-31.
Overall, after going down 13, Arkansas closed the first half by out-scoring Missouri 24-9, including a 12-2 run over the final 2:57 to lead, 35-33, at the break. Isaiah Joe scored eight during the 24-9 span.
The last time Arkansas led at the half was versus TCU (33-29) versus TCU on Jan. 25.
Isaiah Joe and Jimmy Whitt each had 10 first half points to lead the Razorbacks.
Arkansas had seven first-half assists.
Both teams shot well from the field (53.8% for Mizzou to 50% by Arkansas) but the Hogs were 5-of-10 from 3-point range compared to 3-of-11 by the Tigers.
The Tigers outrebounded the Razorbacks 18-6.
Isaiah Joe Drills Three Ball
SECOND HALF: Arkansas 43 – Missouri 35
Arkansas started well (10-3) in the second half, holding Mizzou to a 2:37 scoring drought to force a Tiger timeout at 15:56. Arkansas pushed its halftime lead to nine, 45-36.
Desi Sills made an old-fashion 3-point play at 12:59 for Arkansas' first double-digit lead, 52-42.
From that point, Missouri got to within two points on four occasions, but Arkansas answered each time, including two 3-pointers by Sills and one from Joe, to keep the Hogs in the lead.
Arkansas was 7-of-15 from 3-point range while Missouri was just 1-of-10.
Arkansas was only outrebounded by one in the second half, 18-17. Mason Jones led the Hogs with seven.
GAME NOTES
Arkansas' starting lineup was Jimmy Whitt (G) – Isaiah Joe (G) – Mason Jones (G) – Jalen Harris (G) – Adrio Bailey (F) for the first time this season.
Arkansas won the tip for the 13th time in 27 games this season. Arkansas is 10-3 in such games.
Missouri's Kobe Brown scored the first points of the game, 3-pointer at 19:11. Adrio Bailey scored the Razorbacks' first points, a layup at 18:57. This was the second time this year Bailey has scored the Hogs' first points of the game.
Arkansas has won six straight in Bud Walton Arena versus Missouri and leads the all-time series with Missouri, 27-28 overall; 17-9 at home. Since Missouri joined the SEC, Arkansas leads the series 9-7.
Arkansas held Missouri to 19% shooting from 3-point range. The Hogs lead the NCAA in 3-point field goal percentage defense. It was the 18th time opponents have shot below 30% this season and the seventh time opponents have shot below 20%.
Mason Jones is five points shy of 1,000 for his career.
Mason Jones was 7-of-8 at the free throw line and has made 109 versus SEC competition. He is now tied with Corliss Williamson for most free throws made in a season versus SEC play.
Mason Jones has led the team in rebounds 10 times this season and has led the team in assists 15 times.
Isaiah Joe returned to the lineup after missing the last five games after having knee surgery Feb. 4. (Joe also missed the TCU game (Jan. 25) prior to the surgery.
This was the 35th time in 55 career games Isaiah Joe has made at least three 3-pointers in a game and the 16th time he has made at least five.
Arkansas is 9th in the NCAA in turnover margin (+4.7). The Hogs forced 13 and only committed eight, including just two in the second half.
For more­­ information on Arkansas Men's Basketball, follow @RazorbackMBB on Twitter.