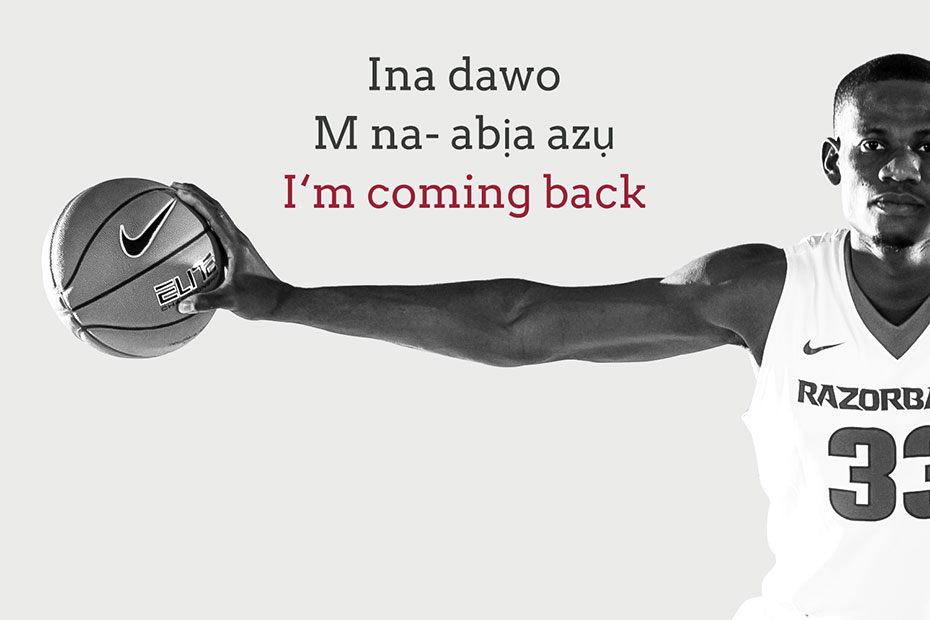 I'm Coming Back ...
FAYETTEVILLE, Ark. – Arkansas men's basketball junior forward Moses Kingsley has withdrawn his name from the 2016 NBA Draft process and will return to the Razorbacks for the 2016-17 season.
The Abuja, Nigeria, native earned 2015-16 second team All-SEC honors and was named to the SEC All-Defensive Team after averaging 15.9 points per game and 9.3 rebounds per contest. He was one of eight high-major players with 16 double-doubles on the year and was named one of 10 finalists for the Kareem Abdul-Jabbar Award as the nation's top center.
"I am thankful for the opportunity to go through the draft process, but I'm excited to return to Arkansas for my senior year," Kingsley said. "I feel like I can continue to improve and put myself in a better position for the future. I would like to thank my teammates, coaches and family for their support and I'm looking forward to putting that Razorback jersey on for one more year. We've got a big summer ahead! WoooPig!"
Kingsley finished the regular season as one of five high-major players in the country averaging at least 16.0 points and 9.0 rebounds per game. He recorded a block in 31 of 32 games and ranked second in the SEC with 76 blocks on the year. Kingsley was one of three players in the nation with multiple games of 20 points, 10 rebounds and five blocks last season and he scored in double figures in 29 of 31 games.
"Moses got the feedback he needed and we are thrilled to have one of the best players in the SEC returning for his senior season," head coach Mike Anderson said. "If he improves this year as much as he did last year, he has a chance to be one of the best players in the country."
For more information on Arkansas men's basketball, follow @RazorbackMBB on Twitter.