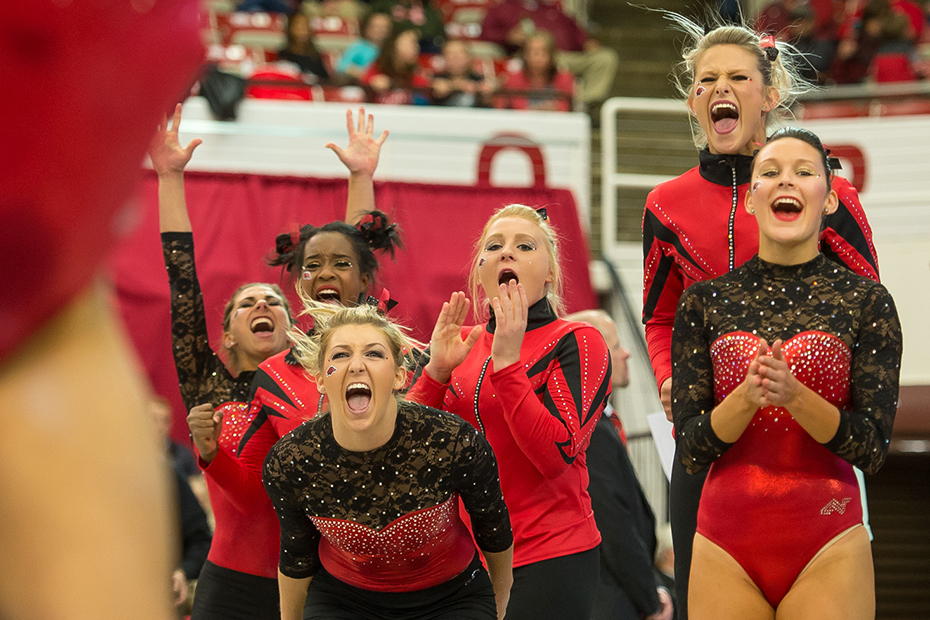 Initial RQS Rankings Put Gymnastics in Top 10
FAYETTEVILLE, Ark. — The first Regional Qualifying Scores (RQS) have been released for the 2016 NCAA gymnastics season, and Arkansas earned a spot at No. 9 in the initial rankings with a score of 196.315. Up to as high as No. 8 after back-to-back wins at No. 4 Alabama and vs. No. 9 Auburn, the Razorbacks return to the top 10 after one week at No. 11.
According to the sport's guidelines, qualification for regional competition is based on a team's six best regular-season-meet scores, of which three must be away. To obtain the RQS, the high score is eliminated and the remaining five scores are averaged.
Arkansas currently sits fifth among the eight SEC teams; one spot ahead of No. 10 Georgia (196.310) and one behind No. 8 Auburn (196.495). If the Razorbacks can finish the regular season among the top four conference teams, they would earn a spot in the first session of the SEC Championship on Saturday, March 19 in North Little Rock.
RQS applies to individuals as well, and quite a few Arkansas competitors have seen a rise in their rankings from last week to this one.
Most notably, Amanda Wellick now finds herself at No. 5 in vault and No. 12 in all-around competition in the country. Sydney McGlone and Paige Zaziski are tied for No. 36 in the nation on vault, while Zaziski tied for No. 40 and Braie Speed tied for No. 44 are in the top 50 on the uneven bars.
Sydnie Dillard leads all Razorbacks on balance beam, coming in tied for No. 24 in the country. With Erin Freier moving up into a tie at No. 66 on beam, Arkansas joins Alabama, Florida and Oklahoma as one of four teams with five individuals in the top 75 on the apparatus.
In all, six of the top 10 in the RQS are from the SEC, while all eight teams from the conference – from No. 2 Florida to No. 23 Kentucky – are in the top 25.
For more #Gymbacks content during the season, please follow @RazorbackGym on Instagram, Twitter and Snapchat.