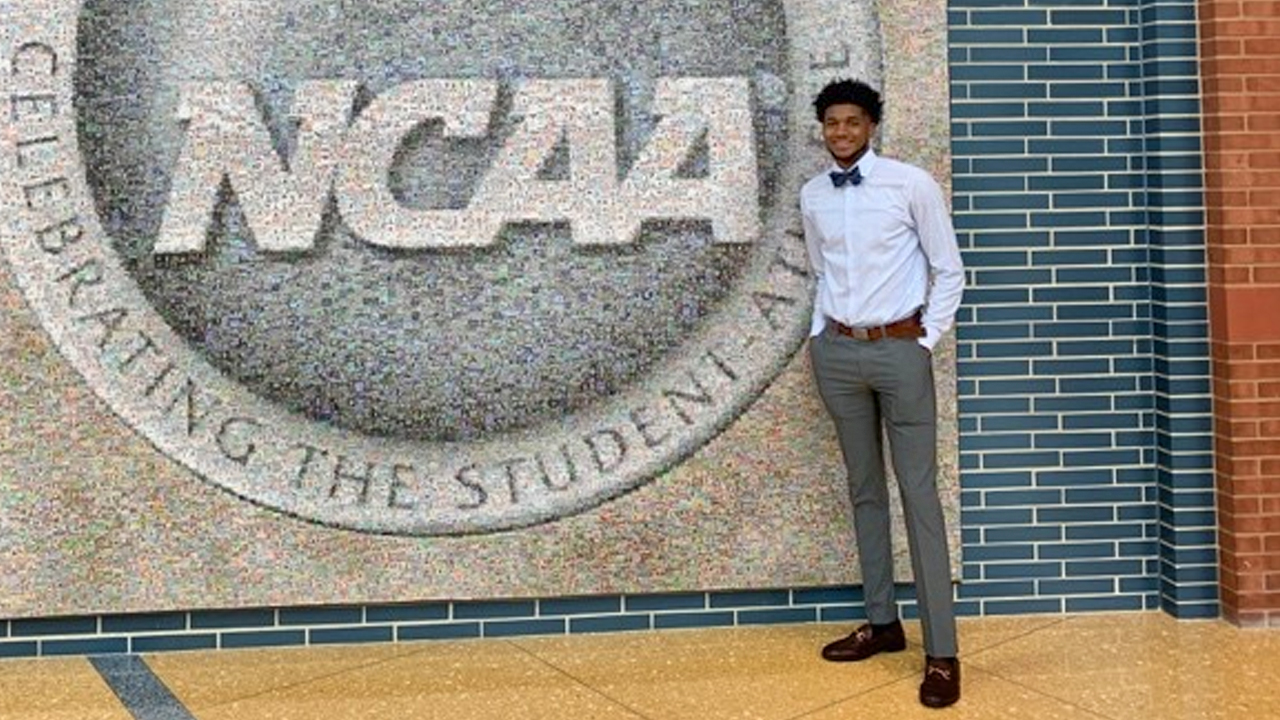 Isaiah Joe Attends NCAA Elite Student-Athlete Symposium
FAYETTEVILLE – University of Arkansas sophomore guard Isaiah Joe recently participated in the NCAA Elite Men's Basketball Student-Athlete Symposium at the NCAA headquarters in Indianapolis.
The symposium, which is a product of the NCAA Leadership Development program, is intended to educate college players on the expectations and responsibilities they may face should they become a professional athlete as well as discussions on other post-career opportunities. Among the features of the forum were a former student-athlete panel, agent and players' union discussions, and a seminar on personal branding.
This was the fourth year for the symposium, which is designed for both football and men's basketball student-athletes who have an interest in continuing their playing careers professionally.
The three-day conference included:
Luke Fedlam of Anomaly Sports Group on REAP decisions – "Recognize" decision, "Evaluate" Information, "Analyze" options and "Produce" decision.
Jeremy McCool from the NCAA Enforcement asking, "What does basketball mean to them?"
Garth Glissman, Associate Vice President of Basketball Operations for the NBA, breaking down the statistics of how hard it is to make it in the NBA.
Carrie Cecil speaking on the X's and O's of social media.
conducting mock interviews.
participating in some financial awareness activities.
hearing from NBA veteran (and former player for Eric Musselman) Cherokee Parks.
NBA veteran and TV basketball analyst Greg Anthony talking about the importance of relationships and how far they can take you in life.
longtime college and NBA coach Kevin Eastman explaining what the best do differently from the rest.
NBA Players Association Deputy General Counsel David Foster discussing how the association works for the players and the role of agents in players' lives.
Brad Walker and Ty Ellis speaking about the G-League, its trends and the future of the league.
Clark Kellogg capping the symposium. He brought home the theme of the week, "Your name will last longer than your game"
The symposiums are part of a larger effort of the Presidential Forum, which wants to ensure that the collegiate experience affords all student-athletes a pathway to opportunity. The membership wants to equip student-athletes with realistic expectations as to professional athletics careers.
Last year, Joe started all 34 games and averaged 13.4 points per game. He sank 113 3-pointers which set an Arkansas single-season record, tied the mark by an SEC freshman and was the fourth-most treys made by a freshman in NCAA history. He was named to the SEC All-Freshman team as he set the league record for most 3-pointers made per game by a freshman (3.22) and he was just the fourth freshman to lead the league in 3-point field goal percentage (.414). On the defensive end, Joe led the team with 51 steals – ranking 10th in the SEC in the category – while leading the team by taking 27 charges.
For more­­ information on Arkansas Men's Basketball, follow @RazorbackMBB on Twitter.