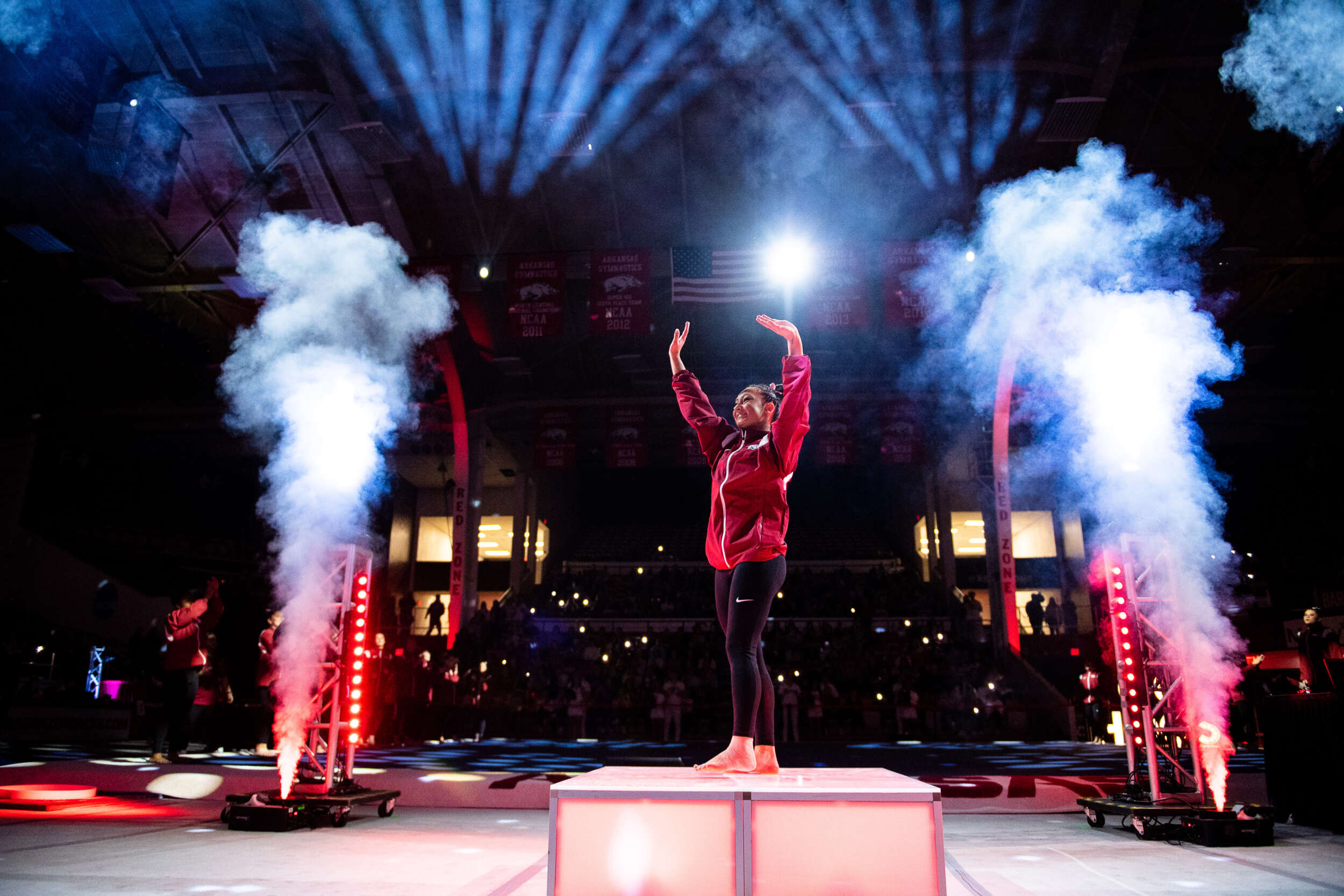 Jones Named to 2023 SEC Community Service Team
For her hard work both in and out of the gym, Arkansas sophomore Maddie Jones has been named to the 2023 SEC Community Service Team for gymnastics.
Jones has been an engaged and enthusiastic representative of student-athlete development since her arrival to Arkansas, especially in her second year on campus. Jones is one of two gymnastics representatives on the Student-Athlete Advisory Committee, which represents their fellow student-athletes and act as liaisons to the University of Arkansas, the Athletic Department, the SEC and the NCAA.
Her volunteering schedule has been jam-packed this academic year, as she's participated in the Tyson Food Truck Event, Cartwheels for Dyslexia, making craft kits at NWA Children's Hospital, the National Girls and Women in Sports Day Mini Clinic, and Salute to Veterans.
Jones is also participating in the second season of the Gymbacks' Giveback Campaign, in which athletes have chosen causes close to their hearts to fundraise. Coming from a military family, Jones is advocating to raise funds for Bo's Blessings, an organization in Northwest Arkansas dedicated to "providing programs, support, and resources that help veterans transition back to a civilian life with their families and their community," as well as the Northwest Arkansas Children's Hospital.
Maddie has shined on the competition floor in her second season with the Hogs, and currently has season average scores of 9.895 on bars, which falls within the top 50 nationally, and 9.855 on floor.
Jones and the Gymbacks begin their postseason journey with the SEC Championships in Duluth, Ga. on Saturday, March 18. Arkansas is seeded sixth and will compete in the afternoon session with No. 5 Auburn, No. 7 Missouri and No. 8 Georgia at 2:30 p.m. CT. The competition will be broadcast live on SEC Network.
More Information
Visit ArkansasRazorbacks.com for the latest information on all things Arkansas Gymnastics. You can also find the Razorbacks on social media by liking us on Facebook (Arkansas Razorback Gymnastics) and following us on Twitter and Instagram (@RazorbackGym).