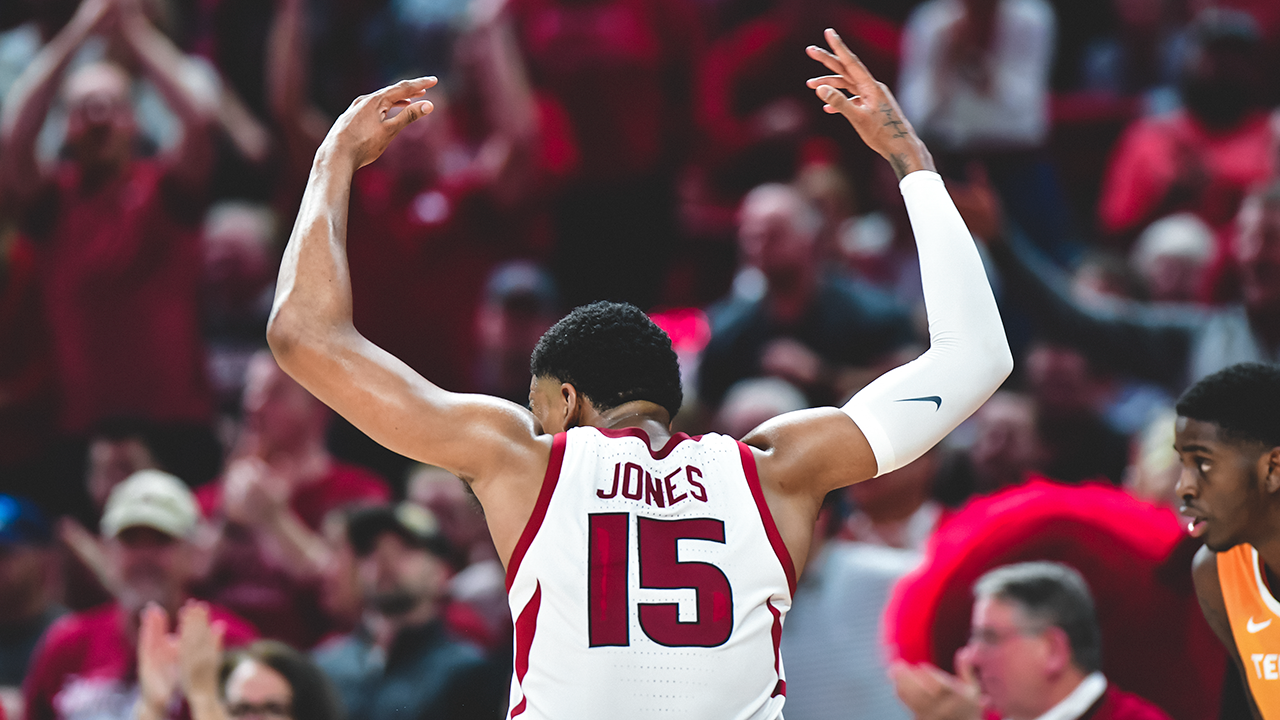 Jones Scores 37 in Win Over Tennessee
FAYETTEVILLE – Mason Jones scored 37 points and topped 1,000 for his career as a Razorback to lead Arkansas to an 86-69 victory over Tennessee Wednesday night at Bud Walton Arena.
Jones regained the scoring lead in the SEC with his ninth career 30-point game – seventh this season – while becoming the 44th Razorback to reach the 1,000-point plateau – now with 1,032. He is just the eighth Razorback to score at least 1,000 points in his first two seasons with the program. The junior was 11-of-19 from the field, making three 3-pointers, and 12-of-15 from the free throw line. He is the only Razorback to make at least 10 field goals and 10 free throws in an SEC game, a feat he has now accomplished twice (also versus Auburn this year).
In addition to Jones, Arkansas was able to avenge its 82-61 loss to the Volunteers on Feb. 11 thanks to the efforts of Isaiah Joe, Ethan Henderson, Jimmy Whitt Jr., and Desi Sills.
Joe, playing in his second game since having knee surgery on Feb. 4, scored 22 points, making 12-of-12 from the free throw line. He is the first Razorback since Daryl Macon (14-of-14 vs. Texas Dec. 17, 2016) and ninth Razorback to go perfect at the line with at least 11 attempts. Joe's 12-of-12 is the best by a Razorback in an SEC game, becoming the fourth player with at least 10 attempts to be perfect at the line.
Henderson, getting his second career start and first at Bud Walton Arena, played a career-high 29:53, had a career-high nine rebounds and tied his career-high with three blocked shots. Entering the game, Henderson had only pulled down 12 rebounds with two blocked shot in his previous 14 SEC games played for his career.
Whitt scored six points, had six rebounds and dished out four assists. However, his biggest contribution came on the defensive end. In the last meeting, Tennessee guard Santiago Vescovi scored 20 points, making 3-of-4 from 3-point range and 5-of-6 at the line, with eight assists. Wednesday, Whitt held Vescovi to six points (3-of-8 from the field and 0-of-4 from 3-point range) with zero assists and five turnovers.
Sills came off the bench for the second straight game and pumped in 13 points, making 3-of-5 from 3-point range, with four rebounds.
Arkansas will play at Georgia on Saturday (Feb. 29) before return home to host LSU for the final home game of the 2019-20 season. Arkansas will honor its seniors prior to the LSU game. Tipoff is set for 6:00 pm.
FIRST HALF: Arkansas 40 – Tennessee 27
Tennessee scored the first point, a free throw by Yves Pons. Arkansas scored the next 14.
Mason Jones hit a free throw at 15:58 to give him 1,000 for his career. He scored 11 of Arkansas' first 16 points.
Ethan Henderson had four rebounds in the first seven minutes (tying his season high). He finished the half with six boards, which surpassed his previous career high.
Arkansas was up 15 (24-9) before Tennessee went on an 8-0 run (Arkansas went scoreless for over four minutes) as the Vols got to within seven (24-17). Isaiah Joe ended the drought with two free throws.
3-pointers by Isaiah Joe and Jalen Harris pushed the Razorback lead back to 15 (35-20) to force a Tennessee timeout at 3:49.
Mason Jones hit two free throws with six seconds left to give him 15 first-half points to lead all scorers.
Desi Sills added eight points. Jimmy Whitt Jr., had six points and four rebounds.
SECOND HALF: Arkansas 46 – Tennessee 42
After Arkansas scored the first points of the second half, Tennessee went on a 10-0 run to cut its deficit to four (42-28). Isaiah Joe ended the drought with a layup. The Vols would ultimately use a 16-3 over 4:40 to make it a two-point game 45-43 at the 14:10 mark.
Mason Jones answered with an old-fashion 3-point play, followed by 3-pointers by Desi Sills and Isaiah Joe, to push Arkansas' lead back to double-digits (54-43).
Tennessee's John Fulkerson made two free throws to get the Vols' to within nine (60-51) before Arkansas went on an 18-8 run to take a 19-point lead (78-59) with 3:24 left to play.
Mason Jones scored 12 points in the 18-8 run to put the game out of reach.
GAME NOTES
Arkansas' starting lineup was Jimmy Whitt (G) – Isaiah Joe (G) – Mason Jones (G) – Ethan Henderson (F) – Adrio Bailey (F) for the first time this season.
Arkansas won the tip for the 14th time in 28 games this season. Arkansas is 11-3 in such games.
Tennessee's Yves Pons scored the first points of the game, a free throw at 19:17. Mason Jones scored the Razorbacks' first points, a jumper at the left elbow at 17:57.
Arkansas has won six straight versus the Vols in Bud Walton Arena. Arkansas is 11-4 all-time versus UT in Fayetteville and the all-time series is now 22-21 in Tennessee's favor.
Arkansas, the NCAA leader in 3-point field goal percentage defense, held Tennessee to 23.5% (4-of-17) from long range. This was the 19th time Arkansas has held its opponent to shoot 29% or worse this season.
Arkansas only forced 12 turnovers, but scored 24 points off those turnovers, including 14 fastbreak points. Tennessee had zero fastbreak points as Arkansas only committed seven turnovers – the eighth time this season Arkansas has committed single-digit turnovers. Arkansas leads the SEC in fewest turnovers per game as well as leading the league in forcing the most turnovers per game.
Mason Jones became the 44th Razorback to score 1,000 career points. He is the 8th Razorback to accomplish the feat in his first two years with the program.
Mason Jones is the school's all-time leader in FT made in a season versus SEC competition. He has made 121. Corliss Williamson previously held the mark with 109.
Jones, the NCAA leader in free throws made and attempts, has made 198 this season to rank sixth on the school's single season list. He is just 14 made free throws from the school record of 212, set by Sidney Moncrief in 1978-79.
Jones has scored 332 points in SEC games this season to rank fifth on the school's single-season list. Jones is 36 points from the school record of 368, set by Todd Day in 1991-92.
Mason Jones regained the SEC scoring lead (21.1 ppg). He is looking to become the first Razorback to lead the league in scoring. He is currently the only player in the SEC to rank among the top 10 in scoring, rebounding, assists and steals.
Jones ties Todd Day and Joe Kleine for second-most, 30-point games in a career with nine. Martin Terry holds the school record with 17.
Jones scored his 1,000th point in his 61st career game as a Razorback. Martin Terry was the fastest Razorback to score 1,000 points, doing so in 41 games.
Desi Sills is 21-of-49 from 3-point range over the last 10 games, shooting a team-best 42.9% over the span.
Isaiah Joe has made a 3-pointer in 53 of his 56 career games played. He has made 192 for his career to rank seventh on the school's all-time list. Last year, he made a school-record 113 3-pointers. Despite missing six games, he has made 79 this season, eight points shy of the school's single-season top 10 list.
For more­­ information on Arkansas Men's Basketball, follow @RazorbackMBB on Twitter.