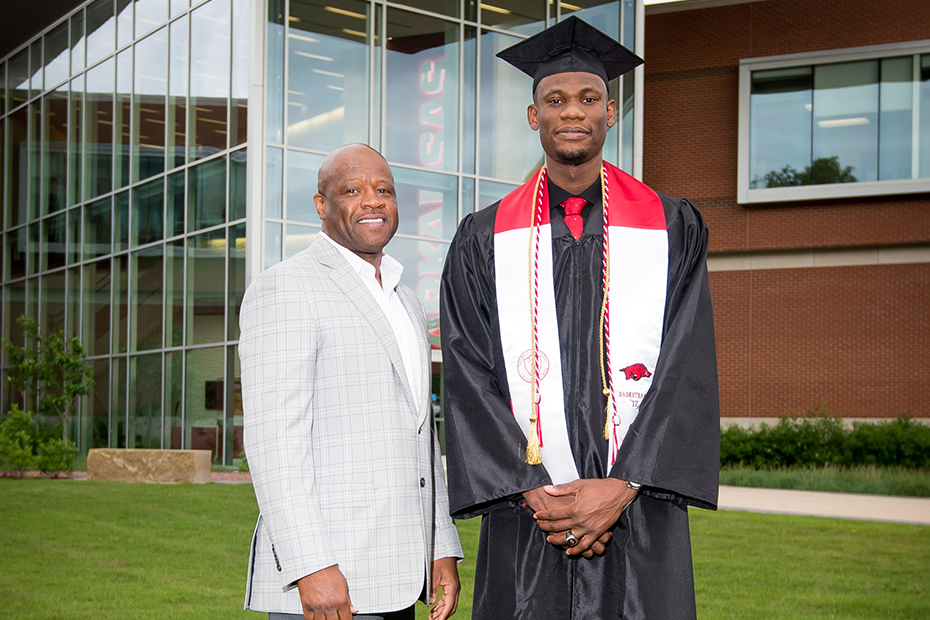 Kingsley Adds To Impressive Academic Award List
FAYETTEVILLE, Ark. – Former Arkansas forward Moses Kingsley was honored Tuesday morning by the National Association of Basketball Coaches (NABC) for his success in the classroom during his final season as a Razorback.
Being named to the 2016-17 NABC Honors Court, Kingsley adds to a collection of off-the-court awards that he accumulated during his four years in Fayetteville.
The Abuja, Nigeria, native ended his career as a four-time SEC Academic Honor Roll selection, two-time SEC Community Service Team selection, a 2016-17 NABC Honors Court selection and a 2016-17 Allstate NABC Good Works Team nominee.
On the court during his final season, Kingsley racked up awards that includes second team All-SEC by the league's head coaches, SEC All-Defensive team, USBWA All-District VII Team honors and second team NABC All-District honors.
Kingsley finished his collegiate career with 1,200 points, good for 25th on Arkansas' all-time list of leading scorers. He was one of the most versatile big men to ever wear an Arkansas uniform and stands alone with Razorback legend Oliver Miller as the only players to reach 1,000 points, 600 rebounds and 200 blocks.
Kingsley saved one of his best collegiate games for the 2017 NCAA Tournament, helping Arkansas advance past Seton Hall with 23 points on 10-of-13 shooting to go along with six rebounds and four blocks.
He finished with 24 double-doubles during his four-year career and his 256 blocks are good for the third-most in program history. His 93 blocks as a senior also marks the third-highest total for a single season as a Razorback.
For more information on Razorback men's basketball, please follow @RazorbackMBB on Twitter.