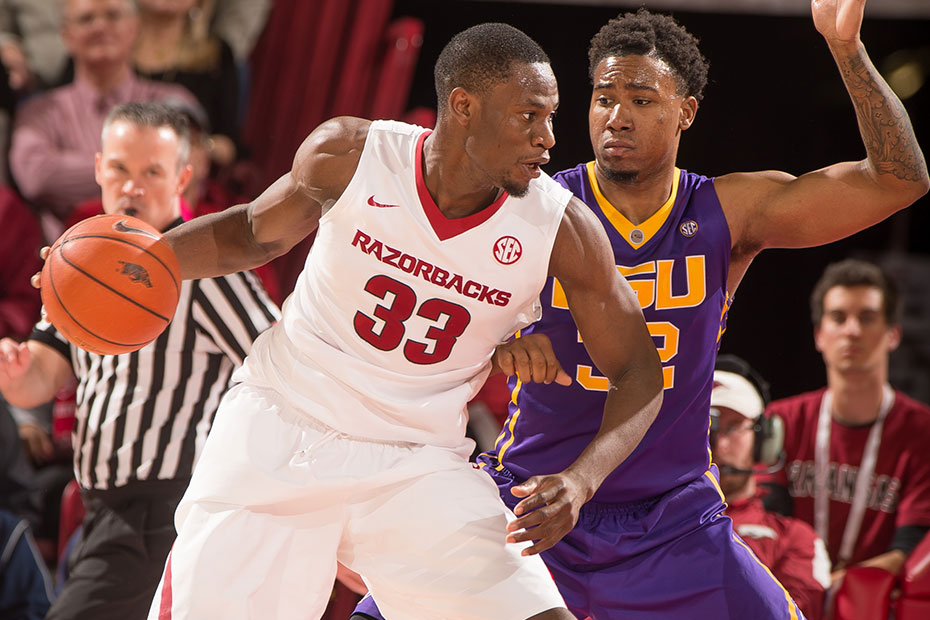 Kingsley to Test NBA Draft, Will Not Hire Agent
FAYETTEVILLE, Ark. – Arkansas junior Moses Kingsley has announced his intention to test the waters of the new NBA Draft system, but will not hire an agent.
"This is a great opportunity for Moses to get an evaluation for the next level and take full advantage of the new rules in place," Arkansas head coach Mike Anderson said. "He emerged as one of the elite players in the SEC this year and we fully support his decision to explore his options."
Kingsley can attend workouts scheduled by NBA teams starting April 26 and is eligible to compete in the NBA Draft Combine on May 11-15, if selected. The deadline to withdraw from the NBA Draft and return for his senior year is May 25.
"After thinking about my future and talking with Coach Anderson and the rest of the coaching staff, I have decided to enter the 2016 NBA Draft without hiring an agent," Kingsley said. "I feel that getting an evaluation on myself after my junior year is the right thing to do while still keeping eligibility to play for my Hogs. I thank God for this opportunity and for putting my family, teammates, coaches, and managers in place to help me get to where I am today. This bond between us all will never be broken. I can't wait to see what God has for me in the future."
The Abuja, Nigeria native earned 2015-16 second team All-SEC honors and was named to the SEC All-Defensive Team after averaging 15.9 points per game and 9.3 rebounds per contest. He was one of eight high-major players with 16 double-doubles on the year and was named one of 10 finalists for the Kareem Abdul-Jabbar Award as the nation's top center.
Kingsley finished the regular season as one of five high-major players in the country averaging at least 16.0 points and 9.0 rebounds per game. He recorded a block in 31 of 32 games and ranked second in the SEC with 76 blocks on the year.
For more information on Arkansas men's basketball, follow @RazorbackMBB on Twitter.