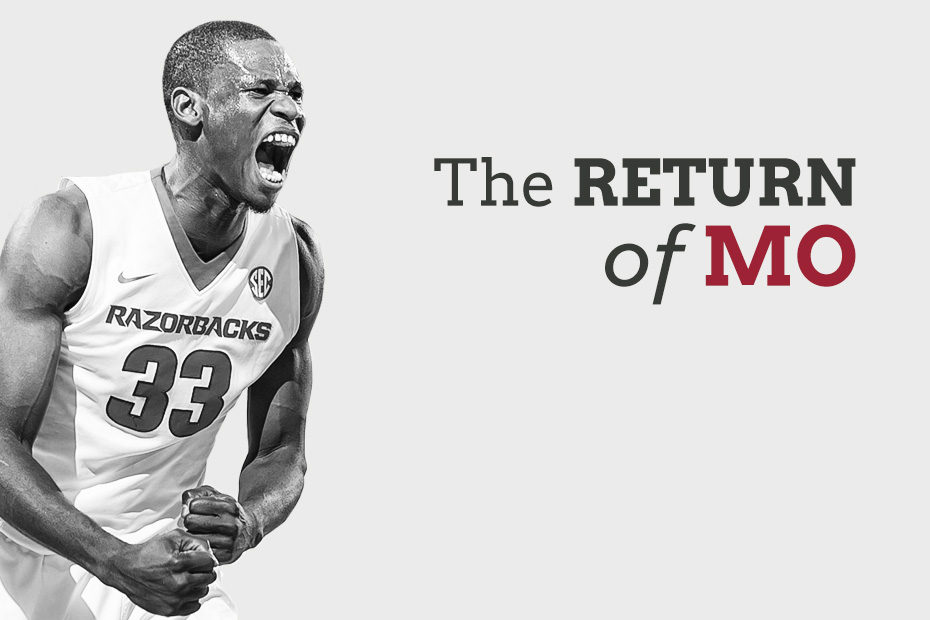 Kingsley's Return
FAYETTEVILLE, Ark. – On May 6, Moses Kingsley departed Northwest Arkansas Regional Airport on an American Airlines flight bound to Massachusetts for a job interview.
His potential employer? One of the most storied franchises in the NBA: The Boston Celtics.
Taking advantage of a rule change applied this past January by the NCAA in partnership with the NBA and the National Association of Basketball Coaches, Kingsley — along with other student-athletes across the country — was allowed to test his NBA draft status without jeopardizing his eligibility.
The new rule change will permit student-athletes to enter the NBA Draft multiple times, participate in the Combine and engage in tryouts with one NBA team per year. Student-athletes are also allowed up to 10 days to withdraw from the Draft after the Combine.
After sleeping during the first leg of the 1 1/2-hour flight from Fayetteville to Chicago, Kingsley settled in his seat for the long three-hour jaunt east to Boston.
The trip had life-changing implications for the 21-year-old junior forward. If he does well and impresses during his workout, his dream of playing in the NBA could become a reality. It was also speculated by some in the media that he could pursue a career playing basketball overseas. Or there's a third option: Return for his senior year.
Three days later, Kingsley would pick door No. 3.
"The Celtics advised me and they said, 'You're a really good prospect, but if you like school and if you like Arkansas, you should go back to school," Kingsley said. "But they also said if I didn't like school, I could come back. I knew there was the possibility that if I did very well in my workout I could leave early because nothing is impossible; anything could happen. But I'm glad I went through the process and it went well. Even though it didn't go the way I thought it would go, I'm glad I still have one more year to come back because of the new [NCAA] rule. It's one of the reasons why I decided to pursue this."

The Workout
Kingsley's big day in Boston was held at the Celtics' 140,000-square-foot wellness and fitness center, the Sports Authority Training Center at HealthPoint in Waltham, Massachussets. Located about five minutes from his hotel and about 25 minutes from the team's home court at TD Garden, the Celtics' workout for potential draftees consisted of several drills with a strong fitness component, which suited Kingsley's strengths as an athlete in prime physical condition.
In addition to Kingsley, a total of six student-athletes from across the NCAA – two bigs and four guards – were also being evaluated that day. Even though the workout was a new experience for him, he didn't travel to Boston unprepared.
Razorback men's basketball strength and conditioning staff created a custom workout regimen for Kingsley at the Basketball Performance Center that closely mimicked Boston's workout and simulated the energy system demands he would go through during that 1 1/2-hour trial.
"We worked on his physical parameters – any kind of jump test, sprints, repeated sprintability, any kind of vertical power, upper and lower body strength, anything that can be quantified as a performance metric, we tried to work on it all," said men's basketball head strength coach Adam Petway. "Mo is a freak athlete so he's always going to test well. What I looked at was: Is Moses in good enough physical condition to make it through the workout and how can we hone in on his physical parameters and make them better to potentially help increase his chances for success."
Preparing Moses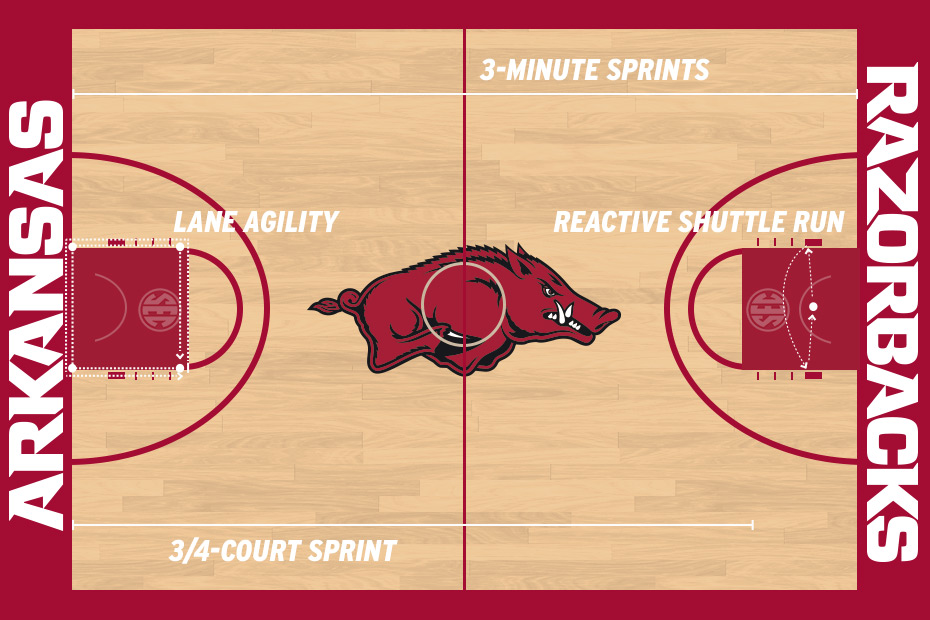 Petway, along with his staff, created the following five tests for Kingsley in preparation for his workout with the Celtics:
• Lane Agility: The standard NBA Combine drill. Starting on the left elbow, the potential draftee sprints to the baseline, shuffles across, back pedals, shuffles back across, changes direction, shuffles, sprints, shuffles and back pedals, making two squares around the lane line. Kingsley did this test four times at the Basketball Performance Center. Petway said the average time for NBA bigs on this test is between 11.5 and 12.3 seconds. Kingsley's best time was 11.4 seconds, which is above average.
• 3/4-Court Sprint: Starting on the baseline, the player will sprint down 3/4 of the way on a 94-foot court to a point almost past the free throw line. NBA Combine average for bigs: 3.3 to 3.5 seconds. Kingsley's best time: 3.28 seconds. Again, above average results.
• Reactive Shuttle Run: Starting in the middle of the paint, a player will start by running toward the left, or right block depending on their choice, and touch the block with their foot. Quickly changing direction, they'll sprint toward the other block, touch it with their foot and pivot and run back to the original start point. Kingsley accomplished this test in 2.37 seconds.
• Consecutive Dunks: This test measures how many times a player can pull a ball out of the rim, power back up and dunk a weighted ball. Kingsley got 21 straight dunks before having to stop.
• 3-Minute Sprint Test: A straightforward test where a player runs from baseline-to-baseline with each trip counting as one lap. In order to anticipate when the Celtics would run this test, Petway had Kingsley perform this drill during the beginning and end of each workout for three days at the Basketball Performance Center.
| Day | Test Result (Start of Workout) | Test Result (End of Workout) |
| --- | --- | --- |
| 1 | 20 laps | 22 laps |
| 2 | 21 laps | 23 laps |
| 3 | 20 laps | 23 laps |
In Boston, Kingsley performed better and posted 26 laps, the best mark among his workout group. Only one other player present tied Kingsley's 26. Boston's record for this drill was 32 laps, posted by Delonte West.
Impact of his decision
Kingsley's decision to return for his senior season wasn't made in a vacuum. It wasn't a simple "should I stay or should I go" coin-flip move. With other workouts lined up with the Minnesota Timberwolves, the Los Angeles Lakers and other NBA franchises, Kingsley had enticing options on the table.
Newly appointed assistant basketball coach Scotty Thurman was in a similar position almost 21 years ago. Uniquely positioned to understand Kingsley's situation based on his own personal experiences, Thurman said Kingsley's decision to come back to Fayetteville as a senior in order to finish his degree and further develop his skill sets was a wise move.
"This young man is somebody that's a little bit different in terms of being able to pick through the information presented in front of him," Thurman said. "He still had teams calling him so he could've still continued to defy the information in front of him and work out for the Lakers, the Timberwolves and other teams. But after one trip, he realized that he needed to come back and do what he set out to do and be one of the better players in the country to eliminate those questions and also to have what very few people have. Moses decided at the end of his college career, if he chooses to pursue his NBA dream, he'll have a degree in hand. And if you think about where he came from, for Moses to have the opportunity to achieve not only the American Dream of having a college degree but to also have the opportunity to be a professional athlete — I just think it's remarkable."

Head coach Mike Anderson agreed, saying that as the face of Razorback Basketball, Kingsley's decision to stay further highlights the importance of his role in the team and further reinforces Anderson's perception of Kingsley as the ideal student-athlete.
"Moses had the opportunity to test the waters and he did it," Anderson said. "He got the feedback that he needed to come back and become a much better player and that bodes well for our basketball team especially in this day and age when everybody is in a hurry to do something. To me, it speaks to the kind of person that Moses is and he's not one of these guys that have knee jerk reactions. He looks and he learns. I think Moses is just scratching the surface on all the things that he can do. And for our program, it speaks volumes to our culture. The culture is such that he can think, 'You know what, I'm OK right here. I can get better right here.'"

For more information on Razorback Basketball, follow @RazorbackMBB on Twitter.