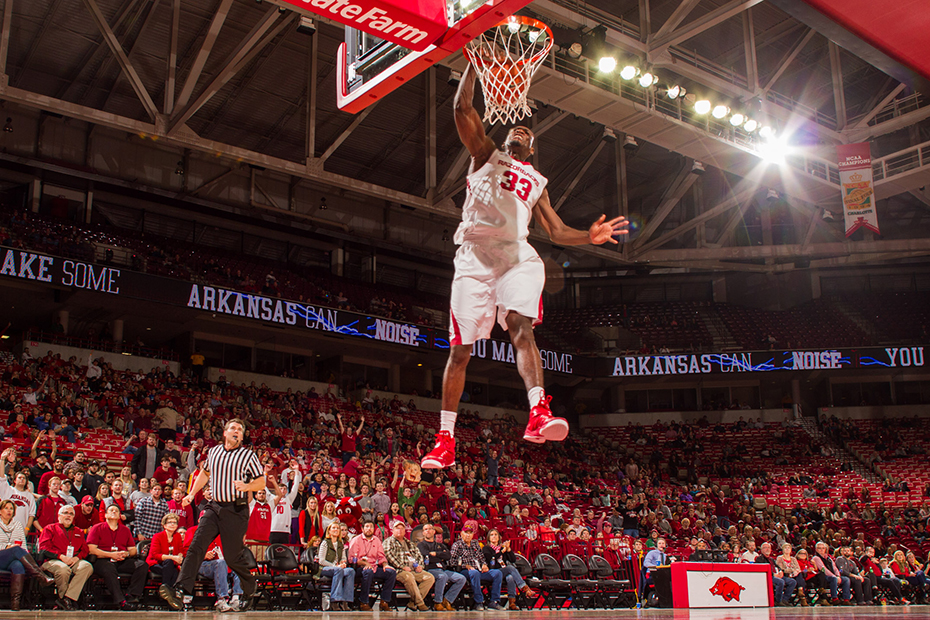 Kingsley's Shining Mo-Ment
FAYETTEVILLE, Ark. — Moses Kingsley's career night propelled Arkansas men's basketball to an 86-68 victory over Southern University in the team's season opener Friday night in Bud Walton Arena.
The junior paced the Razorbacks on the inside with a career-high 22 points on a perfect 8-for-8 mark from the field – including three dunks. He tied career highs with 12 rebounds and five blocks, and added a career-best three steals in only 24 minutes.
The Jaguars of the Southwestern Athletic Conference (SWAC) made a run halfway through the second frame to get within 67-59 just before the six-minute mark, but then Kingsley took over. The forward rattled off back-to-back dunks that propelled the Razorbacks to a 15-2 run over the next four minutes and they never looked back, eventually picking up an 18-point win.
Three other Arkansas players – Dusty Hannahs (21), Anthlon Bell (14) and Jimmy Whitt (12) – also reached double-figures for the hosts, who are now 23-0 in home openers in The Basketball Palace of Mid-America. Bell led all players with a +/- of plus-32 in 27 minutes. The senior finished 6-for-12 shooting from the field, including 2-for-6 from long range.
Both making their debuts in an Arkansas uniform, Hannahs and Whitt each made their marks on the game. Hannahs jump-started the Razorbacks in the first half, scoring 13 points in 16 minutes. He finished 5-for-7 from beyond the arc and a perfect 4-for-4 from the foul line and recorded his third collegiate 20-plus point game. Whitt, meanwhile, was held scoreless in the opening frame, but responded with 12 points on 5-for-11 shooting in the second half.
QUOTABLES
"What a performance by Moses Kingsley. It was probably the most productive 24 minutes he has played. He had a big-time presence and impact on this game … Dusty Hannahs got the nod for the start tonight and I thought he was really effective knocking shots down going off the dribble." — Head coach Mike Anderson
"It wasn't frustrating playing only 24 minutes. When I get in foul trouble like that, I have to trust the next man. I have to trust Trey and Willy to try to fill the spot and take it up a notch. There's nothing wrong with that. It's just anything I can do to help my team when I come back in." — Junior forward Moses Kingsley
QUICK HITS
• Kingsley scored the team's first basket of the year on a 15-foot jumper from the left wing 13 seconds into the game.
• Whitt scored his first collegiate points on a driving left-handed layup 4:34 into the second half.
• Jabril Durham had a career-high 10 assists, which was more than any Arkansas player during the 2014-15 season. Southern, meanwhile, had nine assists as a team.
• Durham's performance of seven points, four rebounds and 10 assists was the first of its kind in the last 20 years of Razorback men's basketball (via @HogStats).
• Kingsley had a team-high Player Efficiency Rating (PER) of 36. He is the ninth player in program history to make at least eight shots and remain perfect from the field.
• Arkansas out-rebounded Southern 43-28 overall, including 17-7 on the offensive glass. That led to a 15-5 advantage in second-chance points for the hosts.
• The Razorbacks have won 21 consecutive season openers and are 43-2 in their past 45.
• Arkansas has won 54 consecutive games at home against unranked non-conference opponents, including 40-0 under Anderson.
UP NEXT
The Razorbacks begin preliminary play in the NIT Season Tip-Off, when the Akron Zips come to Fayetteville on Wednesday, Nov. 18 for a 7 p.m. contest in Bud Walton Arena.