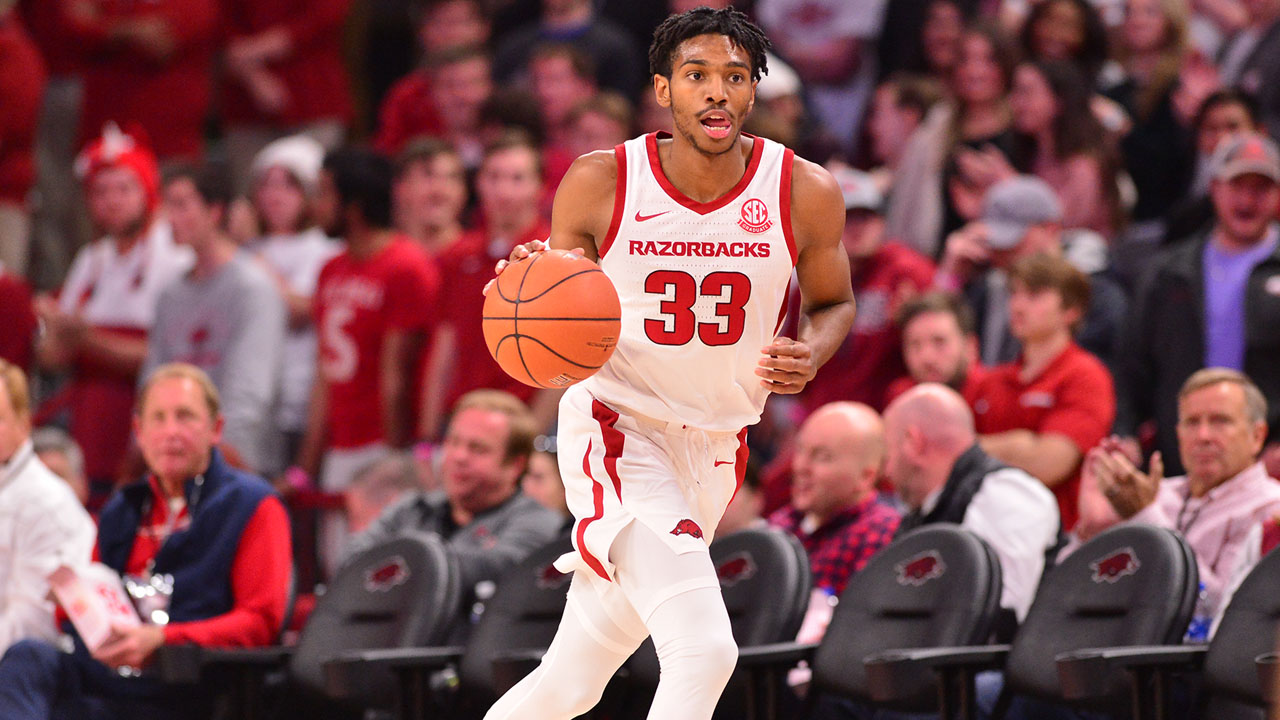 Razorbacks Suffer First Loss on Road at WKU
BOWLING GREEN, Ky. – Jimmy Whitt Jr., recorded his seventh career double-double – second of the season – and Desi Sills scored a career-high for Arkansas. However, Western Kentucky hit a game-tying 3-pointer with 26 seconds left in regulation and pulled out an 86-79 overtime victory Saturday evening at E.A. Diddle Arena.
The Razorbacks trailed for the first time this season at halftime, 33-28, but opened the second half with a 12-2 run to take a lead. With 9:31 left in the second half, WKU briefly regained the momentum on a Carson Williams layup only to see Isaiah Joe answer with a 3-pointer.
The teams tied the game four times over the next six minutes, including free throws by Mason Jones to knot the game at 62-62 with 3:50 left. After a Hilltopper free throw, Joe drilled a 3-pointer at 2:48. Sills followed with a triple of his own with 1:39 left for a five-point lead (68-63) with 1:39 left. Sills later made a jumper in the lane to put the Hogs up six, 70-64, with 1:03 remaining.
The teams traded fouls and Arkansas was up five (73-68) with 36 seconds left after a pair of free throws by Jones. Western Kentucky answered with two free throws to make it a three-point game. Joe was called for a charge on the ensuing inbounds play. Jared Savage drained a 3-pointer in the right corner with 29 seconds left to tie the game, 73-73. Jones' final shot at the buzzer missed to force overtime.
In overtime, Western Kentucky was up three (82-79) after a Whitt free throw with 57 seconds left. Arkansas got a stop on the defensive end but turned the ball back over. Savage sank two free throws with 18 seconds left for a five-point lead and, after a Razorback turnover, the Hilltoppers got a break-away dunk with six seconds left to provide the final score, 860-79.
Whitt finished with 17 points and 12 rebounds. Sills had 20 points on 7-of-11 shooting. Joe added 18 points, making five 3-pointers.
Tavelon Hollingsworth posted a game-high 23 points and six assists to lead the Hilltoppers.
Arkansas returns home to host Tulsa next Saturday (Dec. 14). Tip-off at Bud Walton Arena is set for 12:30 pm and the game will be telecast on ESPNU.
Jimmy Whitt Gets Mid-Range Game Going Early

Mason Jones Fadeaway

Isaiah Joe Drills Three to Give Lead Back to Hogs

Desi Sills Finishes After Hog Takeaway

Isaiah Joe Crossover + 3-Ball

Loose Ball Hustle Play Turns into Two Points

Desi Sills Hits Big, BIG 3

GAME NOTES
Arkansas' starting lineup was Jimmy Whitt (G) – Isaiah Joe (G) – Desi Sills (G) – Mason Jones (G) – Adrio Bailey (F) for the eighth time this season.
Arkansas won the tip for the sixth time this season.
Jimmy Whitt Jr., scored the first points of the game. It is the sixth time he has scored first for the Razorbacks and the fourth time he has scored the game's first points.
Arkansas trailed at the half for the first time this season and trailed with five minutes to play for the first time.
Arkansas has led with two minutes o play in regulation in all nine games.
There were 12 ties and 11 lead changes in the game. Entering the contest, Arkansas had only been tied 13 times.
Mason Jones was just 1-of-9 from the field but he pulled down nine rebounds. He sank all six of his free throws and has made 12 straight. He opened the season making his first 27.
Sophomore Reggie Chaney had three blocked shots. It marked the eight times he has blocked at least three shots in a game for his career.
Isaiah Joe has made 143 3-pointers in his 43-game career. He only needs 10 more triples to enter the school's all=time top 10 in the category.
For more­­ information on Arkansas Men's Basketball, follow @RazorbackMBB on Twitter.