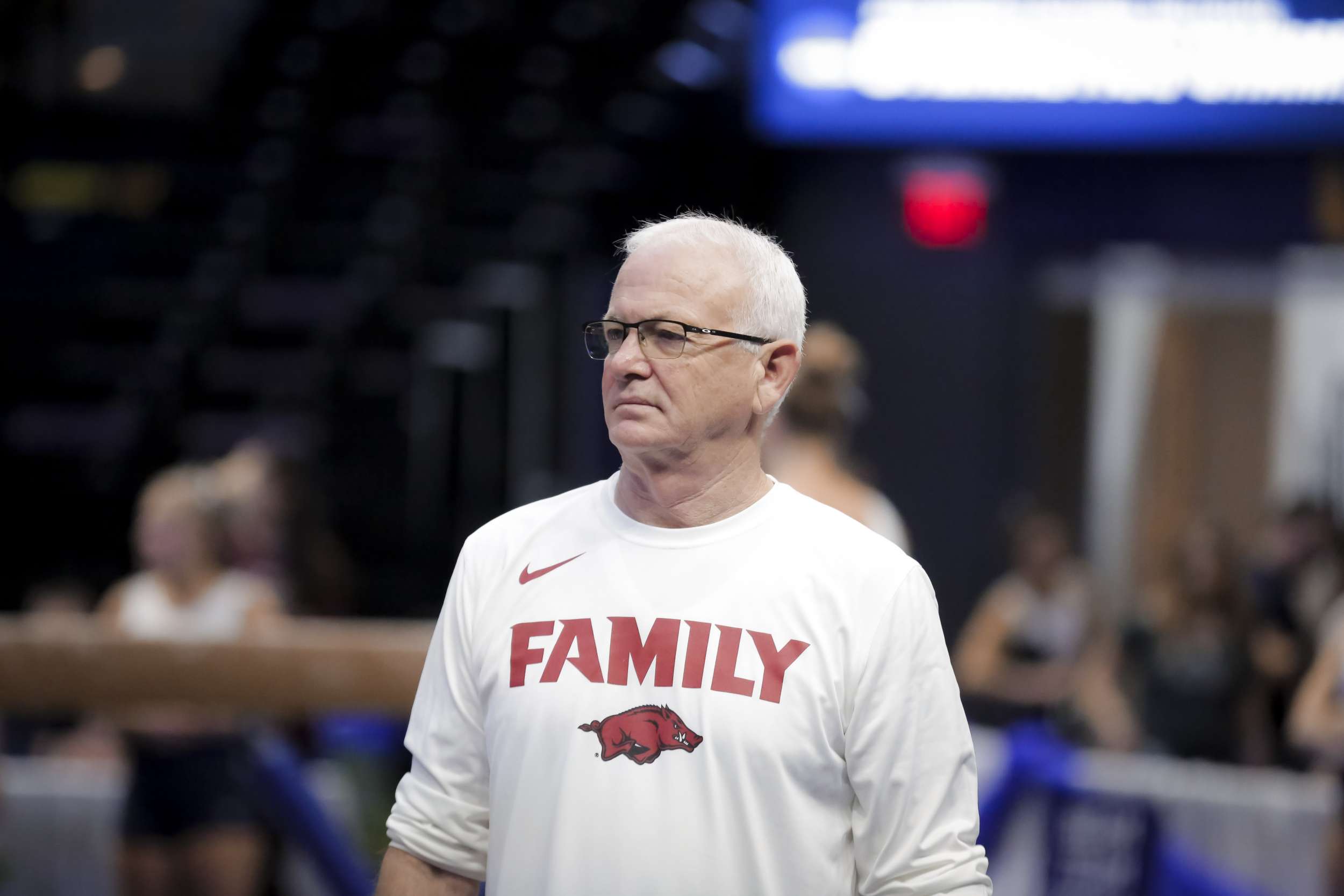 Longtime Gymnastics Coach Cook Announces Retirement
FAYETTEVILLE, Ark. – Head gymnastics coach Mark Cook has announced his retirement from the University of Arkansas after 17 years as the program's coach. Cook recently completed the 2019 season in which he helped lead the Razorbacks to their 16th-consecutive NCAA Regional appearance.
Cook has been a part of Razorback Gymnastics since its infancy, serving as a head coach of the program since coming to Arkansas in May 2001. Arkansas officially began competition in gymnastics in 2003. Alongside co-head coach René Lyst, Cook was instrumental in forming a new program into one that has produced individual national champions and consistently ranks among the best in the SEC and in NCAA competition. Cook has served as the sole head coach of the program since May 2014.
Cook has spent a total of 24 years coaching in collegiate gymnastics, including three seasons as an assistant coach at UCLA and four seasons as the head coach at Stanford University prior to coming to Arkansas.
Statement from Vice Chancellor and Director of Athletics Hunter Yurachek
"Few coaches have been more integral to the birth and growth of a program than Mark Cook has been for Razorback Gymnastics. Before there was a practice gym, student-athletes or the loyal gymnastics fans that follow our program today, Mark bought into a vision that the University of Arkansas could be home to nationally-competitive gymnastics program. Through his leadership, our program has produced national champions and competed annually in the NCAA Championships. We are grateful for Mark's many contributions to our program and for his impact on the lives of the student-athletes he has coached at the University of Arkansas. We wish him the very best in his retirement."
Statement from Mark Cook

"The University of Arkansas has been a part of my life for nearly two decades, and after much thought I have made the decision to retire as head gymnastics coach of the Razorbacks. I want to express my sincere appreciation to former Chancellor John White and Bev Lewis granting me the opportunity in May 2001 to jumpstart a new gymnastics program in the Southeastern Conference. Most importantly, I want to thank the incredible coaches, support staff and families who gave their all for Arkansas Gymnastics everyday over the past 17 years. It has been the opportunity of a lifetime to grow a program from infancy and see our student-athletes compete for and win individual conference and national championships at Arkansas."
Mark Cook By The Numbers
Three-time SEC Coach of the Year, 2008, 2016, 2018

2001 PAC-10 Coach of the Year

2001, 2009 Regional Coach of the Year
Three NCAA Individual Champions

1998 Larissa Fontaine – Vault (Stanford)
2014 Katherine Grable – Vault, Floor Exercise

2009, 2011 NCAA Regional Champions
16-Consecutive NCAA Regional Appearances

16 NCAA Regional Individual Champions

Eight NCAA Championship Appearances

Two NCAA Super Six Finals Appearances (2009, 2012)

Eight career team top-ten finishes
46 All-American Performers

24 First Team All-Americans
22 Second Team All-Americans

Nine Regular Season All-Americans
38 All-SEC Athletes
Two SEC Individual Champions

2009 Casey Jo Magee, Balance Beam
2012 Jaime Pisani, Balance Beam
Two SEC Gymnasts of the Year

Jaime Pisani (2012)
Katherine Grable (2014)

Three SEC Freshmen of the Year

Amanda Wellick (2014)
Paige Zaziski (2015)
Sarah Shaffer (2018)
Cook's Coaching History
1994-97, UCLA Assistant Coach
1998-2001, Stanford Head Coach
2002-2019, Arkansas Head Coach