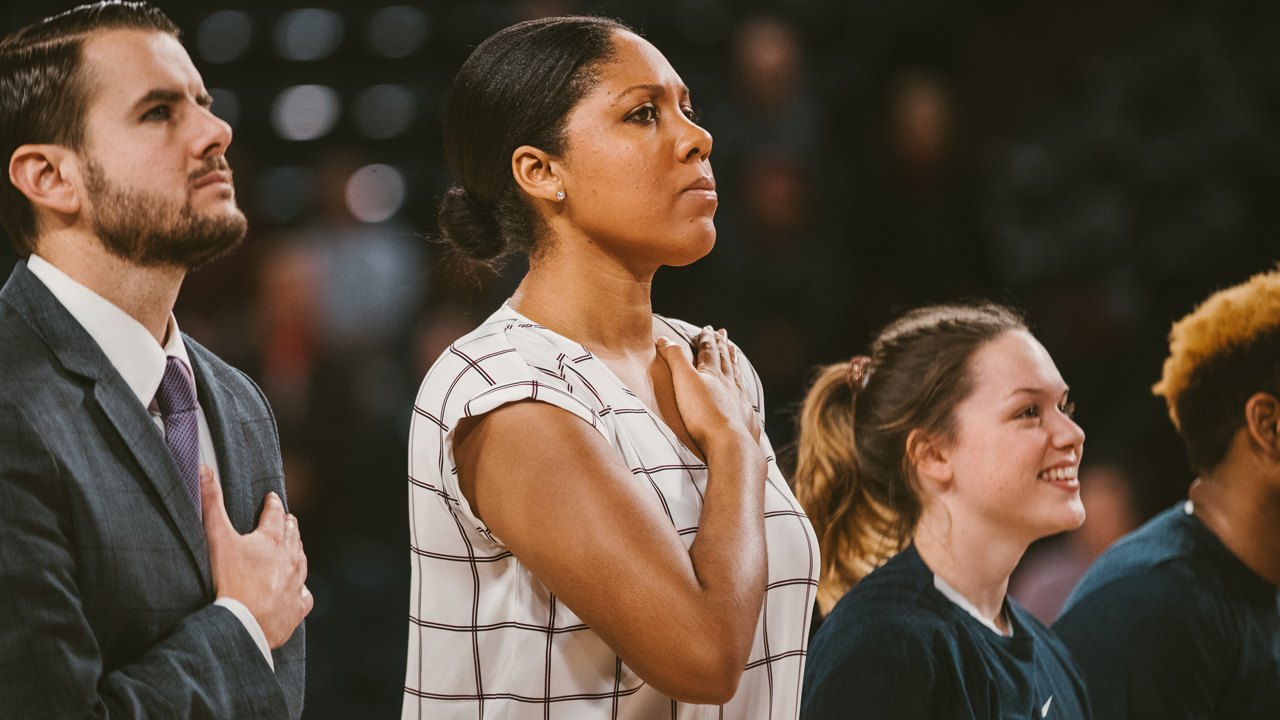 Martina Wood Added to Men's Basketball Staff
FAYETTEVILLE – Martina Wood, who spent the last six years on women's staffs at Kansas, Bucknell and Richmond, has been named Director of Multimedia Services on the Arkansas men's basketball staff, Razorback head coach Eric Musselman announced.
Wood, one of 21 women currently on an NCAA Division I men's basketball staff, has worked with post players as a coach in her previous three stops. She has additionally been on the cutting edge of technology expanding the Bucknell and Richmond programs' brand through social media and other electronic avenues. In addition to being a collegiate coach, Wood has worked as a marketing coordinator at "A Step Up" for the last eight years.
At Bucknell, the Bison posted a 52-14 record, including a 33-3 mark in league play and earned two postseason berths, including the 2017 NCAA Tournament and 2016 the WNIT. Wood guided three student-athletes — Claire DeBoer, Kaitlyn Slagus, and Sune Swart — to a combined four All-Patriot League selections while DeBoer was named the Patriot League regular-season and tournament MVP.
During Wood's two seasons with the Kansas women's basketball team, the Jayhawks featured six All-Big 12 selections including Chelsea Gardner, a two-time All-America Honorable Mention and second-round draft pick of the WNBA's Indiana Fever. During her time at Kansas, Wood received her Master's in communications studies.
Wood played collegiately for Hall of Fame coach Sylvia Hatchell at North Carolina, where she earned a bachelor's degree in communication studies in 2010. She helped the Tar Heels to back-to-back Final Fours (2006 and '07), two NCAA Elite Eights and three ACC Championships (2005, '06 and '08) during her career.
Following her collegiate playing career, Wood went on to play professionally for teams in Norway, Greece, Lebanon, Ukraine and Jordan. She was the Norwegian Center of the Year. Wood also won a gold medal with her Lebanon team at the Pan Arab Games and her Ukraine team was Ukrainian Cup champion.
Coaching Career:
Richmond – Women's Basketball Assistant Coach, 2017-19 (Head coach Michael Shafer)
Bucknell – Women's Basketball Assistant Coach, 2015-17 (Head coach Aaron Russell)
Kansas – Women's Basketball Graduate Assistant Coach, 2013-15 (Head coach Bonnie Henrickson)
For more­­ information on Arkansas Men's Basketball, follow @RazorbackMBB on Twitter.