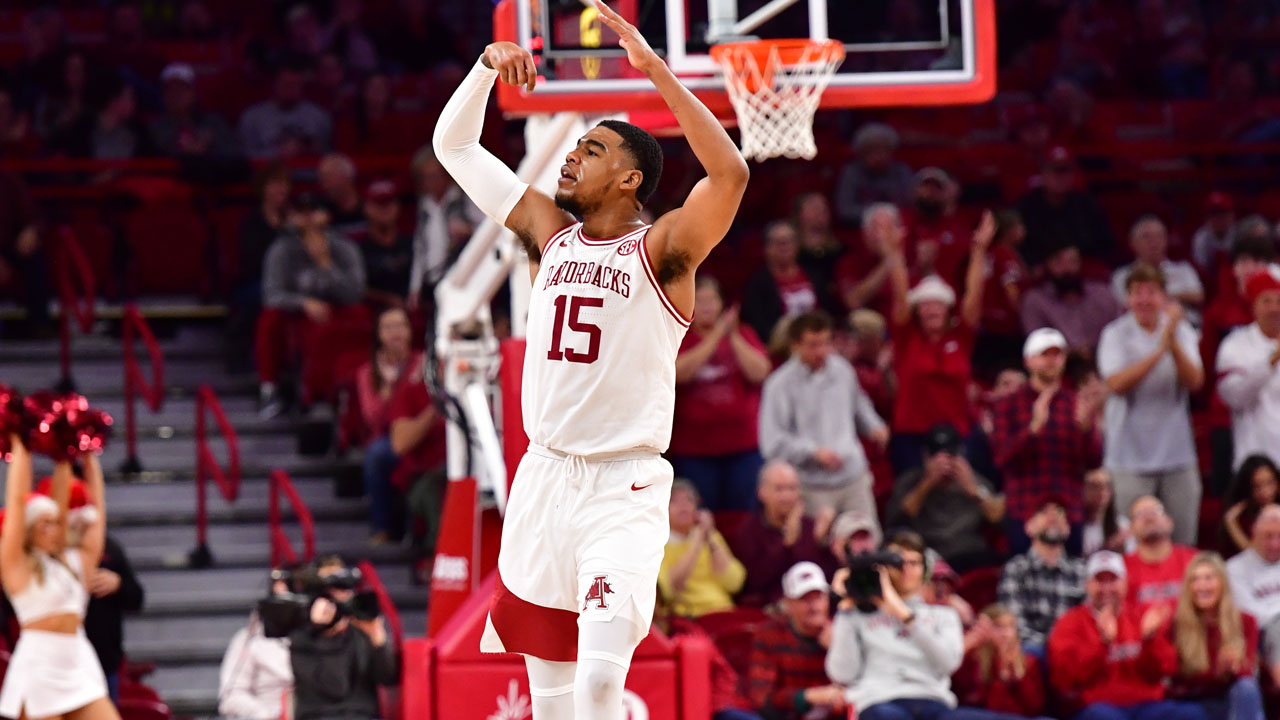 Jones' 41 Lifts Razorbacks Past Tulsa
FAYETTEVILLE – Mason Jones scored a career-high 41 points – the second-best total by a Razorback in Bud Walton Arena history – and Isaiah Joe added 20 to lead Arkansas to a 98-79 victory over Tulsa Saturday afternoon. The Razorbacks improve to 9-1 while the Golden Hurricane falls to 8-3.
Jones was 12-of-18 from the field (including 5-of-11 from 3-point range) and sank 12-of-13 free throw attempts for his second 30-plus point game of the season – getting 32 in the season opener versus Rice – and the fourth of his career. The 41 points ties for the seventh-most, single-game effort in school history. The last time a Razorback scored 41 points was Joe Kleine versus Iowa State (Dec. 27, 1984). Jones' 41 was the most by a Razorback overs since Rotnei Clarke's school-record 51 versus Alcorn State (Nov. 13, 2009).
Jones made his first 12 free throws versus Tulsa before missing his last attempt to snap a streak of 24 consecutive makes at the charity stripe. Jones started the year by making his first 27 free throws (and 36 dating back to last season).
In the first half, Arkansas was down 4-3 early before the Razorbacks went on an 18-2 run to take a 16-point lead (21-5) with 12:34 left. The Razorbacks maintained a double-digit lead the rest of the first half, including a 3-pointer by Jones as the buzzer sounded for a 50-34 lead at the break.
In the second half, the Razorbacks also led by 16 (66-50) with 13:56 left in the game before Tulsa trimmed its deficit to nine (68-59) with 11:49 left. After a rare timeout called by head Hog Eric Musselman, Arkansas immediately answered to go up 11 and ultimately reeled off a 13-2 run, including 10 points by Jones, for a 20-point lead (81-61) with eight minutes left on the clock to put the game out of reach.
Joe made four 3-pointers in scoring his 20 points and the sophomore, with 147 career treys, is just six triples shy of 10 on the Arkansas all-time list.
Arkansas will make its annual trip to North Little Rock next Saturday (Dec. 21) to face Valparaiso. Tip-off in Simmons Bank Arena is set for 7 pm.
FIRST HALF: Arkansas 50 – Tulsa 34
Thanks to three 3's by Isaiah Joe, Arkansas raced out to a 14-5 lead.
The Razorbacks pushed their advantage to 23-7 at the 12-minute media timeout.
Arkansas scored 50 in the first half for the first time since scoring 58 versus FIU last December (12/1/18).
Mason Jones scored 20 first-half points, including a long 3-pointer as the halftime buzzer sounded.
Jimmy Whitt Jr. added 11 in the first half.
Arkansas shot 53.1 percent from the field and 40 percent from 3-point range in the first half – the second time the Hogs have shot above 50 percent and 40 percent, respectively, this season (the other being Austin Peay).
Arkansas only committed two first-half turnovers, while getting seven steals including three each from Joe and Jones.
SECOND HALF: Arkansas used a 13-2 run to pull away midway through the period to secure the win.
Arkansas maintained its 16-point lead through the first six-and-a-half minutes. However, Tulsa battled back to cut its deficit to single digits (nine points; 68-59) with 11:46 left.
Jones immediately scored 10 points during a 13-2 run to put the game out of reach.
GAME NOTESte 
Arkansas' starting lineup was Jimmy Whitt (G) – Isaiah Joe (G) – Desi Sills (G) – Mason Jones (G) – Adrio Bailey (F) for the ninth time this season.
Tulsa won the tip. It was the fourth time in 10 games the opponent won the tip.
Mason Jones scored the first points of the game, a 3-pointer at 19:03. It is the third time this season Jones scored the first points of the game.
Attendance was 15,589 – the second-largest of the season for the Razorbacks.
Jimmy Whitt Jr., scored 11 points on 5-of-8 shooting. The senior has scored double figures in four straight and eight of the last nine.
Arkansas dished out 18 assists, tying its second-best effort of the season.
Arkansas committed a season-low seven turnovers. It was the second time Arkansas has had single-digit turnovers in a game this season.
Arkansas only trailed for 15 seconds in the first half. The Razorbacks are 9-0 when leading at halftime and have only trailed in the second half once this season (a loss at Western Kentucky).
Eric Musselman is an impressive 92-4 when leading at halftime as a collegiate head coach.
Jamario Bell made his debut in a Razorback basketball uniform. He blocked a shot in his 49 seconds.
Arkansas held Tulsa to 22.2 percent shooting from 3-point range (4-of-18). It was the seventh time an opponent shot 25% or worse from long range this season.
The 41 points by Jones are the second-most by an Eric Musselman-coach team. Jordan Carolina scored 4 at New Mexico on Jan. 7, 2017. The top six on the Razorbacks single-game scoring list includes:
– Rotnei Clarke (51), Martin Terry (47, 46 and 43), Dean Tolson (45) and Todd Day (43).
For more­­ information on Arkansas Men's Basketball, follow @RazorbackMBB on Twitter.