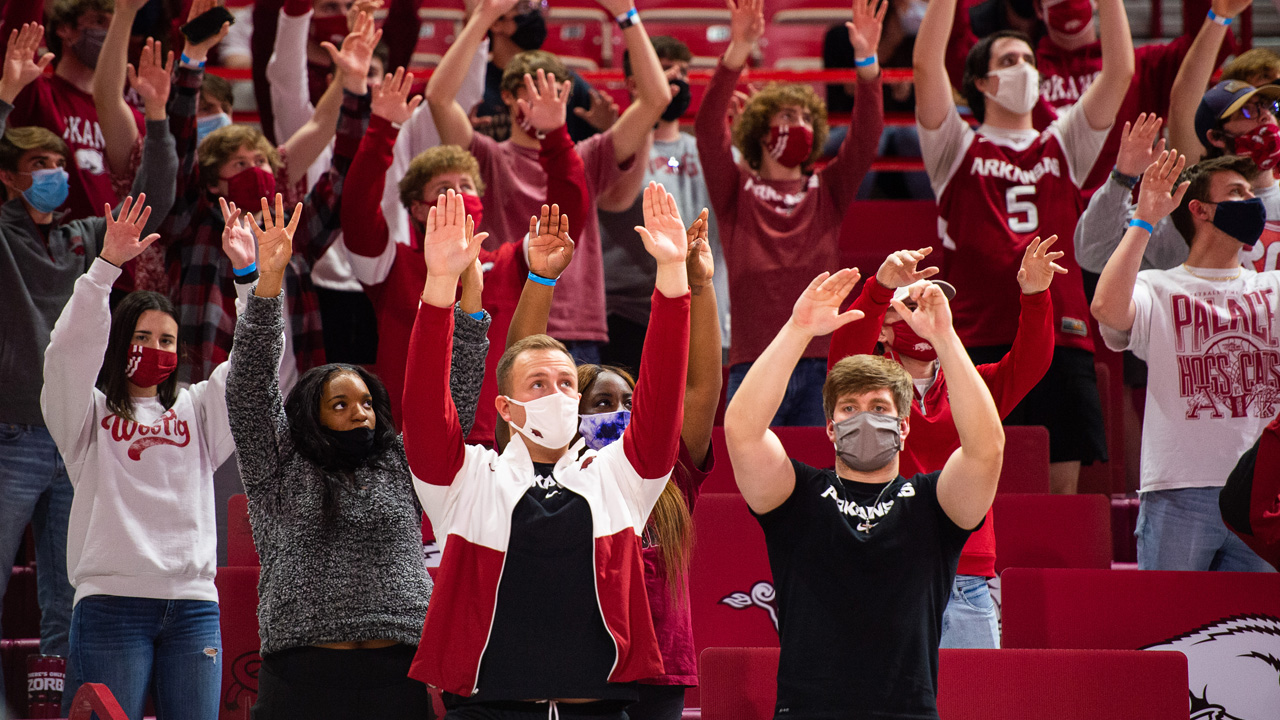 MBB Preview: #20 Arkansas vs #6 Alabama
Who: #20/20 Arkansas Razorbacks (17-5, 9-4 SEC) vs #6/7 Alabama Crimson Tide (18-5, 13-1 SEC)
What: This is the first match-up with both teams in the top 25 in Bud Walton Arena since 1998
When: Wednesday – Feb. 24 – 8:00 pm (CT)
Where: Fayetteville, Ark. – Bud Walton Arena / Nolan Richardson Court
How (to follow):
– TV: ESPN2 (Karl Ravech and Jimmy Dykes)
^ Watch ESPN Online: CLICK HERE
– Radio: Learfield IMG College Razorback Sports Network (Chuck Barrett and Matt Zimmerman)
^ Listen to Razorback Sports Network Online: CLICK HERE
– Sirius/XM: XM Channel 190 – Sirius Channel 135 – Streaming Online on Channel 961
– Live Stats: www.Arkansas.StatBroadcast.com
– Arkansas Game Notes: CLICK HERE or HERE
– Alabama Game Notes: CLICK HERE
– SEC Standings / Stats / Notes: CLICK HERE
FAYETTEVILLE – The 20th-ranked Arkansas Razorbacks play the first of two home games this week on Wednesday (Feb. 24) versus the sixth-ranked Alabama Crimson Tide. Tipoff is set for 8:00 pm and the game will be televised on ESPN2.
This will be the 65th meeting between Arkansas and Alabama and 55th since the Razorbacks joined the SEC. Arkansas leads the all-time series, 35-29, and is 28-26 versus the Crimson Tide since joining the SEC.
Alabama defeated Arkansas, 90-59, in the teams' first meeting this year (Jan. 16 in Tuscaloosa).
Arkansas owns a 19-6 advantage in games played in Fayetteville and has won seven of the last nine in the series.
After defeating Florida last time out for the Razorbacks' seventh-straight SEC win, Arkansas rose to #20 in both polls this week. The last time Arkansas was inside the top 20 was the 2015 regular-season finale versus LSU when the Hogs were ranked 19th.
With the Razorbacks at #20 and Crimson Tide at #6, this will be the first time both teams will be ranked in a match-up in Bud Walton Arena since then #16 Arkansas hosted then #13 South Carolina on Feb. 18, 1998 —a game Arkansas won 96-88.
Arkansas is riding its first seven-game, SEC win streak since winning seven-straight SEC games in Feb. 2015. The Hogs also won seven-straight SEC games to end the 1994-95 regular season. Arkansas' longest SEC win streak is 11 games to close the 1993-94 season.
Arkansas ranks third on the NCAA active list for consecutive games making at least one 3-pointer with 1,065. UNLV, who has made a triple in every game since the rule was adopted in 1986-87, is first at 1,123 and Duke is second at 1,106.
For more information on Arkansas Men's Basketball, follow @RazorbackMBB on Twitter.